Now is the 'Most Exciting Time in the History' of Space — and That Means Jobs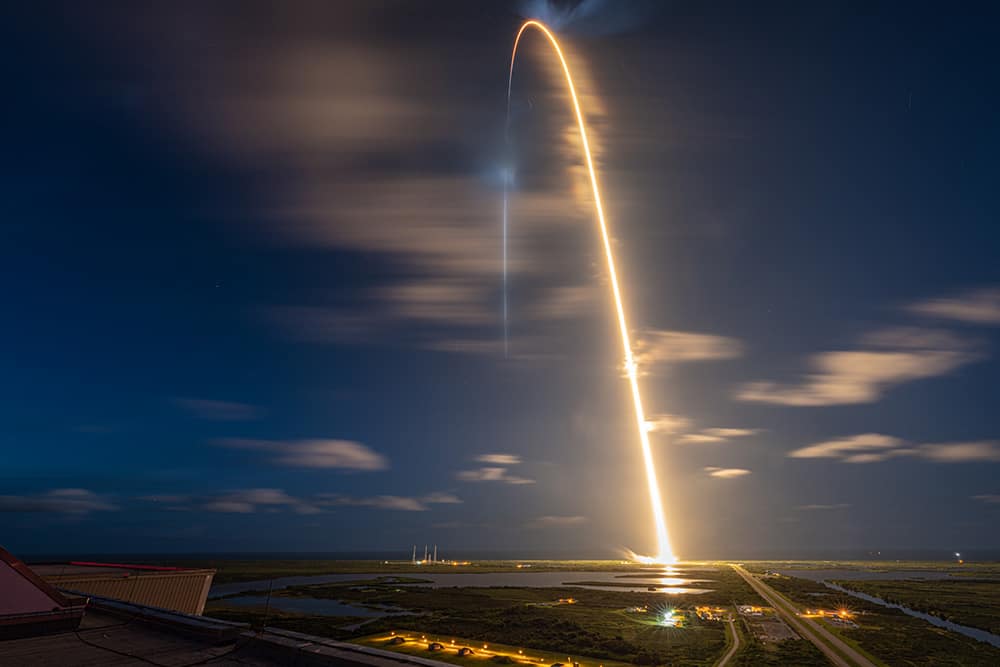 Currently a $400 billion industry that saw the first all-civilian launch in history earlier this month, the space economy is projected to grow to over $1.4 trillion in the next 10 years. For Dr. Andrew Aldrin, associate professor in the College of Aeronautics at Embry-Riddle Aeronautical University's Worldwide Campus, that means just one thing: opportunity.
"Over the next decades, we will see commercial space stations, the deployment of tens of thousands of communications satellites, completely new types of data generated by commercial remote sensing satellites and perhaps commercial mining options on the moon," he said. "Exciting times!"
That's why he developed Embry-Riddle's new Master of Space Operations online degree program — to help students position themselves to enter this rapidly emerging market and fill those high-paying job openings. Currently in its first semester, the program hosts 63 students who, Aldrin is confident, "will get jobs in the coolest industry on the planet — and off," after graduation.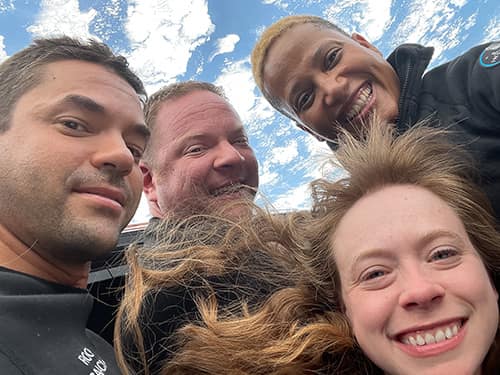 Embry-Riddle alumni Jared Isaacman and Chris Sembroski were joined by Hayley Arceneaux and Dr. Sian Proctor on the crew of SpaceX's historic Inspiration4 mission, this September.
"I have been interested in space since I was 8 years old, and I am convinced that today is the most exciting time in the history of this field," Aldrin said. "We are going to the moon. We are going to Mars. But the most exciting part of space is the growing importance of the commercial sector."
And he should know – he spent 13 years of his career as an executive at Boeing and United Launch Alliance, where, in 2013, he transitioned into commercial space, first as president of a company building a spacecraft to travel to the moon, and then as the founder and director of the Center for Space Entrepreneurship at Florida Institute of Technology.
"Over the past two years I have come to realize the exceptional value and reach of online education, and so bringing the excitement of space into the curriculum of the world leader of online aerospace education was a natural fit," he said. "I am tremendously excited to be here training the next generation of space leaders."
Embry-Riddle, which now boasts a total of nine astronauts among its alumni since the launch of SpaceX's Inspiration4 earlier this month, has long been involved in training the next generation of space leaders, however. Revolutionary research — such as the EagleCam project, which will land the first-ever student project on the moon in early 2022 — gives students hands-on experience developing history-making technology. Also, Embry-Riddle's Daytona Beach and Prescott campuses regularly host industry executives to share their experience with students: In two such events, space workers urged students to "run toward difficult problems" and reinforced that this is "one of the best times" in history to get into aerospace.
We are going to the moon. We are going to Mars. But the most exciting part of space is the growing importance of the commercial sector.
Meanwhile, Eagle alumni, such as Sean Fuller of NASA's Gateway program, which is aimed at establishing a continuous human presence on the moon, serve as recruiters for students and graduate workers, and other alumni, like SpaceX payload integration specialist Kyle Williams, are eager to mentor fellow Eagles. Six Embry-Riddle students recently commissioned into the U.S. Space Force, as well, and landing summer internships at NASA, Blue Origin and other leading aerospace firms is par for the course.
"The Worldwide Campus is uniquely positioned to provide cutting-edge programs to students all over the world and has been working hard to design curriculum for space education that will effectively prepare our students to enter the workforce," said Dr. John R. Watret, campus chancellor. "With the guidance and experience provided by Dr. Aldrin, the Master in Space Operations program is poised to do just that."
Additionally, the Worldwide Campus offers a Space Tourism course within its Bachelor of Business Administration program.
"We are living in an exciting time where there are endless possibilities with regard to space education," Watret added. "We accept the challenge to create and offer robust and relevant programs to meet this growing need."
Learn more about the new Master of Space Operations program at Embry-Riddle and begin your journey toward a career in space — virtually, from wherever you are in the world.