Eagles to Land First Student Project on Moon to Snap Selfie of Lunar Landing
Embry-Riddle is partnering with NASA commercial payload provider Intuitive Machines to send a camera to space that will capture the first-ever selfie of a spacecraft touching down on the moon.
Ahead of the United States' crewed return to the moon in 2024, the Nova-C Lunar Lander will launch a science and technology payload to a valley in the Ocean of Storms. Just before it reaches the lunar surface in early 2022, Embry-Riddle Aeronautical University students will capture the world's ultimate selfie: the first-ever third-person shot of a spacecraft making an extraterrestrial landing.
Intuitive Machines, the company developing the Nova-C, offered Engineering students at Embry-Riddle this once-in-a-lifetime opportunity — to design and build a camera system that will deploy from the Nova-C to capture the landing and, in the process, become the first university student project ever to land on the moon.
"Students are at the center of this historic mission," said Jana Alaslani, an Aerospace Engineering student from Rabigh, Saudi Arabia. "We're getting invaluable hands-on experience and taking on lead roles in a groundbreaking project."
Supported by a network of national scientists, Embry-Riddle's "EagleCam" team — three Engineering professors along with a large interdisciplinary team of students — is designing a camera and communication system, or CubeSat, to launch to the moon and shoot the astronomical selfie. Just before approach, the CubeSat will deploy and freefall 100 feet to the surface to give the world its first glimpse of the spacecraft's lunar landing.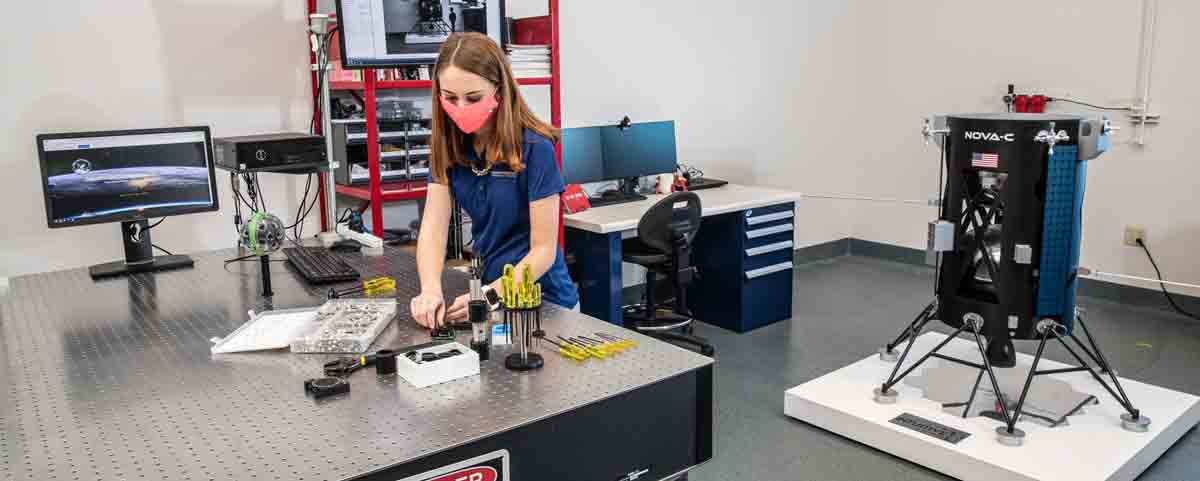 Taylor Yow, an Aerospace Engineering undergrad, examines a camera lens at the optical table in the Space Technologies Lab at Embry-Riddle Aeronautical University. The Niceville, Florida, resident works on EagleCam's sensing team and oversees project management. EagleCam will be capturing images of the Nova-C Lunar Lander (early model pictured in foreground) as it touches down on the Moon in the fourth quarter of 2021. (Photo: Embry-Riddle/David Massey)
"The uniqueness of this project centers on the degrees of freedom we have on the design of the payload," said Dr. Eduardo Rojas, assistant professor of Electrical & Computer Engineering and director of the Wireless Devices and Electromagnetics (WiDE) Laboratory. "It offers a golden opportunity to explore innovative approaches for lunar payloads that can help with space exploration for decades to come."
Compact enough to hold in one's hand, the EagleCam CubeSat will be "relatively small – but significant," said Dr. M. Ilhan Akbas, assistant professor of Electrical and Computer Engineering, noting that, after landing, it will conduct research contributing to NASA's Artemis program goal of sending the first woman and man to the moon.
"In addition to the selfie, Embry-Riddle is supporting Intuitive Machines' development of the Nova-C lander in the areas of communications and optical-hazard detection and avoidance," Dr. Troy Henderson, associate professor of Aerospace Engineering and director of the Space Technologies Lab said. "We're also working on the terminal navigation problem, using the navigation cameras to identify the lander's final landing location."
Being able to pinpoint the landing location will directly contribute to the 2024 mission, as well as future space missions.
"In order for humans to safely land and stay on the moon or Mars, precision landing and communications are key," Henderson said. "NASA has goals for precision landing near bases, for instance, that are being enabled by our terminal navigation work."
Intuitive Machines President and CEO Steve Altemus, who is also an alumnus ('87) and member of the Embry-Riddle College of Engineering's Industry Advisory Board, reinforced the historical importance of the mission.
"Technology demonstrations and precursors like EagleCam are absolutely essential for success in returning humans to the lunar surface," he said. "Additionally, moving from textbook knowledge and theory into applied engineering of spaceflight systems is a quality that every engineering professional wants on their resume, and every aerospace employer looks for."
The opportunity to learn new technologies is important for William Edwards' future career, a senior from Bedford, New Hampshire, completing his Software Engineering bachelor's degree.
"With EagleCam, I'm not only able to learn legitimate NASA frameworks, but also apply them in a historic project," he said. "Space exploration is the reason I came to Embry-Riddle and working on this project is a fitting conclusion to my studies here."
Giving undergraduate and graduate students hands-on opportunities to answer important challenges is an essential part of the College of Engineering's academic experience, said Dr. Maj Mirmirani, dean.
"The EagleCam students and professors are going to give humankind a new perspective on the moon. We are very grateful to Intuitive Machines for presenting us with this challenge. It is only fitting that one of our own alumni gave the College of Engineering an opportunity to become part of our country's return to the moon."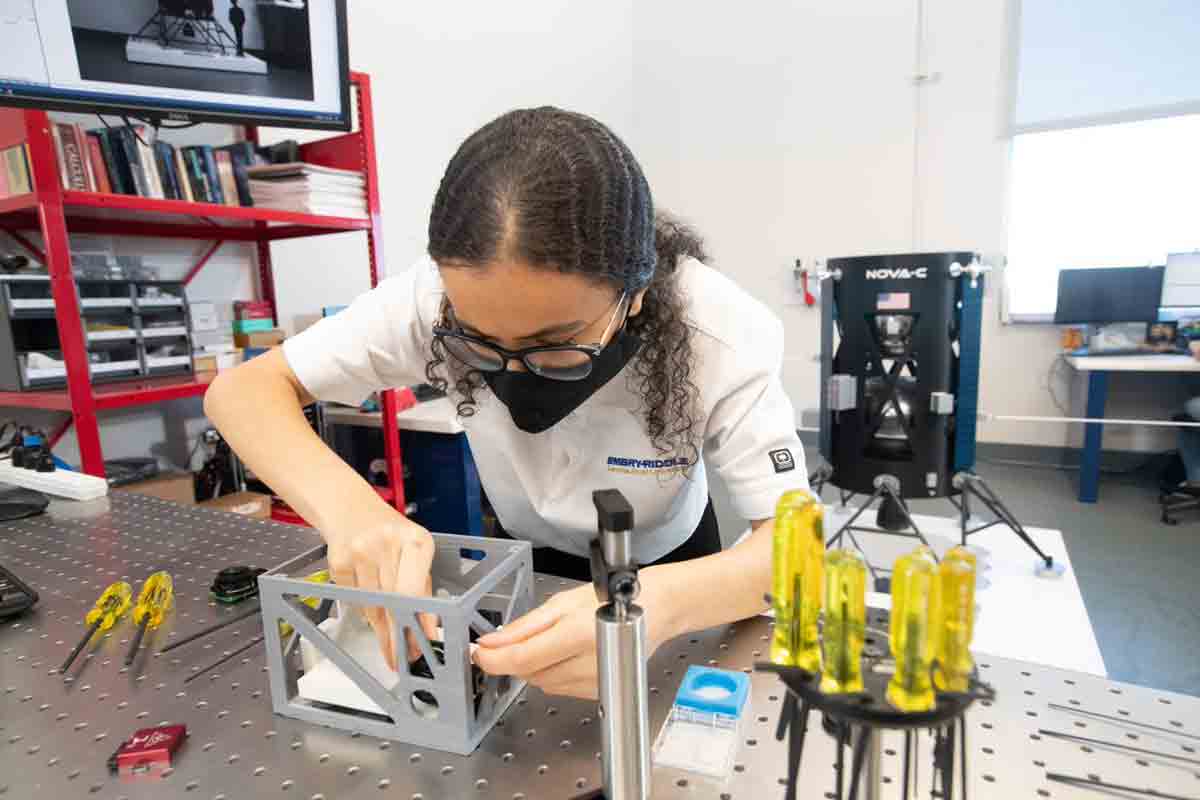 Jana Alaslani works at the optical table to assemble test components into a 3D-printed prototype of the EagleCam CubeSat camera system. Alaslani, who is from Rabigh, Saudi Arabia, works on EagleCam's structures and sensing teams and is earning her bachelor's in Aerospace Engineering at Embry-Riddle Aeronautical University. EagleCam will be capturing images of the Nova-C Lunar Lander (early model pictured in foreground) as it touches down on the Moon in the fourth quarter of 2021. (Photo: Embry-Riddle/David Massey)
As for making history, the project will utilize WiFi on the moon for the first time, which will allow future payload developers to more quickly and efficiently communicate with teams back home. Another first — the team will establish an Internet of Things network on the moon to further enhance communication.
"EagleCam will probably record enough data for Ph.D. students to analyze in dissertations for the next 10 years," Henderson added. "The scientific return is enormous."
Among those students is lead project engineer Daniel Posada, an Aerospace Engineering Ph.D. student from Medellin, Colombia who looks forward to bringing the data to life.
"When you read about the moon in a textbook, you sometimes wonder what it felt like to be at the forefront of those findings," Posada said. "Now, with all the data that will be gathered, we'll experience the thrill of discovery and inspire future generations to look at the moon in a different way."
Among their first steps, the team will send test cameras aboard a Blue Origin suborbital flight in early 2021 to prove its concept.
"We will verify that the structural components can survive the harsh environment of a rocket launch, as well as collect data to understand the effect of microgravity on our demonstration camera," Henderson said.
Once the cameras reach space, however, new challenges emerge — such as ensuring that dust from the moon, which Henderson describes as "baby powder with a static charge," does not interfere with spacecraft operations.
EagleCam will probably record enough data for Ph.D. students to analyze in dissertations for the next 10 years. The scientific return is enormous.
"EagleCam's camera lenses will collect some of this dust through the landing and the plume created by the Nova-C engine, and Embry-Riddle and NASA/Kennedy Space Center have signed a cooperative agreement to test an electrostatic dust removal system," he said. "The system creates an electric field that effectively shakes the dust off. We will collect pictures before and after the operation and be able to determine the amount of dust removed."
In the process, every student involved will get to interface with industry veterans, think through profound problems and gain life-changing work experience.
"For students to have this opportunity to show that they can design, test and build — that is a winning combination for their future careers," Henderson said. "These students are getting in on a real-world project, and, hopefully with mission success, will show some serious ingenuity, as well as offer data to analyze for years to come."
For Altemus, he sees the project as a way to pass on the wonder and confidence he gained as a student at Embry-Riddle onto the next generation of innovators and explorers.
"Along with a 25-year career at NASA, Embry Riddle removed the barriers to thinking big thoughts," he said. "I am proud to offer this lunar mission to students and faculty, an experience that will hopefully remove in them any hesitation, doubt or perceived constraint in reaching for the stars."
Learn more and support EagleCam. And, follow the project on Instagram.
— Kelly Pratt contributed to this report.
Posted In: Engineering | Space