Space Workers: 'Run Toward Difficult Problems'
For husband-and-wife duo Kathy and Dillon Rice, the latest guests to Embry-Riddle Aeronautical University's Aviation Outlook webinar series, success is not a state of being. It's something that is earned – through hard work, intentional growth and even a little discomfort.
"One of the things that good mentors do is push you out of your comfort zone and push you toward difficult things, so that you can grow and achieve great things by dealing with great problems," said Dillon Rice, who serves as the launch conductor for United Launch Alliance.
The next free and interactive Aviation Outlook webinar will feature the chairman of the National Transportation Safety Board (NTSB) and Embry Riddle alumnus Robert L. Sumwalt ('14, '18) at 6 p.m. (EDT) Wednesday, Aug. 12, via Zoom. Since joining the NTSB in 2006, Sumwalt has been a fierce advocate for improving safety in all modes of transportation, including teen driver safety, impaired driving, distractions in transportation and several aviation and rail safety initiatives. In the webinar, he will discuss his remarkable career and his tenure at the world's premier independent accident investigation agency, as well as answer questions from webinar participants. Register now for the virtual event.
Dillon began his aerospace career with The Boeing Company in 1999 as an engineer working on the construction of Cape Canaveral's Space Launch Complex 37, for the Delta IV program. He would not be where he is today, he said, without the help of active leaders.
"The role of the mentor is very important. You can learn a lot by just watching people, but the good mentors will put you in situations where you have to rise to succeed," he said. "I think that's really important. I've had that happen in my career, and I'm thankful for it."
Alumna Kathy Rice ('04), primary launch weather officer for both NASA Kennedy Space Center and the Delta IV program, as well as a member of the College of Aviation Industry Advisory Board, agreed, promoting extracurricular activities that serve to expand a student's comfort zone.
At Embry-Riddle, students push the limits of their skillsets through participation in clubs like the EcoEagles, which challenges students to build hybrid-powered cars; the Amateur Astronomy Club; the Robotics Association, which develops autonomous machines; Women in Aviation; Project Haiti, wherein students design, build and install solar-powered water purifiers throughout Haiti; the Robotic Warriors, a combat robotics club, and many other organizations.
"All of those team projects are wonderful experiences that really result in well-rounded candidates for jobs," Dillon Rice said, adding that students should avoid only joining those that most closely align with their programs of study. Instead, they should seek out the ones that challenge them most.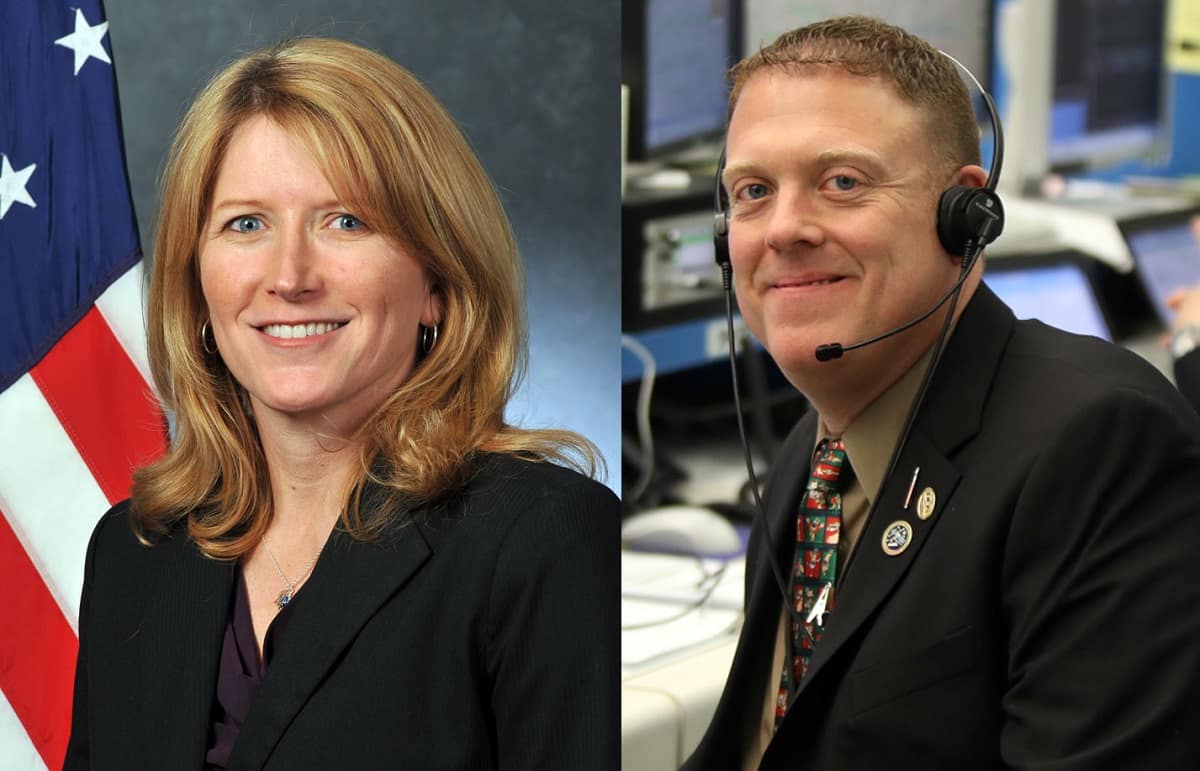 Kathy and Dillon Rice
"Run toward the difficult problems," he said.
For Kathy Rice, those difficult problems in her current position — keeping operations moving forward amidst the Covid-19 pandemic, forecasting erratic Florida weather and exploring how and when rockets can create lightning strikes — always lead to her favorite part of the job: a countdown.

"Launch day … is always the best day," she said, and she and her husband feel lucky to work in positions that get them so close to the action — whether it's a nearby beach, a Cape Canaveral rooftop or the control room at Kennedy Space Center.
"It's always fun to watch the windows rattle when you let loose a couple of million pounds of thrust," Dillon Rice said.
Dillon and Kathy Rice were featured guests in the fifth event of the free and interactive Aviation Outlook series, presented by Embry-Riddle's deans of aviation and moderated by assistant professor of Aeronautical Science Dr. Bob Thomas. The July 28 webinar is available for playback online. For recaps on prior guests, visit the Aviation Outlook website.