Embry-Riddle Alumnus Jared Isaacman One of Two Eagles to Crew First-Ever Civilian Spaceflight
Later this year, the first-ever rocket crewed entirely by civilians will launch into outer space — and half of its crew will be made up of Embry-Riddle Aeronautical University alumni.
The mission will launch a SpaceX Crew Dragon from Kennedy Space Center in Florida, carrying four crew members. Its commander, entrepreneur and Worldwide Campus alumnus Jared Isaacman ('11), sponsored the mission and offered one spot on the crew through a fundraising effort to benefit St. Jude Children's Research Hospital® — which has so far raised nearly $13 million.
"When I did find out that it was going to be the first — the first time a global superpower didn't send astronauts into orbital spaceflight — I was like, 'Wow, that is incredibly significant. Let's stop and think this through,'" said Isaacman, in a recent Aviation Outlook webinar event. "It's such an immense responsibility to get it right, because if you do, think of all the future space missions."
The mission's name, Inspiration4, is based off of the four pillars of leadership, hope, generosity and prosperity. Isaacman, serving as commander, represents leadership. Representing generosity is fellow Embry-Riddle alumnus Chris Sembroski ('07), who works for Lockheed Martin and won a crew position through the fundraising initiative, out of about 72,000 donors.
He and Isaacman will be joined on crew by scientist/educator Dr. Sian Proctor, who was selected after winning an entrepreneurship competition and represents prosperity. She has also conducted research with Embry-Riddle's Spacesuit Utilization of Innovative Technology Laboratory (SUIT) Lab in the past. Finally, representing hope is Hayley Arceneaux, a physician assistant at St. Jude, as well as a former patient there. She was treated for bone cancer as a child and, at 29 years old, will become the youngest American ever in space.
Isaacman is acutely aware of not only the historic significance of his upcoming flight, but also its power to inspire people to solve real problems here on Earth.
"You've got to achieve this great balance between making great progress and advancing the world," he said. "You have an obligation."
That's why he set a $200 million fundraising goal for St. Jude.
"We are trying to deliver a very powerful and inspiring message to the world," he said. "I certainly hope it's a model to other great endeavors in the future."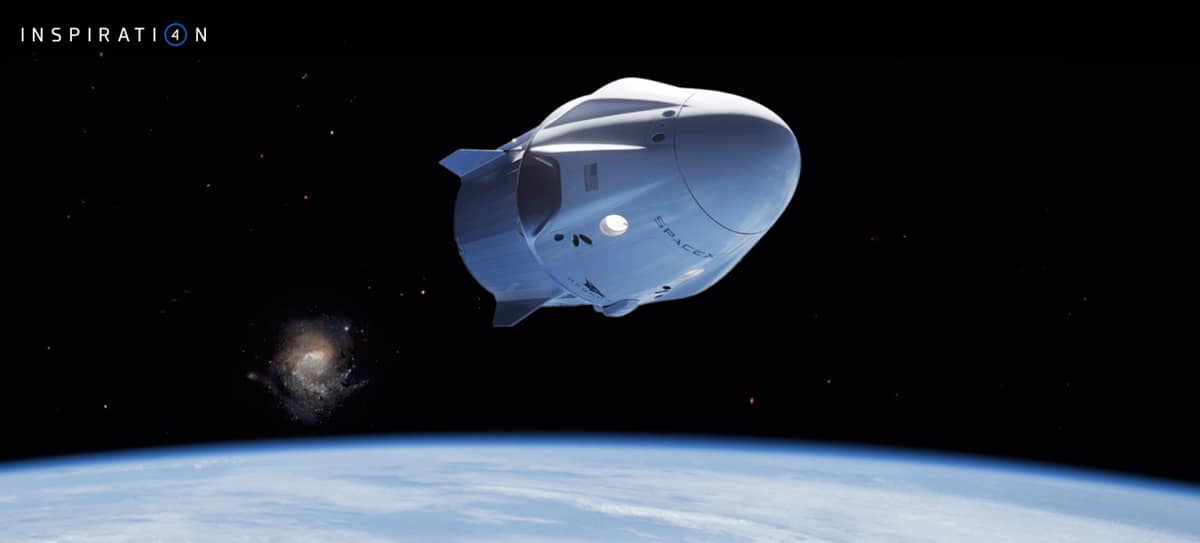 The Inspiration4 mission will travel in a SpaceX Crew Dragon spacecraft, rendered here. (Photo: SpaceX)
'Standing on the Shoulders of Giants'

Before reaching outer space, where the Inspiration4 crew will live — and work, conducting research experiments, the findings from which will be used back home — for three days, the crew will experience what no civilian ever has before: a launch outside of Earth's atmosphere. That means boarding a spacecraft on the same launch pad where every one of their astronaut heroes from every past space mission has stood before. It means thrusting 17,500 mph through the clouds.
"You're like on sacred ground," Isaacman said. "I've been a pilot for a really long time, and I feel like that can be the pinnacle of a pilot's career: getting to operate a spacecraft in orbit. … We're truly standing on the shoulders of giants here."
The next Aviation Outlook event will take place on April 13 and feature Erik Lindbergh, grandson of Charles Lindbergh. He is also an artist, adventurer and avid pilot. In 1996, he helped launch the XPRIZE Foundation, and the first $10 million prize that was awarded helped jump-start the private spaceflight industry. He is also cofounder and executive chairman of VerdeGo Aero, a partner in Embry-Riddle's Research Park which provides powertrain systems and engineering services to the emerging electric aircraft industry.
An accomplished pilot and air show performer, Isaacman didn't always know that he was working toward this particular mission, however.
When he was 16 years old, he launched a credit card processing company in his parents' basement called Shift4 Payments. Today, Shift4 processes $200 billion in annual payments and offers tech solutions to 200,000 companies around the world.
In 2011, he founded Draken International, a defense firm that trains Air Force pilots and owns the world's largest private fleet of military aircraft, and then sold the company in 2019.
But the turns he took throughout his career to get to this moment are not unique to him — "A couple months ago, a few of the people who'll be in the flight didn't even know they'd be fitted for a spacesuit," he said. That level of access to this industry, he added, reflects the wide range of opportunity available in the global marketplace right now.
"We're in the second big space boom … and they're going to need talented people with young, fresh minds," he said. "There's so much opportunity."
New aircraft and engine types are being designed every day, he added. Hypersonic aviation is in the works. Then there are other avenues, such as multi-planetary habitation, unmanned systems, electric aircraft, urban air mobility and more to consider.

"Human beings are going to be walking on the moon very soon — I feel confident about that," he said. "This is one of the best times in recent history to get into aerospace.
The full March 29 webinar featuring Jared Isaacman is available for
playback online
. For recaps on prior guests, visit the
Aviation Outlook
website.
Posted In: Aviation | Institutional News | Space