Embry-Riddle President Champions Student Success, Celebrates University Advances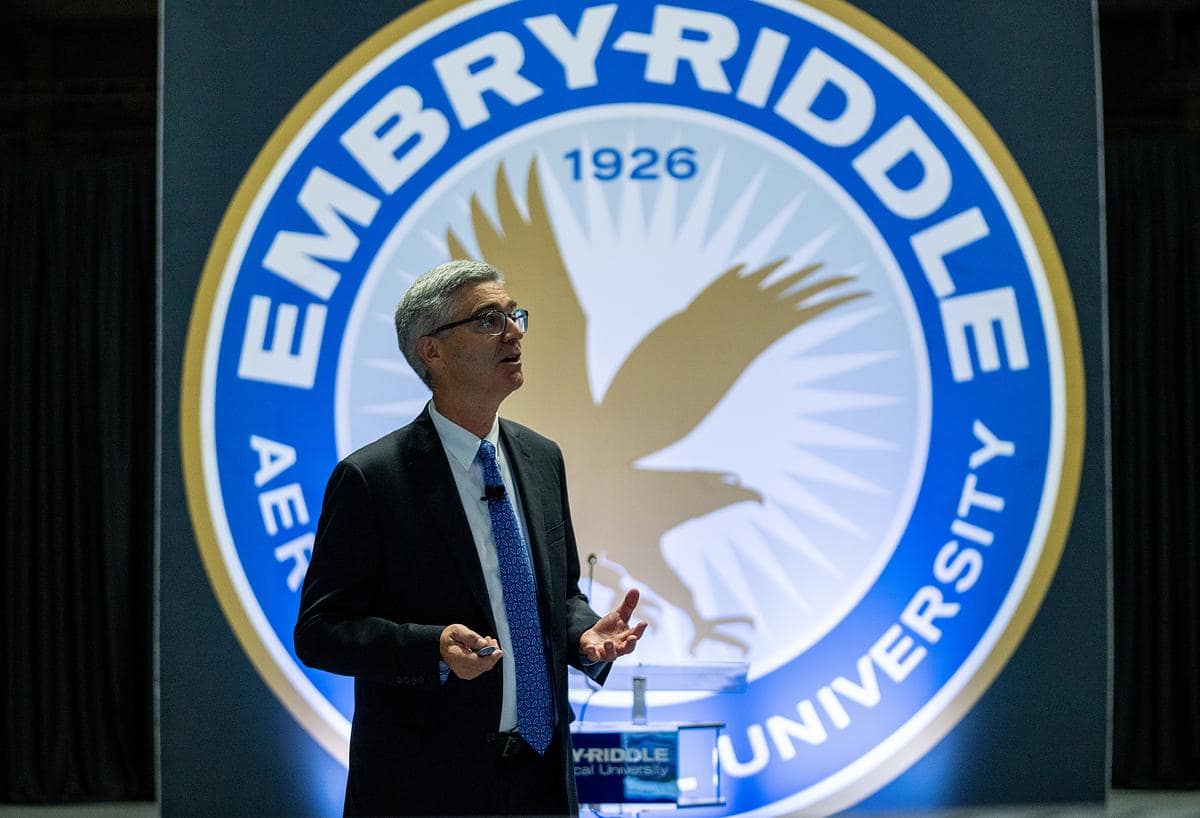 To help all students at Embry-Riddle Aeronautical University persist and succeed, personal attention and experiential learning opportunities are key, President P. Barry Butler, Ph.D., said during his 2022 State of the University address.
He asked faculty as well as staff to continue engaging with students as much as possible, to help them thrive and graduate. "Show students you care about them," Dr. Butler said. "Make students excited about learning. Encourage students to pursue their goals and dreams."
Citing a survey that tied students' preparedness for life with six positive undergraduate experiences, Dr. Butler also emphasized the importance of hands-on and immersive learning. "Help students prepare for meaningful careers," he said. "Support group projects. Promote extracurricular activities."
Embry-Riddle Board of Trustees Chairman Mori Hosseini kicked off the State of the University address by applauding another year of major wins for the university.
As a top example, he highlighted philanthropists Cici and Hyatt Brown's historic $25 million gift, which was matched by Gov. Ron DeSantis and the State of Florida to establish a Center for Aerospace Technology. Noting that the incoming class of 2026 will graduate as the university celebrates its 100th anniversary, Chairman Hosseini commended students and employees for making Embry-Riddle a great place to work and learn. "Cici and Hyatt Brown gave us $25 million because of you, and their belief in Embry-Riddle … because of the work you do," he said.
The Future Looks Bright
As Embry-Riddle begins the 2022-23 school year, Dr. Butler said, "The future looks bright." He cited a trio of overarching visions for that future. Moving forward, Embry-Riddle will continue to:
Be the unquestioned global leader in aviation and aerospace higher education.
Have a reputation for personal attention to student success.
Be the definitive source for innovation and excellence in aviation and aerospace education and research.
"Those three statements should guide us," Dr. Butler said.
The university continues to benefit from strong financial performance, he noted, and it is investing in people, programs and infrastructure while building reserves.
To help students pay less to receive an excellent education, Institutional Financial Support, or IFS has increased by 111% since fiscal year (FY) 2015, Dr. Butler reported.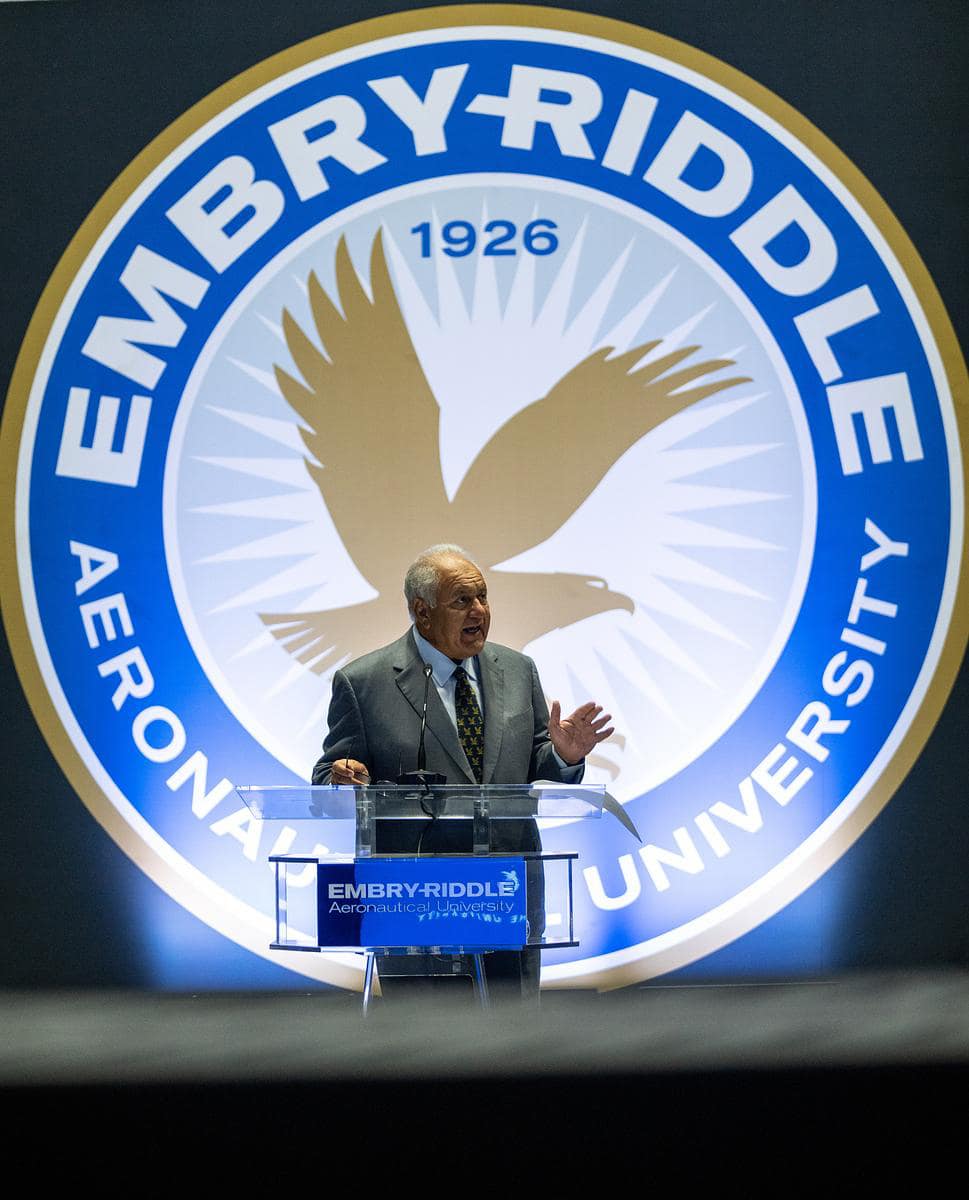 Embry-Riddle Board of Trustees Chairman Mori Hosseini celebrated the university's successes and commended faculty, staff and students. (Photo: Embry-Riddle/David Massey)
Salaries, wages and benefits at Embry-Riddle have outpaced an industry benchmark known as CUPA-HR (College and University and Professional Association – Human Resources) as well as inflation, as measured by the Consumer Price Index for all Urban Consumers (CPI-U). In particular, Embry-Riddle's salary pool rose by 36.1% between FY12 and FY23, compared with 27.9% for the CUPA-HR collective, and 35.6% compared with CPI-U.
The university has also been adding academic options, such as the Master of Space Operations and the Master of Aerospace Business Analytics degree programs. More than $500 million has been invested in capital projects since FY15, and the university has committed $30 million over five years to support the goals spelled out by the 2018-23 Strategic Plan, Dr. Butler said.
Embry-Riddle currently serves approximately 8,000 students at Daytona Beach, Florida; 3,100 at Prescott, Arizona; 600 in Singapore; and 22,000 through the Worldwide Campus. Dr. Butler described 10 years of financial growth across all three of Embry-Riddle's campuses. To support that growth, Embry-Riddle's faculty community has grown from 360 in FY13 to more than 550 projected for FY23. The university also recently welcomed a new Chief Diversity & Inclusion Officer, Russell T. Griffin, and this year it has added three new college deans.
Overall enrollment remains robust and, Chairman Hosseini reported: "Embry-Riddle is winning, or has made strong strides, across all areas of its five-year strategic plan: enrollment, student success, research and innovation, global strategy, and philanthropy."
Academic Excellence
Embry-Riddle's academic programs have continued to earn high rankings. This year, Embry-Riddle was named the nation's No. 1 provider of online bachelor's degrees (tied with the University of Florida), according to "U.S. News & World Report." Embry-Riddle has also once again earned the top "Best for Veterans" distinction. Multiple other programs, such as online bachelor's degrees in Business, and undergraduate degrees in Electrical Engineering and Aerospace Engineering received Top 10 rankings.
The university's accomplished alumni include industry leaders and astronauts as well as 159 members of the military who have achieved the equivalent of one- to four-star rankings. Eight of those alumni have earned a four-star designation, Dr. Butler said. "These [alumni] are individuals being tested to move up, and 159 have succeeded at the highest levels in the military," he noted. "That is amazing."
The Boeing Scholars program at Embry-Riddle now serves 45 highly meritorious but underrepresented students whose talents are urgently needed to bolster the future aviation and aerospace workforce. Dr. Butler asked everyone to help make the Boeing Scholars feel welcomed and engaged so that they can excel.
Innovation and Impacts
At Embry-Riddle's residential campuses in Arizona and in Florida, Chairman Hosseini said, "Our economic impacts are dramatically improving quality of life."
The university's rising reputation for research and innovation is also enhancing the value of degrees that Eagles are earning, he added. At Daytona Beach, Embry-Riddle's Research Park generated $137 million in total economic impacts in Florida last year – a 50% increase compared to 2019. Impacts in Arizona have been similarly impressive, the Chairman said.
"Our university is doing its part to create high-paying jobs and valuable internships for our students, so that we can prepare the future workforce and strengthen the economy," Mr. Hosseini emphasized.
Embry-Riddle recently launched two new centers for excellence, Dr. Butler noted – the Center for Aerospace Resilience (CAR) and the Center for Aviation and Aerospace Safety, headed by Robert Sumwalt III, former head of the National Transportation Safety Board.
More than $11 million in external funding has already rolled into the Center for Aerospace Resilience, he noted. It is also promoting cross-campus collaboration, with the Prescott Campus selected to join a new Academic Engagement Network facilitated by the U.S. Cyber Command, known as CYBERCOM. Other multi-campus initiatives such as NASA's Revolutionary Aerospace Systems Concepts – Academic Linkage (RASC-AL) program, are engaging students in longer-term projects that promote persistence and success.
In commending faculty and staff for their hard work, Dr. Butler stressed that everyone can make a difference in students' lives. "I'm really proud of what you've done," he said. "You may have played an important role in getting that student to the finish line."
This news summary, along with Dr. Butler's full presentation, will soon post to Embry-Riddle's leadership pages.
Posted In: Institutional News