Supporting the Next Generation of Aviation Pros: Meet This Year's Boeing Scholars at Embry-Riddle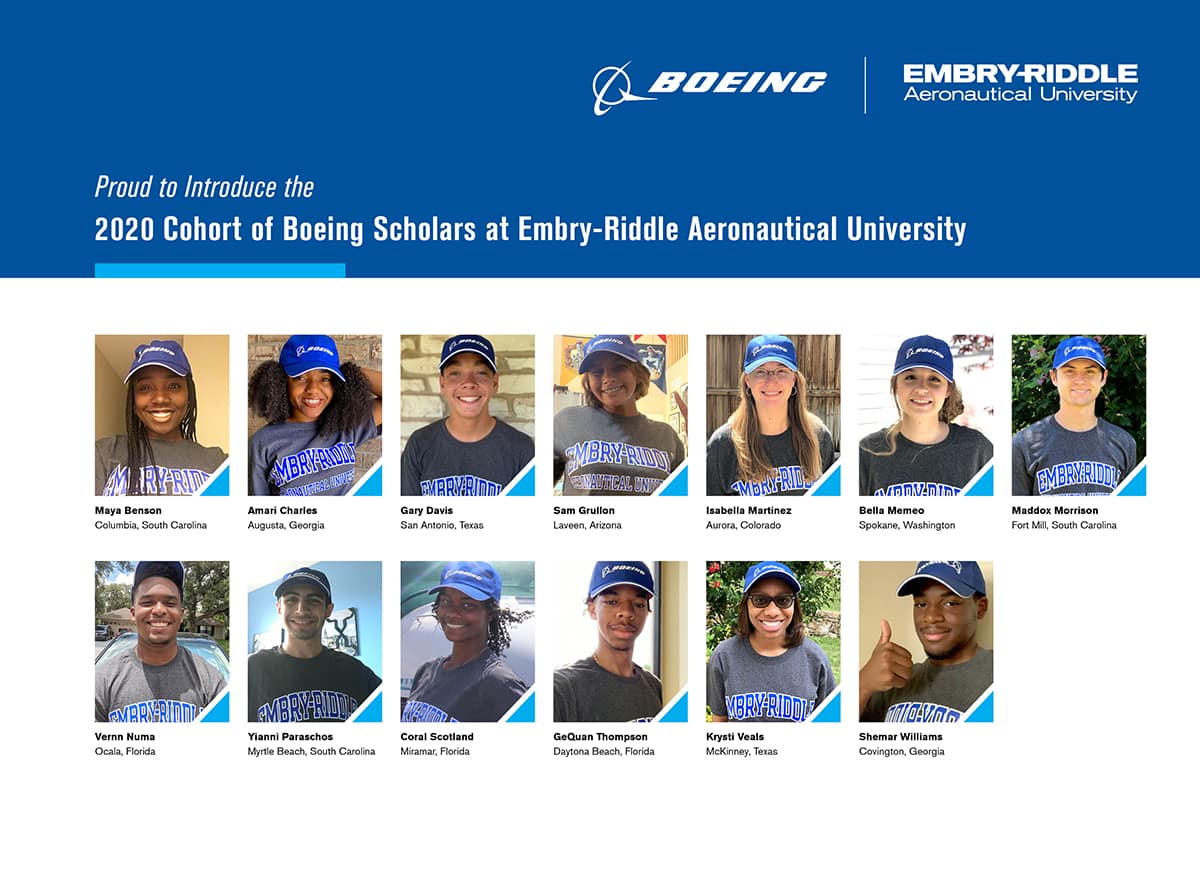 Thirteen outstanding high-school graduates will receive scholarships from The Boeing Company ranging from $5,000 to $7,500 annually for two years to pursue degrees at Embry-Riddle Aeronautical University. The scholarships are supported by a $3 million endowment from Boeing, the world's largest aerospace company and leading aircraft manufacturer.
The Boeing Scholars at Embry-Riddle Aeronautical University initiative is directed toward students interested in pursuing degrees in aeronautical science, aircraft maintenance and other fields at Embry-Riddle — the premier aviation and aerospace institution. The scholarships – which will fund a portion of each scholar's annual tuition – are part of an ongoing effort to expand and diversify the aviation workforce.
This is the second year of the scholarship program. Exceptional academic achievement, being a member of an underrepresented population and demonstrated financial need determine which students are chosen annually.
"The Boeing Scholarship Program at Embry-Riddle will allow talented, underrepresented students, veterans and their dependents to earn degrees in aviation and embark on successful careers," said Embry-Riddle President P. Barry Butler. "It is an honor to partner with Boeing to diversify the industry and enhance our aviation workforce."
"Boeing is proud to once again partner with Embry-Riddle as we work to develop students for future careers in aviation," said Cheri Carter, vice president of Boeing Global Engagement. "Through this unique scholarship program, our Boeing Scholars will have the tools required to do great things in the aerospace industry. We congratulate the second cohort of Boeing Scholars and we look forward to seeing all that they accomplish – both at Embry-Riddle and in their future careers and beyond.
Students chosen for this scholarship program are also offered benefits including trips to Boeing facilities, group projects, meet-and-greets with Boeing employees and interviews that can result in on-the-spot job and internship offers. Also, interns on both residential campuses can become Boeing Student Ambassadors, who work closely with Career Services to help prepare students interested in working for Boeing and inform them of available opportunities ahead of fall recruiting.
Boeing hosts some 1,400 interns each year, of which about 45 came from Embry-Riddle this past summer. In March, when the Covid-19 pandemic first prompted shelter-in-place orders, Boeing organized a plan to transition those jobs online and began shipping company-issued computers to get the interns connected. The program is known for the real-world work experience it offers, as well as compensation and benefits.
Boeing offers Embry-Riddle a number of other valuable programs for students, as well. The Boeing Career Mentoring Program, a highly selective initiative that matches 30-40 students per year with Embry-Riddle alumni who work at Boeing for formal mentorship, is offered to all students at both residential campuses. The program includes career-preparation advice, as well as regularly scheduled professional development workshops. Of 31 students who participated from both residential campuses in 2019, eight were selected for full-time positions or internships. Career Services leaders at Embry-Riddle's Daytona Beach, Florida, and Prescott, Arizona, campuses meet with the Boeing Core Team (Eagle alumni who work at Boeing) for status updates and to keep the line of communication open.
In addition, Boeing participates in Embry-Riddle research activities, they are represented on college industry advisory boards on campus, and the university takes part in an annual Boeing summit. Boeing has also donated funds to Career Services at both residential campuses to help produce Boeing Development Days, special speaking engagements and events that promote communication and leadership skill development to all students, with an emphasis on diversity and inclusion.
Meet the Class of 2020 Boeing Scholars at Embry-Riddle
All selected scholars are high-performing high-school students with exceptional grade point averages. The Boeing Scholars at Embry-Riddle will attend both of the university's residential campuses in Daytona Beach, Florida, and Prescott, Arizona.
Members of the Class of 2020 are listed as follows:
ARIZONA
Somaralyz (Sam) Grullon of Laveen, Ariz., Cesar Chavez High School
COLORADO
Isabella Martinez of Aurora, Colo., Eaglecrest High School
FLORIDA
Vernn Numa of Ocala, Fla., West Port High School
Coral Scotland of Miramar, Fla., Pembroke Pines Charter High School
GeQuan Thompson of Daytona Beach, Fla., Seabreeze High School
GEORGIA
Amari Charles of Augusta, Ga., Cross Creek High School
Shemar Williams of Covington, Ga., Alcovy High School
SOUTH CAROLINA
Maya Benson of Columbia, S.C., Westwood High School
Maddox Morrison of Fort Mill, S.C., Indian Land High School
Ioannis (Yianni) Paraschos of Myrtle Beach, S.C., Academy for the Arts, Science and Technology
TEXAS
Gary Davis of San Antonio, Tex., Smithson Valley High School
Krysti Veals of McKinney, Tex., McKinney North High School
WASHINGTON
Bella Memeo of Spokane, Wash., Mead High School
About Boeing
Boeing is the world's largest aerospace company and leading provider of commercial airplanes, defense, space and security systems, and global services. A top U.S. exporter, the company supports commercial and government customers in more than 150 countries. Boeing employs more than 160,000 people worldwide and leverages the talents of a global supplier base. Building on a legacy of aerospace leadership, Boeing continues to lead in technology and innovation, deliver for its customers and invest in its people and future growth.
Posted In: Institutional News