Embry-Riddle's Research Park Boasts Big Returns in New Economic Impact Study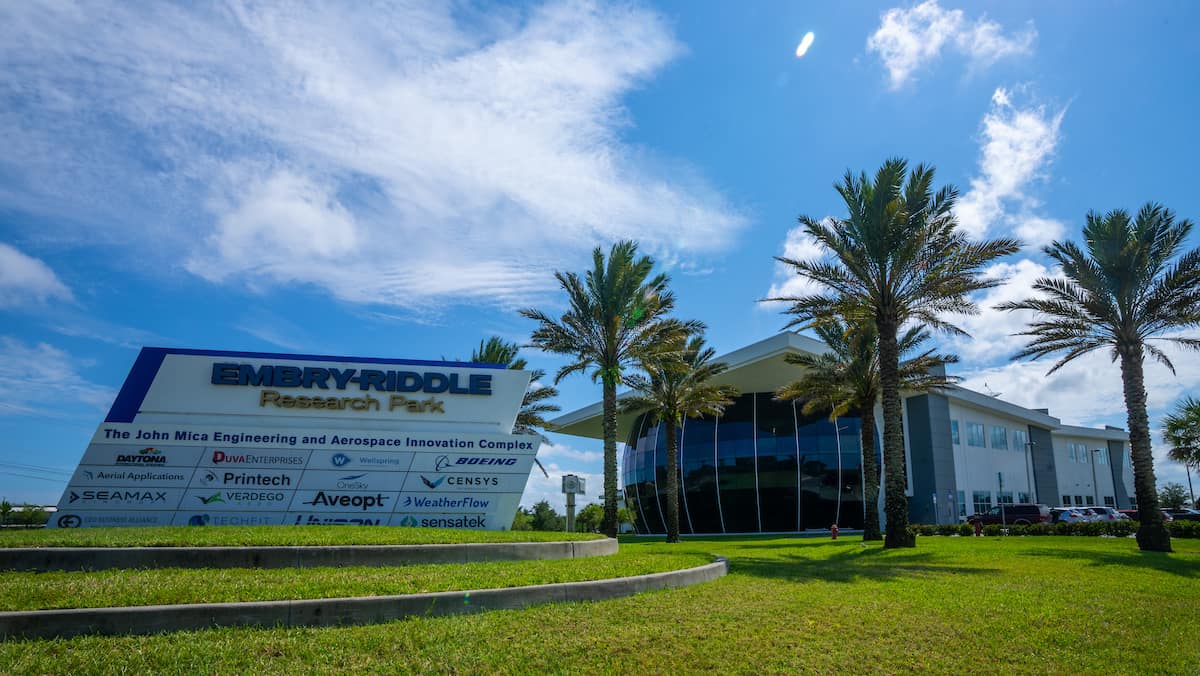 Embry-Riddle Aeronautical University's Research Park generated $137 million of total economic impact in Florida last year — a 50% increase from numbers reported in 2019 — according to an independent study conducted by The Washington Economics Group, Inc.
"By achieving a 50% increase in economic impacts in only three years, Embry-Riddle and its successful research park are fulfilling our vision to advance innovation and new business opportunities," said Mori Hosseini, chairman and CEO of ICI Homes, who also serves as Embry-Riddle's Board of Trustees chairman. "We are indebted to the State of Florida for their continuing support of Embry-Riddle's efforts to promote economic progress and improve quality of life for all Floridians."
The university's research park generates significant economic activity that supports $14 million in tax revenues for federal, state and local governments, the economic impacts study concludes. Targeting high-growth sectors, the research park also supports more than 700 jobs overall, both directly and indirectly — up nearly 40% from 2019, when 503 jobs were supported.
The cornerstone of the Research Park, the John Mica Engineering and Aerospace Innovation Complex (MicaPlex) has directly created more than 120 high-paying jobs, with an average salary over $78,000, spread throughout 22 advanced-technology companies that inhabit the space. Those firms have already attracted more than $46 million in outside investment.
Embry-Riddle's Research Park, founded in 2017, remains a significant economic engine for Volusia County and the state of Florida, as it continues to serve as a supplier of high-skilled talent to the aviation and aerospace industries and align its efforts to those of policymakers and economic development executives.
Embry-Riddle President P. Barry Butler reflected on the Research Park's early days, which aligned with the beginning of his tenure at the university.
"As a go-to hub for aerospace innovation and entrepreneurship, Embry-Riddle and its Research Park are creating high-paying jobs by incubating transformative ideas," Butler said. "We are honored to serve as a pipeline for new talent into the aerospace and aviation industries, and are excited to help Volusia County position itself as a leader in the booming commercial space arena."
Looking ahead, Embry-Riddle's capital spending plans for the Research Park from 2022 through 2026 will support 106 additional jobs and generate an additional $83 million in total economic impact. The park will also continue to offer internship opportunities for students, which then create full-time employment opportunities upon graduation and incentivize talent to stay in Volusia County.
The last comprehensive economic impact study of the university's three campuses was conducted in 2020, finding that Embry-Riddle's total economic impact reached nearly $2.4 billion. Nearly $2 billion of this impact was in the state of Florida — mostly in Volusia County — where the university supported nearly 14,850 jobs.
Since 2020, Embry-Riddle has continued to thrive, as evidenced by increased enrollment and ongoing construction projects to improve and expand the university's programs and facilities. One such project is the addition of a 10,000-square-foot production space to the Research Park. Expansions to the Prescott Campus, including a new student union, residence halls, wind tunnel facility and improved flight line, will soon begin. And on the Daytona Beach Campus, record enrollments have led to the expansion of virtual reality technology to support and streamline a booming Aeronautical Science program, as well as the construction of a new residence hall in 2021 and a new parking garage this year.
Posted In: Institutional News