To Help Create High-Paying Jobs, Cici and Hyatt Brown Pledge $25 Million, Matching State of Florida Support for Embry-Riddle Aeronautical University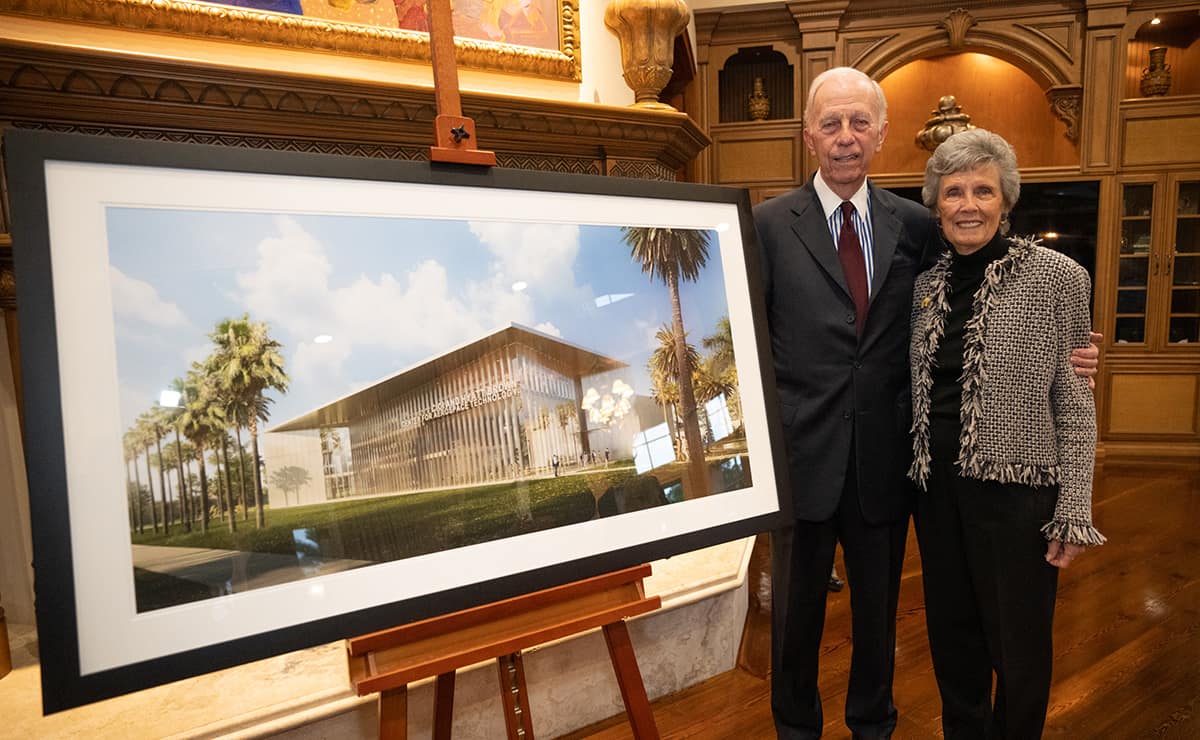 Embry-Riddle Receives the Single-Largest Gift in its 96-Year History
Philanthropists Cici and Hyatt Brown have pledged $25 million to Embry-Riddle Aeronautical University – matching $25 million in support approved by Florida legislators and pending approval by Governor Ron DeSantis – to help the university create a revolutionary new business makerspace focused on high-paying jobs for Floridians.
The remarkably generous $25 million pledge from Cici and Hyatt Brown represents the single largest gift in the history of Embry-Riddle Aeronautical University, which was established in 1926.
"Cici and I are excited to make this investment to help continue the growth and development of institutional excellence at Embry-Riddle Aeronautical University," Hyatt Brown said. "Our focused mission, now and in the future, is economic enhancement of entities in Volusia County that positively affect the quality of life for all our citizens. Embry-Riddle Aeronautical University and other fine academic institutions are economic growth engines that augment and embellish local median family incomes."
The new Cici and Hyatt Brown Center for Aerospace Technology will build upon the game-changing wins of Embry-Riddle's five-year-old Research Park, by promoting even more innovation, creating high-quality jobs, and bolstering Florida's advanced technology workforce. (Take a virtual video flyby of the new center here.)
"Everyone at Embry-Riddle is deeply grateful for the vision and phenomenal generosity of Cici and Hyatt Brown," said the university's Board of Trustees Chairman Mori Hosseini, who also serves as chairman and CEO of ICI Homes. "Their selfless investment in our community and the Embry-Riddle mission of education will inspire us for many years to come. The creative ecosystem of Embry-Riddle's Research Park stimulates transformative ideas, which drive economic progress and generate lucrative career opportunities. The new center, made possible by Cici and Hyatt Brown and the State of Florida, will take Embry-Riddle's already successful economic development efforts to a whole new level."
In 2021, Embry-Riddle's Research Park generated $137 million in total economic impact in Florida – up nearly 50% compared with 2019 — an independent economic assessment concluded. Through its mission of education, Embry-Riddle is also building Florida's workforce capacity in critical sectors, including aviation, aerospace, and STEM-related fields. Since the 2017 opening of the Research Park's cornerstone facility, the "MicaPlex" (John Mica Engineering and Aerospace Innovation Complex), Embry-Riddle's Research Park has directly created more than 120 jobs with an average salary of more than $78,000, thanks to some two-dozen affiliated companies. Since those jobs, in turn, support additional business enterprise, Embry-Riddle's Research Park actually supports a total of 700 jobs, both directly and indirectly.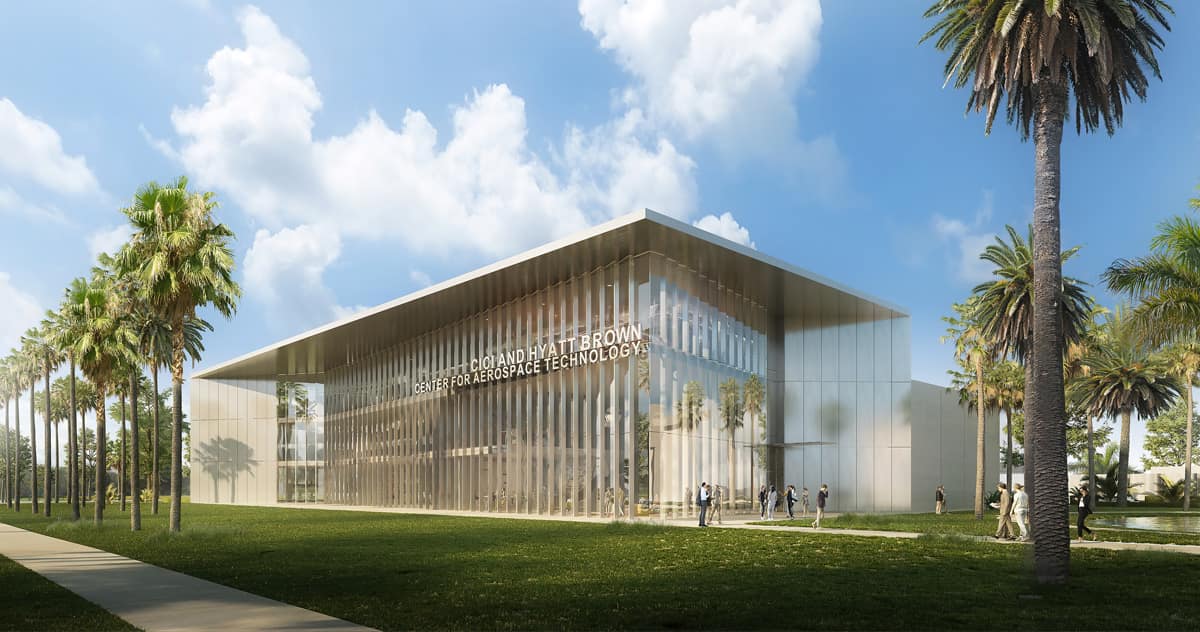 Artist's rendering of the Cici and Hyatt Brown Center for Aerospace Technology.
"The new Center for Aerospace Technology will further elevate our highly effective Research Park," said Embry-Riddle President P. Barry Butler, Ph.D. "From the beginning, the Research Park has enhanced educational opportunities for our students by pairing them with entrepreneurs from all over the world. Our uniquely collaborative research environment has supported both emerging and established companies, and we are bolstering the state's workforce across aviation, aerospace, cybersecurity, commercial space and many other STEM-related fields. Cici and Hyatt Brown and the State of Florida have placed their faith in Embry-Riddle's ability to make good things happen. We are tremendously thankful for, and motivated by, their support."
Encompassing a total of 105,000 square feet, the Center for Aerospace Technology will include a 65,000-square-foot building and 40,000 square feet of research-quality hangar space. The building will include makerspace as well as room for entrepreneurial activity. Plans for the new center are now under development. The university expects to break ground in summer 2022. Additional timeline details will be released as information becomes available.
Research Park Success Stories
"Embry-Riddle's Research Park has succeeded in promoting innovation and job growth," said the university's Chief Operating Officer and Senior Vice President Rodney Cruise. "The new center will provide us with yet another way to effectively partner with, and support, businesses. By being in our Research Park – an integral part of campus – companies can much more easily win the battle for highly skilled talent – from interns to engineers."
Meanwhile, success stories to emerge from Embry-Riddle's Research Park have included these and many other companies:
TECHFIT Digital Surgery. Since joining the Research Park in 2018, TECHFIT Digital Surgery – creator of precisely fitted custom implants for people with injuries caused by trauma, infection or cancer – has created high-paying jobs, invested more than $2 million to help drive Volusia County's economy forward, and sold 2,400 innovative surgical implants, CEO and Co-founder Maricio Toro has reported. The company has won many awards. It also received U.S. Food & Drug Administration (FDA) clearance to market its Patient-Specific Maxillofacial System in the United States.
WeatherFlow-Tempest. Since spring 2018, the company has been a tenant partner in the MicaPlex. In that time, the growing company has hired 15 people and rolled out a unique personal weather system that operates via smart phone app. The system, called the Tempest, provides real-time forecasting data through a weather station, sophisticated modeling and WeatherFlow-Tempest's data science team. "Since moving our R&D facility into Embry-Riddle's Research Park almost three years ago, WeatherFlow-Tempest has more than tripled by every measure – staff, customers, revenue and more," said the company's Vice President and CTO David St. John.
VerdeGo Aero. A hybrid-electric aerospace powertrain firm and Research Park tenant joined forces with the university to advance technology designed to mitigate electric aircraft noise. Under an exclusive option agreement, VerdeGo Aero will develop and commercialize the patent-pending technology.
Sensatek Propulsion Technology. Embry-Riddle alumnus Reamonn Soto, CEO and founder of Sensatek, is commercializing a big idea to save gas turbine operators millions of dollars annually. Sensatek Propulsion Technology is licensing patented wireless sensor technology to increase the operational reliability and performance of jet engines and high-temperature process flow applications. His innovation has created high-paying new jobs in Volusia County. It has also garnered more than $5.5 million in funding.
Embry-Riddle's Technology Transfer Office managed 11 invention disclosures involving 20 inventors in fiscal year 2020, with five patent applications, said Dr. Stephanie Miller, executive director of tech transfer and Research Park initiatives.
Embry-Riddle's Research Park
In addition to the planned Center for Aerospace Technology, Embry-Riddle's Research Park currently includes the following facilities:
MicaPlex. Known as the MicaPlex, the 50,000-square-foot John Mica Engineering and Aerospace Innovation Complex serves as the cornerstone building of Embry-Riddle's Research Park, attracting and supporting disruptive businesses. It houses collaborative workspaces, a wide range of laboratories and business-support services collocated to ensure that technology-focused startups will have every advantage for success.
Wind Tunnel. Adjacent to the MicaPlex, a 16,000-square-foot building houses one of the largest and most technologically advanced subsonic wind tunnels at any university in the United States. The system, designed and manufactured by ASE/FluidDyn AeroSystems, is capable of delivering flow speeds up to 230 mph, with a test section measuring 7 feet wide, 4 feet high and 12 feet long. It leverages a technique known as Particle Image Velocimetry or PIV. This makes it possible to measure the intricate details of the airflow velocities by using tiny smoke particles, powerful high-speed lasers and sophisticated cameras.
Research Hangar. Embry-Riddle's 7,500-square-foot Applied Aviation and Engineering Research Hangar, supported by more than $3 million in State of Florida grants, $1 million from the U.S. Department of Commerce Economic Development Administration and a grant from Volusia County, was established to spur innovation within the state's aeronautical cluster.
Warehouse. To better support affiliated businesses, Embry-Riddle's Research Park also includes a 4,000-square-foot warehouse, located across from the MicaPlex on Bellevue Avenue.
Advanced Technology and Manufacturing Center. Announced in April 2021, this center is still under construction. To be located on the east side of Clyde Morris Boulevard just south of Bellevue Avenue – it is already fully occupied. Half of the space will support WeatherFlow-Tempest, Inc., an existing Research Park innovator that is poised to expand its successful business, while the other half of the building will be devoted to Research Park operations.
Posted In: Institutional News