U.S. Air Force Veteran Russell T. Griffin to Join Embry-Riddle as Chief Diversity and Inclusion Officer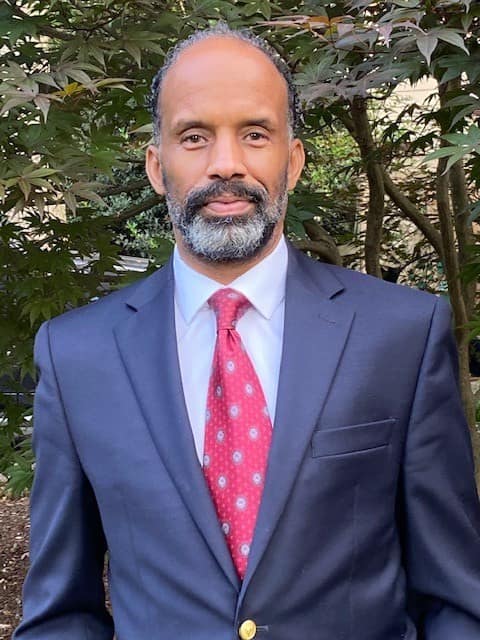 Note: Embry-Riddle's Vice President & Chief Human Resources Officer Brandon L. Young shared the following good news with the university community earlier this month.
Dear colleagues:
I am pleased to announce that Russell T. Griffin, a U.S. Air Force veteran, award-winning communicator and strategic thought leader, has accepted the position of Chief Diversity and Inclusion Officer at Embry-Riddle Aeronautical University.
Mr. Griffin, currently director of Diversity and Inclusion Education and Outreach for Emory University, will join Embry-Riddle on Aug. 22, 2022. In his new position, Mr. Griffin will lead the development and implementation of proactive diversity and inclusion initiatives to advance Embry-Riddle's ongoing goal to create a learning and working environment where everyone has an equal opportunity to succeed.
As Embry-Riddle's Chief Diversity and Inclusion Officer (CDIO), Mr. Griffin will serve as senior advisor to University President P. Barry Butler, Ph.D.
"I am delighted to welcome Russell T. Griffin to the Eagle family, and I look forward to all that he will accomplish in support of our diversity and inclusion goals," Dr. Butler said. "For the benefit of our students, as well as the industries we serve, Embry-Riddle is steadfast in its commitment to advancing diversity and inclusion at every level. Our highly accomplished new CDIO will champion the importance and value of a diverse and inclusive environment, and lead the development of a vision and strategy to advance it."
At Embry-Riddle, Mr. Griffin will chair the Council of Collegiate Diversity and Inclusion Coordinators, and support the Core Leadership Team on diversity and inclusion matters across all three campuses in Daytona Beach, Florida; Prescott, Arizona; and Worldwide. Administrative units reporting to the CDIO will include the Office of Diversity and Inclusion, and the Diversity, Equity and Inclusion Steering Committee (Daytona Beach), as well as (through a dotted-line structure) the Women's and Diversity Center (Prescott).
The CDIO will partner with me and collaborate with all Embry-Riddle departments to develop hiring and retention efforts to attract and retain a highly talented and diverse workforce. He will further identify emerging staff leadership talent and provide appropriate training and experiences so that they can realize their full potential at Embry-Riddle. Among his many other duties, Mr. Griffin will support succession planning and other critical Human Resources decisions.
Mr. Griffin's early years prepared him for his later successes. Born into a military family at Portsmouth Naval Hospital in Civil Rights-era Virginia, and having lived all over the country and overseas, Russell has seen firsthand the great imperative and opportunity in diversity and inclusion. He has served as catalyst and driver of equity-minded engagement in business, healthcare, higher education and the nonprofit arena for over 30 years.
He earned his undergraduate degree in Mass Communication/Public Relations and his master's degree in Industrial and Organizational Psychology. He further completed the Program for Leadership Development at Harvard Business School and is now working toward his Ph.D. in Industrial and Organizational Psychology from Walden University.
Over the years, his honors have included being named to the Communications Hall of Fame, the Athletic Hall of Fame (for Track & Field) and receiving the Young Alumni Achievement Award/MOBE Award from the State University of New York College at Buffalo, where he received his undergraduate degree. He holds a variety of certifications as a diversity practitioner and recruiter, and in the areas of entrepreneurial studies and justice.
Russell is a lifelong learner who became an All-American athlete at age 28. He has two adult children and enjoys music, movies, reading and wellness practices.
Before joining Emory University, Mr. Griffin served as a communications and training consultant with Kaiser Permanente while leading his own organizational effectiveness practice, Executive Adventure, as the president and chief learning officer in Atlanta. Previously, he worked with MetLife, where his roles included head of diversity for MetLife Individual Business.
Please join me in welcoming our new colleague to Embry-Riddle.
Brandon L. Young
Vice President & Chief Human Resources Officer
Posted In: Institutional News