Cyber Eagles Ready for Takeoff in Arizona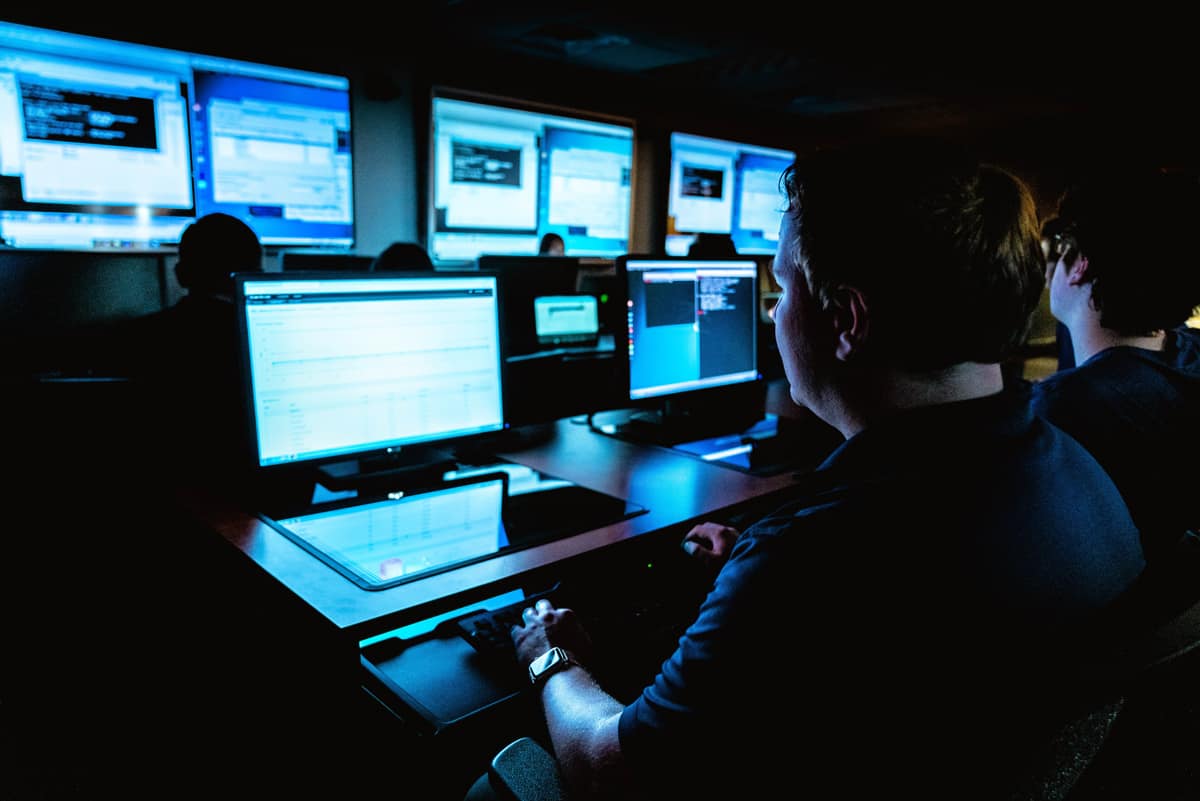 Embry-Riddle Aeronautical University has been selected as the one university to recruit and train the next-generation workforce in aviation and aerospace cybersecurity under the National Science Foundation (NSF) CyberCorps: Scholarship for Service (SFS) program.
Embry-Riddle's campuses in Daytona Beach, Fla., and Prescott, Ariz., will receive a five-year, $3.8 million grant from the NSF to provide full scholarship support for up to 20 students.
This effort is led by faculty from both campuses. In Prescott, that includes Dr. Krishna Sampigethaya, current chair of the Department of Cyber Intelligence and Security (CIS) and associate professor, and Dr. Jon Haass, founding chair and professor in CIS.
They will collaborate with the SFS program Principal Investigator, Dr. Radu Babiceanu, and other key personnel at the Daytona Beach campus on student research projects in aviation and aerospace cybersecurity.
"Addition of this SFS program to our state's cybersecurity reputation will help expand the pool of qualified professionals. Students receive much needed financial support and give service back to our government in a highly sought-after sector," said Mr. Tim Roemer, Director and State Chief Information Security Officer, State of Arizona Department of Homeland Security.
In 2019, the National Security Agency (NSA) and the Department of Homeland Security (DHS) named Embry-Riddle's Prescott campus a National Center of Academic Excellence in Cyber Defense Education (CAE-CD). The designation recognizes the strength of the cyber-related degree programs at Prescott offered and supported by the Department of Cyber Intelligence and Security.
"Apart from the CAE designation, we offer one of the world's few ABET accredited cybersecurity programs which also attests to the quality of the cyber curriculum, resources, and faculty here in CIS," said Dr. Sampigethaya.
CIS resources include a state-of-the-art Cyber Lab that boasts deep learning, advanced networking, IoT and cyber-physical range facilities as well as access to the well-equipped facilities managed by other departments at Prescott, such as ICARUS, GSOC, ATC Lab, and Flight Simulator on campus.
Multiple programs at the Prescott campus are SFS eligible: B.S. in Cyber Intelligence and Security; B.S. in Software Engineering (Cybersecurity Focus); B.S. in Global Security and Intelligence Studies (Cyber AOC); ; B.S. in another aviation/aerospace-related degree program in Prescott and with a Minor in Cyber Intelligence and Security; M.S. in Cyber Intelligence and Security; and, M.S. in Security and Intelligence Studies.
"This distinguished selection by NFS is a win-win! It provides a world-class cyber education for a diverse set of future Cyber Eagles as well as providing the critical cybersecurity skills needed by our U.S. government workforce", said Dr. Thomas Drape, dean for the new College of Business, Security and Intelligence, under which the CIS department is located.
Cybersecurity jobs are plentiful in the U.S. government and there is the need to fill them with a more diverse workforce. The SFS program in Prescott will focus on recruiting talent from women and other underrepresented groups in cybersecurity such as Hispanic and first-generation college students. Prescott's CIS department started the first Women in Cyber Security (WiCyS) club in the state.
The CIS department also has "established relations with Hispanic-Serving Institutions in the state, such as Estrella Mountain Community College and Glendale Community College to attract talent," said Dr. Jon Haass, who also serves as the Northern Arizona representative on the Arizona Governor's Cybersecurity Team.
Dr. Sampigethaya, who helped start the aviation cyber security research area in 2006 and was the first Boeing Associate Technical Fellow for aviation cyber-physical security and first UTC Research Center associate director for aerospace cyber security, is excited about the possibilities of this SFS program.
Embry-Riddle students from Prescott have already successfully engaged in cross-disciplinary projects in aviation and aerospace cybersecurity, including developing capture-the-flag competitions and offering them at world-class venues such as DEF CON Aerospace Village, WiCyS-Critical Infrastructure, Aviation ISAC Summit, and AIAA conferences, with support of key stakeholders including Aviation Information Sharing and Analysis Center (A-ISAC), The Boeing Company, Collins Aero, U.S. Department of Defense, and Lockheed Martin.
"We will integrate the SFS program with Embry-Riddle's outreach and research activities, so students can be involved in our current initiatives and research grants," said Dr. Sampigethaya. "At Prescott we have a variety of multi-disciplinary cybersecurity research projects focusing on avionics and air traffic control systems, drones and advanced air mobility, artificial intelligence and Internet-of-Things enabled aviation applications, and pilot and air traffic controller cyber readiness. There will also be a lot of synergy especially with two campuses working together."
Aviation and aerospace cyber-physical security knowledge, skills, and abilities gained by Embry-Riddle SFS scholars and advances made under this SFS program will also apply to economic and other national critical infrastructure sectors such as energy and healthcare.
A good example of this is how some CIS students working on an avionics cybersecurity teamed up to win the No. 4 overall position (No. 1 undergrad team position) among the 130 teams in the 2021 Department of Energy CyberForce competition, which focused on smart grid security.
Since it was founded in 2013 by Dr. Haass, the CIS department also has a solid track record for placing talent in U.S. government cybersecurity positions and this SFS program will enhance this.
Michaela Adams ('21), a B.S. in Cyber Intelligence and Security graduate and a winner of the AIAA and Aviation Week Network's 20 Twenties award who is now solving national security problems at a federally funded research and development center says that "when people recognize that I come from Embry-Riddle, they automatically recognize that I come from a great program with great education and great professors who have industry experience."
Jayla Thirtyacre ('20), a B.S. in Cyber Intelligence and Security graduate and a winner of the Ed King Community Service award, is also now working at a federal agency.
"As a student at Embry-Riddle, I was able to engage with cyber professionals through extracurricular activities, guest speaker events, and several other opportunities," Thirtyacre said. "Some of these people I would later speak to at job interviews! The wide range of activities offered at Embry-Riddle, from attending national cyber conferences to hosting international student-led CTFs, produces Eagles ready to excel in the working world."