Prescott Campus College of Business, Security & Intelligence Names New Dean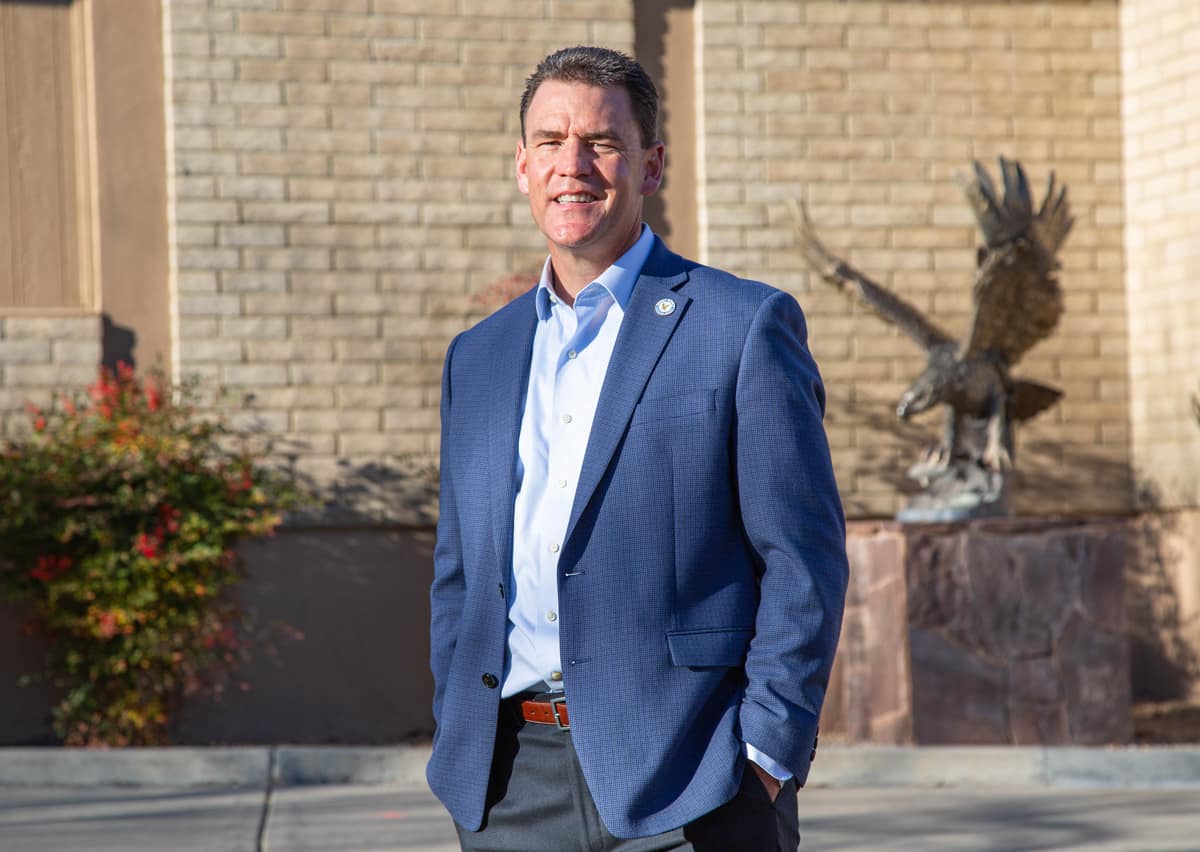 Following a nationwide search, Embry-Riddle Aeronautical University has announced Dr. Thomas Drape as the new dean of the Prescott Campus' College of Business, Security and Intelligence (CBSI), the first of its kind in the nation. Drape has been serving as interim dean since August of 2021.
Embry-Riddle's CBSI teaches students to understand the languages of security and of business, integrating knowledge in such areas as risk management, analytics, fraud counterintelligence and supply chain security, preparing graduates for high-paying, in-demand jobs. The CBSI degree program currently has 524 students enrolled.
"Our industry partners have been extremely supportive of this one-of-a-kind college, and we are so pleased that we have found the perfect person in Dr. Drape to lead it," said Prescott Campus Chancellor Dr. Anette Karlsson.
Drape earned a bilingual doctorate with honors from IESE Business School in Barcelona, Spain, and taught at the George C. Marshall European Center for Security Studies in Garmisch-Partenkirchen, Germany. In addition to his Ph.D., Drape earned a master's of business administration (MBA) from the Katz Graduate School of Business at the University of Pittsburgh and a bachelor's in Management from the U.S. Air Force Academy. He has held faculty appointments at five academic institutions and has led academic study-abroad programs on four continents and 15 countries including Turkey, China, India, Japan, South Korea, El Salvador, Uruguay, Bolivia, France and Italy. He is also a 20-year veteran of the U.S. Air Force, having worked as a program manager and procurement specialist on multi-million dollar aerospace projects leading to Level III Program Management and Level 1 Multinational Program Management Certification.
"It is a privilege to lead our amazingly talented faculty and staff who are committed to excellence and dedicated to student success," said Drape. "I am energized by the opportunities for our college, including expanding our global footprint, deepening our industry relationships and raising us to the highest level of recognition and distinction as the College of Business, Security and Intelligence."
Drape's previous academic administrative experience includes: U.S. Air Force Academy chair and deputy director for the program in Advanced Security Studies at the Marshall Center, deputy department head for operations in the Department of Management at the U.S. Air Force Academy, chair of the MBA and Graduate Business Programs in the School of Business at Azusa Pacific University, and director for the Embry-Riddle School of Business.
"I have full faith that Tom will do an excellent job of vertically advancing CBSI," said Vice Chancellor and Chief Academic Officer Dr. Kathy Lustyk. "He will continue to bring the faculty together in their mission of serving students and he can hit the ground running in our efforts to improve enrollment and retention and address other challenges facing higher-education today."
Posted In: Business | Security Intelligence and Safety