Students Develop and Host International Aviation Cybersecurity Competition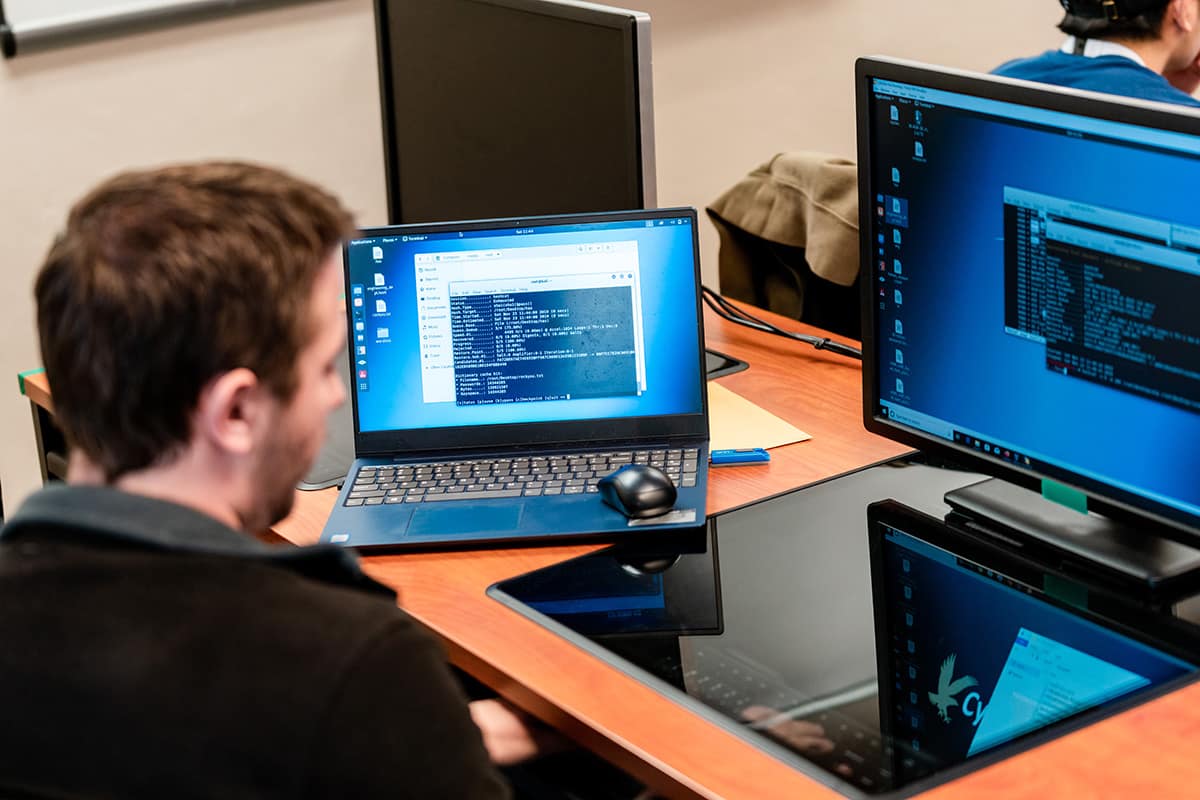 Despite the pandemic, Cyber Intelligence and Security (CSI) students at Embry-Riddle's Prescott Campus got real-world experience developing an aviation cybersecurity competition and hosting it virtually at two different international conferences this fall.
Seven undergraduate and two graduate students worked with Cyber Security Department Chair Krishna Sampigethaya, Professor Jon Haass and two alumni from April through September to produce a story-based, aviation-focused capture the flag (CTF) cyber competition.
The project was sponsored by the Aviation Information Sharing and Analysis Center (A-ISAC) and supported, in part, by philanthropic contributions.
More than 211 people participated in the student-designed and built aviation cybersecurity competition in August at DEF CON 2020, a hacking conference for security professionals. The Embry-Riddle CSI team hosted the competition again, in September, for 25 student teams from universities across the world at the A-ISAC Annual Summit.
"Following the pandemic outbreak, both conferences went into safe mode and all-virtual, so the competitions were offered by Embry-Riddle virtually and participants could register and participate in the competition from their remote locations," said Sampigethaya. "Both competitions were free and open to anyone in the world. Consequently, we had people from many countries participate."
Participants had to use their skills and knowledge in cybersecurity, intelligence and aviation to return a hacked and compromised airport, its related airlines, aircraft and systems, to normal operating conditions, and to identify the cyber attackers.
"I liked learning more about aviation and the different factors that play into the cybersecurity of the aircraft," said Jayla Thirtyacre ('20), a recent CSI graduate who worked on the project. "I worked with a flight instructor and gained insight about the aircraft systems and communication with air traffic control from someone who actually flies. In previous years, the department sponsored participation in cybersecurity competitions, but it is very different to be one of the people creating it and thinking about how the problems can be solved."
The team also worked with several external partners including CyberSkyline, CybatiWorks, RapiScan, Twitter, the Department of Homeland Security's Cybersecurity and Infrastructure Security Agency, Collins Aerospace, Lockheed Martin, and the Idaho National Lab, as part of the effort.
James Hensleigh, a CSI graduate student who worked on the project, said the experience helped him professionally, by allowing him to work with industry experts and complete a complex project on deadline.
"I learned how broad the field of cybersecurity is, it truly takes a team of experts in different areas to create a capture the flag competition," he said.
Sampigethaya said the experience was invaluable for students and the university, providing both with an international platform. "All of this is created by our students, so that is where the university's name shines," he said.
He credited donor support of the college and its programs for making student opportunities, like this project, a reality.
The CSI department, which resides within the Prescott Campus'
College of Security and Intelligence
, has become a growing point of pride for the university. It is housed in the Glen A. Doherty Center for Security and Intelligence. In 2019, the National Security Agency and the Department of Homeland Security designated Embry-Riddle's Prescott Campus a National Center of Academic Excellence in Cyber Defense Education through 2024.
"This designation places our CSI department programs among the best in the nation and validates the learning environment created for our students," Sampigethaya said. "Our CSI program prepares students for top-tier positions in government and industry, building a strong workforce in a field that is crucial to keeping cyberspace secure."
Thirtyacre said there are still not a lot of women in the CSI field, but that is changing. Her father inspired her to study cybersecurity, she said, and she was fascinated with all of the information that can be collected from digital forensics.
"This field is always evolving and I thrive on the fact that it requires continuous learning," she said. "As a female, I offer another perspective to bring to the table, in a field that needs diverse minds to help outsmart malicious actors. Those different perspectives are what foster new ideas."