Virtual Reality Training Promises Improved Learning, Safety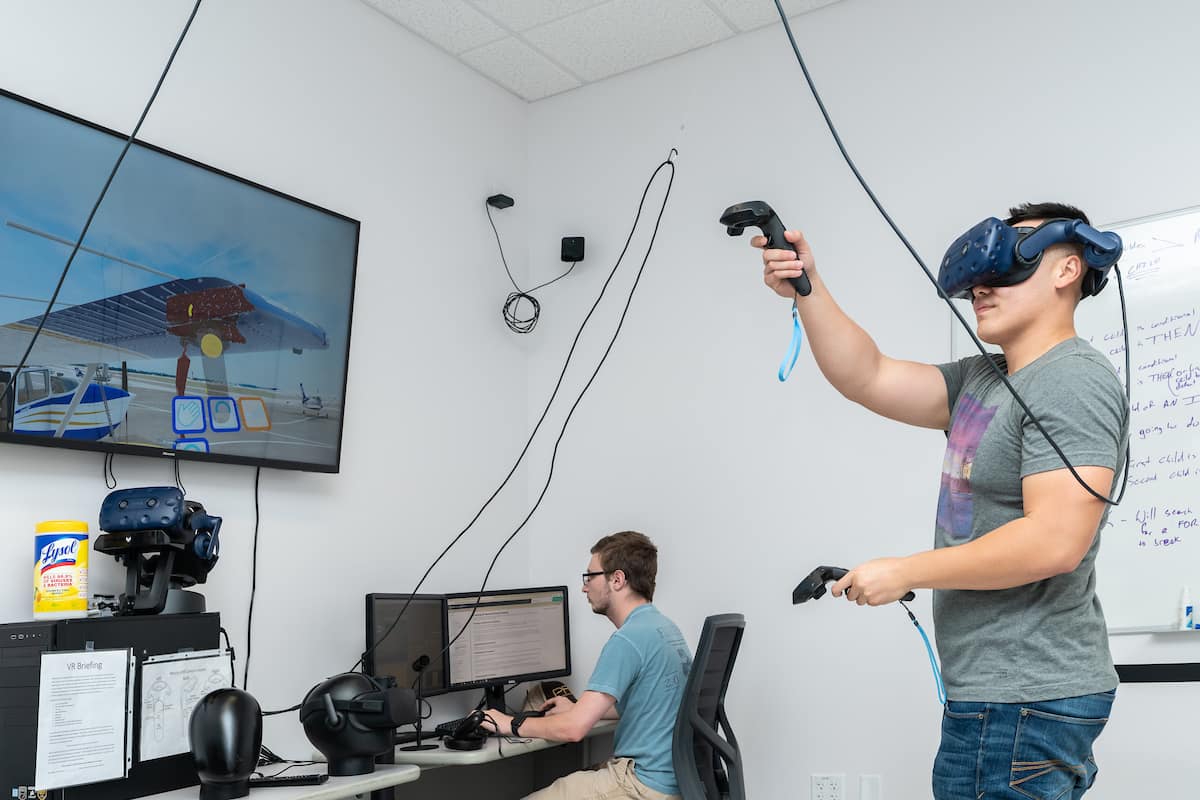 Aspiring student-space travelers last year explored a simulated version of the International Space Station, where they performed tasks from a Virtual Reality Laboratory on Embry-Riddle's Daytona Beach Campus.
Soon, student pilots at Embry-Riddle will also be able to practice pre-flight inspections of a Cessna 172 aircraft in the new Virtual Reality Lab.
"Embry-Riddle is keeping pace with the evolution of virtual and augmented reality technologies across many industries," said Daniel Friedenzohn, associate dean of the College of Aviation. "We're developing virtual systems to train our students more effectively in a safe environment."
In some cases, he added, virtual practice might even help reduce students' flight-training costs, if they can master a thorough simulated pre-flight inspection before attempting the real thing on Embry-Riddle's flight line.
The HTC Vive Pro virtual reality headset – developed for the video-game industry – allows students to walk around a remarkably realistic version of the school's flight line, complete with rows of Cessna 172 aircraft. Currently in its final stage of development at Embry-Riddle, the simulated "172 Walk-Around" scenario takes students through a step-by-step pre-flight aircraft inspection that is required before flight. The simulation provides valuable practice in completing inspections, but more importantly, Friedenzohn said, it tests students' ability to spot potentially hazardous defects.
Last month, Trevor Goodwin, an expert in creating virtual reality experiences, was brought on board to manage Embry-Riddle's Virtual Reality Lab.
Advancing Aviation Safety
"Our goal is to program defects on the aircraft that students will need to discover during a virtual walk-around," said Friedenzohn, associate professor of aeronautical science. "You can't put a flat tire on a real airplane, but you can plan for it within a virtual system so that we can test our students' ability to catch those types of issues and keep them safer once they take flight."
Friedenzohn credits College of Aviation Dean Alan Stolzer with setting forth the vision for a Virtual Lab to complement Embry-Riddle's existing Advanced Simulation Center. "Virtual and augmented reality technologies have become increasingly important to a variety of educational as well as business goals," Stolzer noted. "At Embry-Riddle, we're working to ensure that our students have all the skills they will need to excel in the aviation and aerospace industry of the future."
With the help of faculty, industry advisors and student employees such as Zachary Colman, a military veteran and avid gamer since the age of five, Embry-Riddle's Virtual Reality Lab will ultimately offer various simulated scenarios.
For example, students will be able to fly a virtual F/A-18 Hornet as it attempts a particularly tricky maneuver: connecting with a military version of the Boeing 767 for refueling in flight.
Future aviation maintenance technicians at Embry-Riddle will be able to repair virtual engines, augmented by diagrams and text prompts. Already, Friedenzohn noted, Japan Airlines is using a sophisticated virtual system to provide training on the anatomy and repair of jet engines.
Improving the efficiency of aviation training remains critically important amid a global shortage of highly qualified pilots and maintenance technicians: Over the next 20 years, Boeing has projected, some 790,000 new pilots and 754,000 aviation maintenance technicians will be needed to meet worldwide industry demands.
Enhancing Education
A key goal for Embry-Riddle's Virtual Reality Lab will be to study and confirm the effectiveness of all training systems. "We're not simply embracing new technologies because they're kind of cool," Friedenzohn said. "Our faculty are conducting research to assess how well those technologies actually work to enhance students' learning."
Assistant Professor of Spaceflight Operations Erik Seedhouse, for instance, has submitted an application to assess the effectiveness of virtual reality for learning in various environments. Seedhouse, who brought the simulated International Space Station to Embry-Riddle's new Virtual Reality Lab, has so far made the experience available to students in two of his courses: Introduction to Spaceflight and Space Station. In the Space Station course, students roamed around the virtual ISS while Seedhouse assessed their ability to perform specific tasks both inside and outside the simulated facility.
The Virtual Reality Lab is equipped with the HTC Vive Pro virtual reality system, including a head-mounted tracker/display, two hand-held controllers with haptic (touch) feedback, and two infrared tracking beacons. The beacons define the space where users can move while they are either tethered to the custom-built simulation computer or wirelessly connected. The heart of the system is a custom-built, high-end PC workstation with a water-cooled 4.2 GHz Intel i7-7700K CPU, GeForce 1080 Graphics Card, and 16 GB of Ram.
One Student's Journey
For Zachary Colman, attending Embry-Riddle and supporting the development of the Virtual Reality Lab has fulfilled a long-standing passion that began with video gaming when he was very young. "My older siblings would let me play whenever they needed a sidekick or an easy opponent," he explained.
After high school, the Livonia, Mich., native spent six years on active duty (2011-2017) as a Munitions Maintainer in the U.S. Air Force. He deployed three times to Southwest Asia, and during that time, his interest in virtual technologies intensified. In 2012, he backed a virtual reality project on Kickstarter called the Oculus Rift. "The unit I received in 2013 spurred my interest in virtual reality and it's the reason I work in the Virtual Reality Lab today," he said. "I heard about Embry-Riddle through some of my military friends after discussing our mutual interests in aviation. They had been attending Embry-Riddle's Worldwide Campus … I eventually decided on the Daytona Beach Campus, with some encouragement of my fiancé."
Embry-Riddle is home to one of the largest and the most sophisticated collegiate advanced flight simulation centers in the world, including a full-motion, Level D flight simulator.
Flight students on the university's two residential campuses currently have
access to 134 flight simulators
. Embry-Riddle's Worldwide Campus has
developed award-winning virtual crash and aerial robotics labs
. These allow students to build their own simulated unmanned aircraft systems platforms and inspect plane crashes from a computer or tablet anywhere in the world.
Posted In: Aviation | Computers and Technology | Space