Aviation Maintenance: Not Just Technicians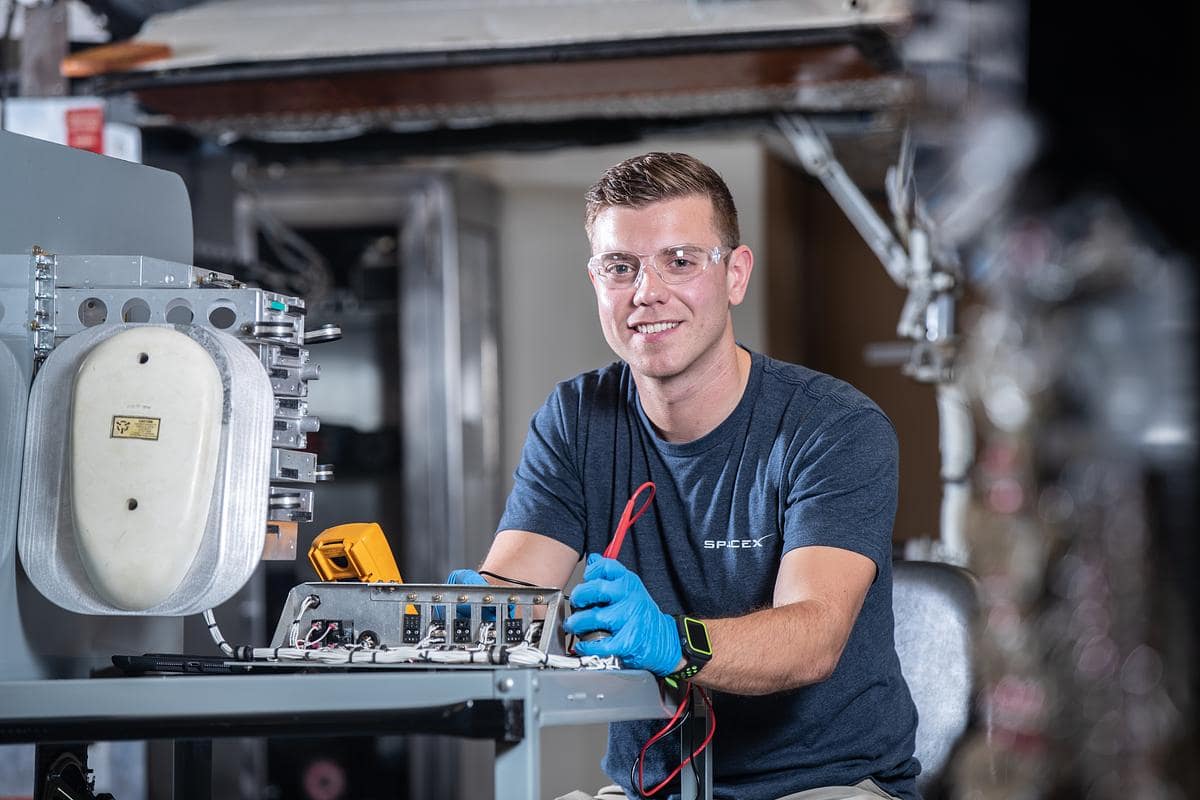 Graduates of Embry-Riddle Aeronautical University's Aviation Maintenance Science (AMS) bachelor's program have gone on to careers working for companies as diverse as Blue Origin and SpaceX, NASCAR, the airlines, Sea World and even IBM.
"A lot of people have this false impression that AMS is just turning a wrench," said Mitch Geraci, interim chair of the Department of AMS on Embry-Riddle's Daytona Beach Campus. "We're very proud of the hands-on aspect, but that is not all we do. We stress troubleshooting and emphasize and develop the critical thinking skills needed for today's advanced aircraft."
On connected aircraft, the technicians are now the first line of defense for cybersecurity.
Developing students' critical thinking skills is the primary objective of the department's newest area of concentration: Avionics Cyber Technology and Security, which has seen its enrollment triple since welcoming its inaugural cohort of students in 2019. As part of the program, students are required to take three cybersecurity courses, further widening their net of possible career options.
"Troubleshooting and critical thinking are a huge part of cybersecurity," Geraci said, noting that modern aircraft have built-in computer systems that need to be safeguarded. "And this program integrates value-added VR (virtual reality) and AR (augmented reality) capabilities to really immerse the student in scenarios they would encounter in the field."
Neill Fulbright, Embry-Riddle's director of Avionics & Cybertechnology, echoed the ways in which the industry has changed to meet pressing cybersecurity needs.
"Technicians are now tasked with installing and configuring aviation IT networks and connectivity," he said. "Along with this is the added task of network management and best practices."
Essentially, modern aviation techs have taken on network administrator responsibilities for aircraft, and Embry-Riddle has responded to that need by incorporating new, industry-relevant courseware and certifications into its curriculum to lead the way in avionics technician training.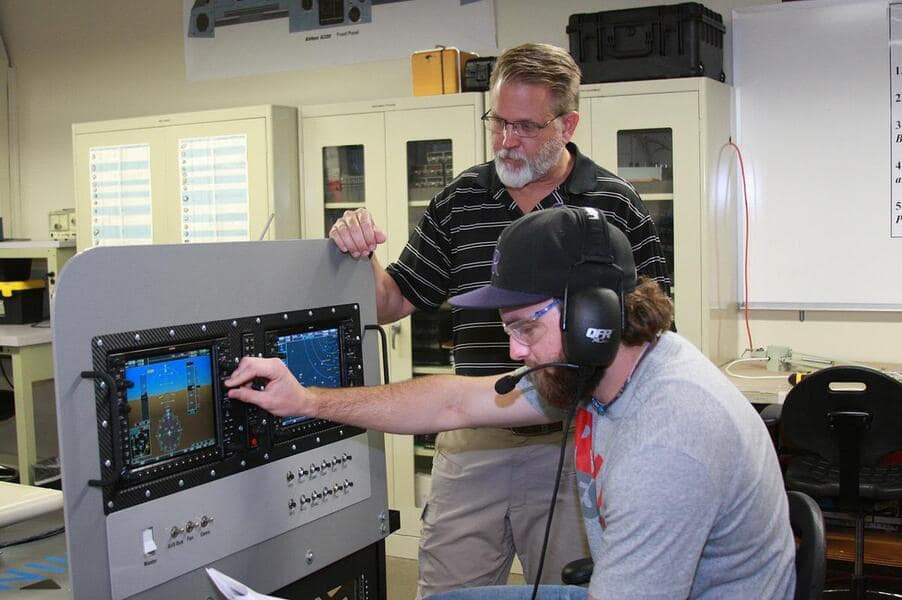 Professor Neil Fulbright, director of Avionics & Cybertechnology at Embry-Riddle's Daytona Beach Campus, works with an aviation line maintenance student in the Avionics Laboratory. (Photo: Embry-Riddle/Chris Carta)
"On connected aircraft, the technicians are now the first line of defense for cybersecurity," Fulbright said.
Even within traditional maintenance roles, though, the opportunities are seemingly endless for AMS grads — especially with the ongoing pilot/technician shortage projecting a need for 610,000 aviation maintenance technicians over the next 20 years. That's even more than the number of pilots needed during that same timeframe (602,000).
According to Geraci, The Boeing Company's forecasted shortage takes positions at both commercial and business airlines into account. "Business aviation is an absolutely booming part of our industry," he said. "Pepsi, Coke, Nike, Procter & Gamble, Netflix and Amway, just to name a few, all have their own fleet of aircraft." Those employment projections don't, however, factor in the number of technicians needed to fill jobs at commercial space firms or other emerging industries, such as those specializing in uncrewed aerial systems (or "drones") or urban air mobility vehicles (or "air taxis").
To address that diversity of need, the AMS curriculum teaches students specialties through "value-added" courses and areas of concentration, Geraci said. Students work in Embry-Riddle's FAA Repair Station, for example, overhauling the Department of Flight's aircraft engines to further hone their mechanical and troubleshooting skills. They can also enroll in Avionics Line Maintenance courses to earn additional certifications above and beyond the FAA minimum requirements.
"It's a trainable, technical skill," Geraci said of AMS, which makes it transferable to a wide range of fields. "We don't need any more parts-changers. We need critical thinkers — because those parts they're changing could cost up to $100,000, so they need to get it right the first time."
To expose students to the broad slate of job options available to them, Geraci leads an Aviation Maintenance Professionals capstone course, which walks students through the many possible career paths available to them.
"AMS is the perfect balance encompassing vocational training and university academics, and this course offers a holistic view of the industry," he said. "I wish I had this class when I was in school."
Posted In: Aviation | Computers and Technology | Space | Uncrewed Systems