Meet Trevor Goodwin: New Virtual Reality Lab Director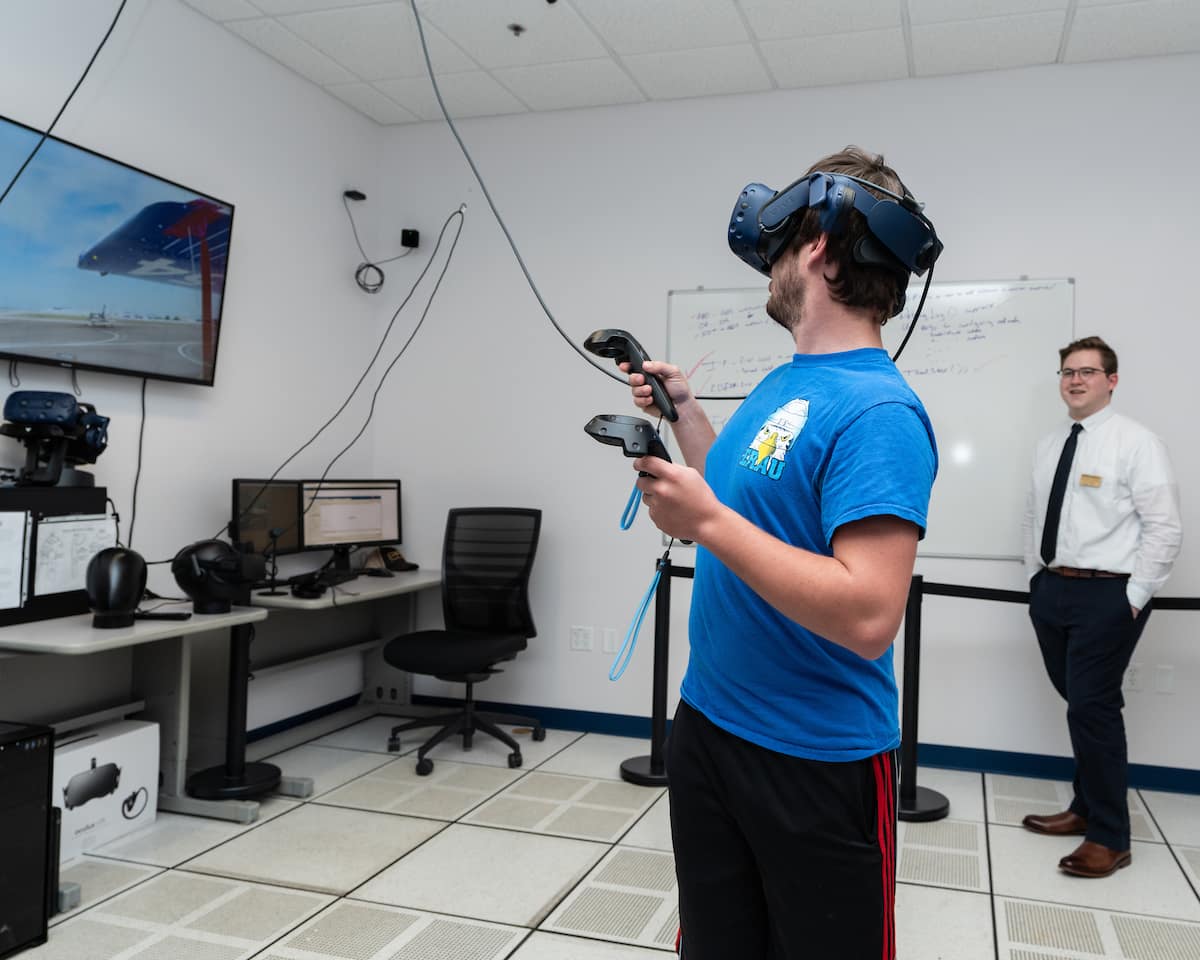 Trevor Goodwin, who designs and develops computer applications within the Unity engine, an all-in-one digital experience creation suite, recently joined Embry-Riddle's Daytona Beach Campus as manager of the new Virtual Reality Lab. He's enthusiastic about leveraging virtual reality systems to advance aviation safety.
"Any sort of high-risk training can be done inside a virtual environment at low cost, compared to being out in the field," said Goodwin, who earned his bachelor's degree in Digital Media at the University of Central Florida (UCF). "Every type of training can be dangerous sometimes. In a lab with a virtual headset, you're in a controlled environment with people supporting you, so you can focus on learning, with fewer distractions."
This is why Embry-Riddle researchers are currently finalizing a simulated "172 Walk-Around" virtual scenario that will take flight students through a step-by-step pre-flight inspection of a Cessna 172 aircraft. It's also why the Virtual Reality Lab features a simulated International Space Station (ISS), to help Spaceflight Operations students practice performing tasks inside and outside of the facility. (Read more about the Virtual Reality Lab here.)
Goodwin said that his three primary goals in his new role are to "grow, to develop new technologies, and to collaborate." In particular, he added, "I'm most excited about working with faculty on creating virtual reality tools for their classrooms, for teaching as well as research. I'd like to establish the lab as an effective tool for researchers, and I'd like to develop tools that evolve over time so that we can support educators in any way we can."
His philosophy echoes the strategic direction set forth by leadership within the College of Aviation. While the virtual 172-Walk-Around and ISS scenarios are definitely exciting for students, said Daniel Friedenzohn, associate dean of the College of Aviation, "the real purpose of the new Virtual Reality Lab is to enhance student learning and confirm the effectiveness of virtual tools based on objective research."
Raised in Orlando, Fla., Goodwin became interested in creating computer-aided designs and engineering documentation while studying architecture in high school. In college, he applied those skills to the digital media realm. Before joining Embry-Riddle, he worked at the UCF Institute for Simulation and Training, where one of his projects involved using virtual reality to help therapists work with people experiencing aphasia, a language impairment that can strike following a stroke.
"Trevor brings unique skills to the Virtual Reality Lab," Friedenzohn said. "In addition to his technical skills, he has a proven track record as a project manager, and his interpersonal skills should serve him well as we continue to expand our educational offers in this area."