Q&A: Embry-Riddle Stands at the Forefront of Booming Drone Business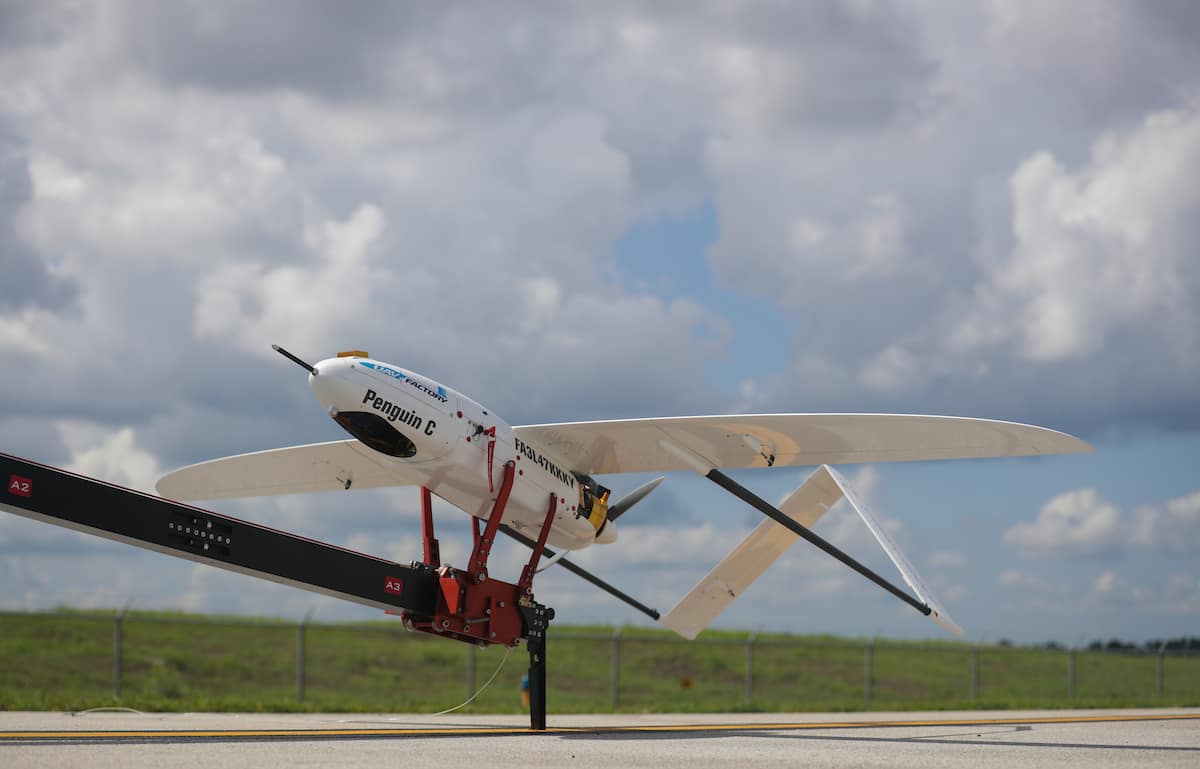 Why is Embry-Riddle's TOP certification important?
With the rapid proliferation of drones, the risk of Unmanned Aircraft Systems (UAS) and airplanes continues to increase. A single bird strike could be enough to take down a jetliner, for example — but the same is true for a drone that happens to be in the wrong place at the wrong time.
The TOP certification confirms that Embry-Riddle's Unmanned Aircraft Systems (UAS) degree programs demonstrate a high level of reliability, safety and professionalism. Employers can be assured that Embry-Riddle graduates are trusted operators.
Currently in the United States, a remote commercial drone pilot only needs to pass an FAA knowledge test. This doesn't examine the remote pilot's ability to safety fly an aircraft. TOP requires basic knowledge as well as a Practical Flight Assessment for the highest levels of certification.
What sort of gaps with flying knowledge and skills have you seen operators struggle with?
Some remote pilots who are certificated under Part 107 — which requires UAS to weigh less than 55 pounds, not fly beyond the remote pilot's line of sight, and not fly directly over people, among other rules — have never even flown a UAS before. This presents all kinds of operational issues.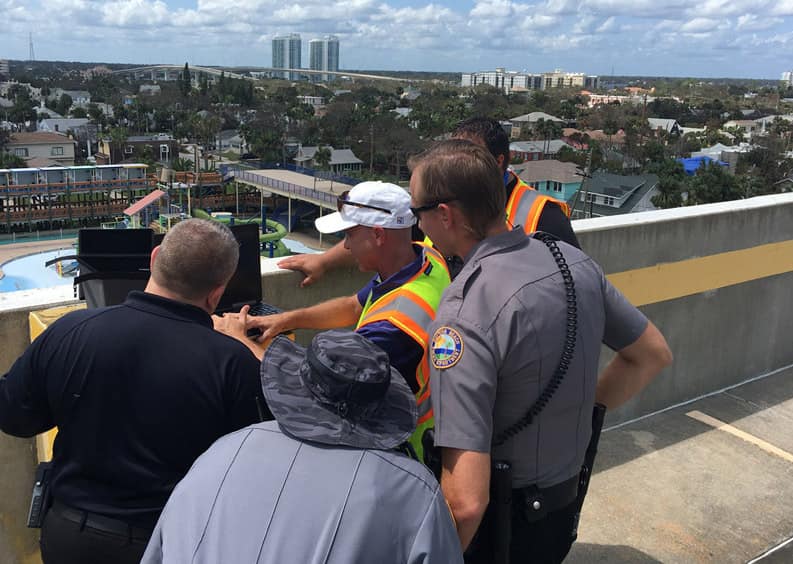 Dr. Joseph Cerreta (yellow vest) teaches police officers from the Daytona Beach Police Department, in Florida, how to conduct a post-hurricane damage assessment with a senseFly eBee after Hurricane Irma. (Photo: ERAU Assistant Professor Anthony Galante)
How do you see UAS impacting the future of aviation?
UAS are known for performing dull, dirty, and dangerous military jobs — but they're so much more than that. They can positively impact the future of aviation if safely integrated into the National Airspace System.
U.S. farmers, for example, lose up to $20 billion per year from various kinds of crop loss. Drones can scout the health of an entire field, though, in high resolution and much cheaper than any manned aircraft.
Public acceptance of UAS also changed significantly in 2017. Drones equipped with thermal cameras were instrumental in saving lives after hurricanes Harvey and Irma, since they were able to detect people stuck on rooftops. Support missions were flown day and night, which gave first-responders more time to focus on rescue. Additionally, UAS were used to inspect infrastructure, decreasing the downtime for power lines, cell phone towers, and obstructed roads.
Will drones really replace traditional commercial airline carriers someday?
Well, it depends. The consumer willingness to fly on autonomous aircraft is not strong enough at the moment for a sensible business case — and during an emergency, human pilots can make an instrumental difference in the outcome. They could save lives.
So, how could UAS be incorporated?
Autonomous cargo and package delivery aircraft already exist. The Lockheed-Martin K-Max UAS is one aircraft currently performing cargo resupply and logistics operations around the world. Zipline, a UAS delivery company, has also flown more than 14,000 flights in Africa to deliver blood and medical supplies to rural hospitals throughout Rwanda.
Some of the current technology might also be used to augment commercial aircraft to reduce crew size. Historically, as aviation progresses, crew size shrinks. In our future, single/remotely piloted operations can leverage a single pilot in the cabin while another co-pilots from the ground (sometimes even controlling multiple aircraft at once). Research on this is ongoing as one possible way to mitigate the impending pilot shortage.
What are some examples of student UAS projects at Embry-Riddle?
Our students are involved in all kinds of interesting UAS projects! Sixteen students recently completed work to preserve Kosovo's cultural heritage as part of the Study Abroad program, for example. Assistant professor Kevin A. Adkins flew a small UAS (sUAS) into wind-turbine wakes to learn how differences in humidity levels over crop fields affect growth.
Maybe my favorite project, though, happened during the summer of 2017, when I, along with a couple professors from the Daytona Beach and Worldwide campuses and seven students, set out to serve first-responders affected by tornadoes in Oklahoma. In the height of tornado season, we conducted the first test of small drone-based augmented reality software to help emergency teams assess the damage from the storm wreckage. This was the first time in the history of the National Weather Service that a UAS live stream video was used to conduct a damage assessment response.
What UAS degree programs are available at Embry-Riddle?
The Daytona Beach Campus has a Bachelor of Science (B.S.) in Unmanned Aircraft Science, UAS Training Lab, and a Master of Science (M.S.) in Unmanned & Autonomous Systems Engineering.
Simply — our students have a fully mature UAS program to leverage, arming them with skills to progress quickly from flying to management positions as they advance in their careers.
The Prescott Campus has a B.S. in Unmanned Aircraft Systems.
And the Worldwide Campus has a B.S. in Unmanned Systems Applications, a M.S. in Unmanned Systems and a M.S. in Unmanned & Autonomous Systems Engineering.
Are there educational options for commercial drone operators already in the workforce?
Yes! Our Professional Education programs, including many aviation safety courses, can be found online.
What kinds of UAS jobs are available to Embry-Riddle grads?
Alumni are obtaining a wide variety of jobs from systems engineering, to flight test support, to pilot. One example is Rollin LeMand ('18), who works at General Atomics (GA-ASI) as a systems engineer.
Ashley Hanson ('18) works for Amazon Prime Air as a flight test support assistant and is conducting experimental testing for a fleet of delivery UAS.
Thomas Ludwick ('17) works for ACADEMI as an Arcturus T-20 pilot. He serves in deployed locations worldwide to operate UAS in support of US military operations.
The Worldwide Campus' UAS Program won 1st Place at AUVSI's XCELLENCE Awards. Is that a big deal?
That award recognizes Embry-Riddle as the best training and education organization for teaching Unmanned Systems, and for our hands-on flight training. Several new UAS courses have also been developed, including mission planning, flight training, commercial inspection with sUAS, sUAS business consideration, sUAS ground school, sUAS fundamentals for public safety, and several others.
Simply — our students have a fully mature UAS program to leverage, arming them with skills to progress quickly from flying to management positions as they advance in their careers.
Posted In: Applied Science | Aviation | Computers and Technology | Research | Security Intelligence and Safety