U.S. News & World Report Ranks Embry-Riddle Aeronautical University among the Nation's Top Five Online Bachelor's Degree Programs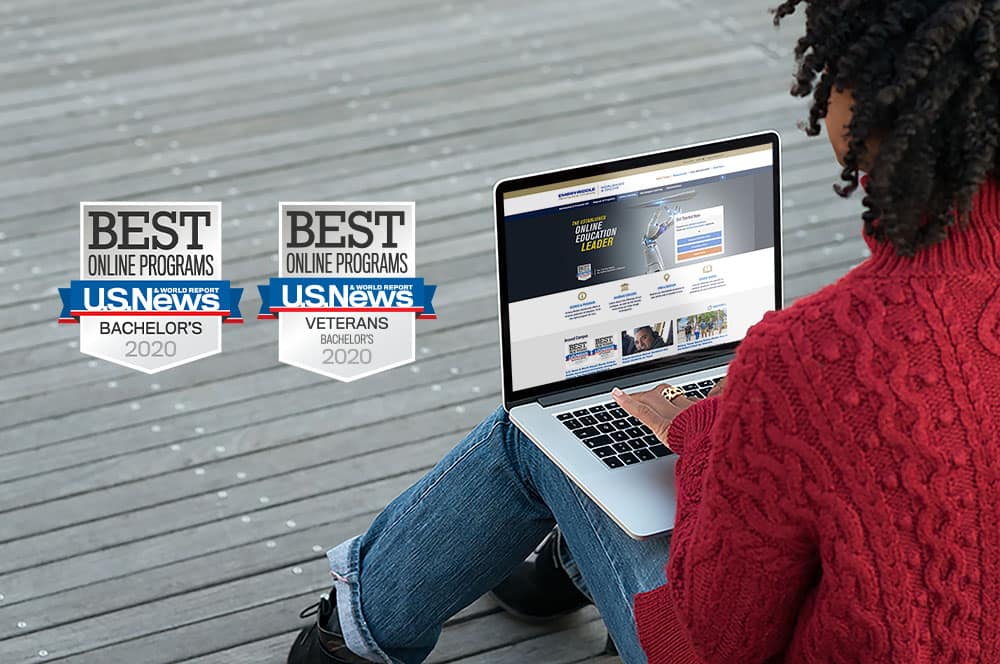 For the seventh consecutive year, aviation and aerospace powerhouse Embry-Riddle Aeronautical University ranked among the nation's top five online bachelor's degree providers, in U.S. News & World Report's 2020 ranking.
Embry-Riddle was named No. 1 in the nation among 97 schools providing online undergraduate degree programs specifically tailored for veterans. Embry-Riddle's Worldwide Campus has ranked among the top five most outstanding programs for veterans on the annual U.S. News & World Report list since 2014.
Embry-Riddle also earned the No. 2 spot overall when compared with 344 other institutions offering online bachelor's degrees in the United States. In addition, Embry-Riddle's exceptional online graduate business programs and online MBA programs, for both veterans and other students, were highly rated by U.S. News & World Report.
The U.S. News list of top five online undergraduate degree programs placed Embry-Riddle in impressive company. Embry-Riddle successfully competed with distinguished research institutions, and it was the only private university among top schools.
Embry-Riddle President Dr. P. Barry Butler said: "We are honored to be named among the nation's top five most exceptional online educators. The latest U.S. News & World Report ranking will inspire us to continuously improve our service to students by pushing our award-winning educational programs to even greater heights."
Embry-Riddle Worldwide Chancellor Dr. John R. Watret said, "The 2020 U.S. News & World Report rankings reaffirm Embry-Riddle's steadfast commitment to academic excellence, the high value of our degrees based on our graduates' ability to secure rewarding jobs, and accessibility for all students, from first-generation university students to veterans and military members."
Dr. Jason M. Ruckert, Vice Chancellor & Chief Digital Learning Officer at Embry-Riddle Worldwide noted that "affordability, academic quality enhanced by cutting-edge interactive technologies, and student success are at the forefront of what sets Embry-Riddle apart."
Ruckert also cited Embry-Riddle's long-standing leadership in online education. "Our unrivaled consistency in delivering world-class distance education for nearly 50 years differentiates Embry-Riddle from other institutions," he said.
The 2020 U.S. News & World Report ranking assessed online bachelor's degree programs across four general categories: student engagement (which counted for 35% of each institution's score); faculty credentials and training (20%); peer reputation (20%); and student services and technology (25%).
Award-Winning Online Degree Programs
This year's U.S. News & World Report rankings were only the most recent distinction earned by Embry-Riddle's Worldwide Campus, which includes fully online programs as well as approximately 130 locations in the United States, Europe and Asia.
In 2019, for example, Embry-Riddle was selected by the Council of College and Military Educators (CCME) to receive the Institution Award, which is presented annually to one higher education institution in recognition of significant contributions to educating active-duty service members and veterans.
In 2018, Embry-Riddle Worldwide's unique virtual crash laboratory and aerial robotics virtual lab received a CIO 100 award for innovative and transformative digital educational technology. In addition, a high-tech effort to help students feel connected with Embry-Riddle and persist with their studies earned a top honor for excellence in education from the Western Interstate Commission for Higher Education Cooperative for Educational Technologies.
Further, in 2018 Embry-Riddle became the first institution of higher learning to successfully complete and excel in all categories of The University of Professional and Continuing Education's National Council for Online Education Hallmarks of Excellence in Online Leadership Review.
Offering bachelor's, master's and doctoral degree programs for some 23,000 students in the United States and globally, Embry-Riddle Worldwide in 2018 was also named one of the best online colleges in the nation by the Center for Online Education. Its online graduate degree programs have earned numerous accolades from independent online ranking providers.
According to Embry-Riddle Worldwide's annual alumni survey, 95% of graduates are employed or are in graduate school within a year of graduation.
Posted In: Applied Science | Aviation | Business | Computers and Technology | Engineering | Human Factors | Institutional News | Research | Security Intelligence and Safety | Space | Uncrewed Systems