Eagles Help Preserve Kosovo's Cultural Heritage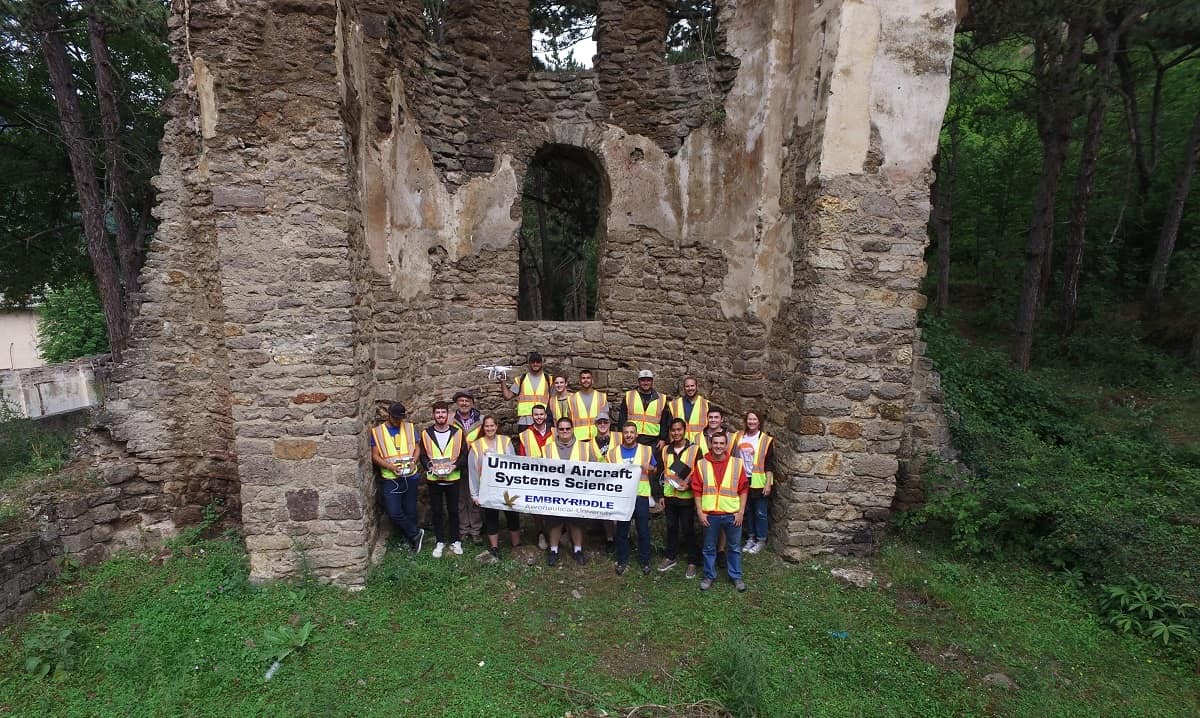 Armed with small unmanned aerial systems (sUAS), 16 Embry-Riddle students are completing photogrammetric work in support of cultural heritage preservation at a half-dozen sites in Kosovo, as part of a study abroad program this summer.
At an ancient Roman city called Ulpiana, for example, students are generating important documentation of the historic site that will be used for research and preservation efforts, reported Aeronautical Science Professor Dan Macchiarella.
"The U.S. Ambassador to Kosovo intends to visit one of our worksites—most likely Ulpiana," Macchiarella noted. "Also, archaeologists from the French university ENS and the Kosovo National Museum are working at Ulpiana, so our students' work will have real-world benefits."
After imaging the Ulpiana site with drones, Macchiarella explained, the team will develop a much-needed new "orthomosaic" map – a highly accurate representation of the area based on many different images that have been combined and geometrically corrected. Students will also develop 3D maps and 3D virtual imagery of the ruins.
Similarly, students documented a section of Prishtina. "Our work at Prishtina will assist municipal decision-makers in restoring an area that dates back over 500 years to the Ottoman Empire," Macchiarella said.
The program, offered in partnership with Cultural Heritage Without Borders Kosovo, is supported by the U.S. Embassy in Kosovo. Participants include both graduate and undergraduate students from Embry-Riddle's Daytona Beach, Fla., and Worldwide campuses.
Also during the Kosovo trip, students will take an upper-level social studies course in Political Violence and Terrorism, taught by the Rochester Institute of Technology Kosovo (American University Kosovo – AUK). The trip kicked off with a tour of the Balkans, including Albania, Croatia, Montenegro, Northern Macedonia, Serbia and Bosnia-Herzegovina.
The Kosovo program was organized by the Office of Global Engagement on Embry-Riddle's Daytona Beach, Fla., Campus. An array of study abroad programs are also available to students at Embry-Riddle's Prescott, Ariz., Campus as well as many enrolled with Embry-Riddle Worldwide.