Embry-Riddle President Stresses Student Focus in University Vision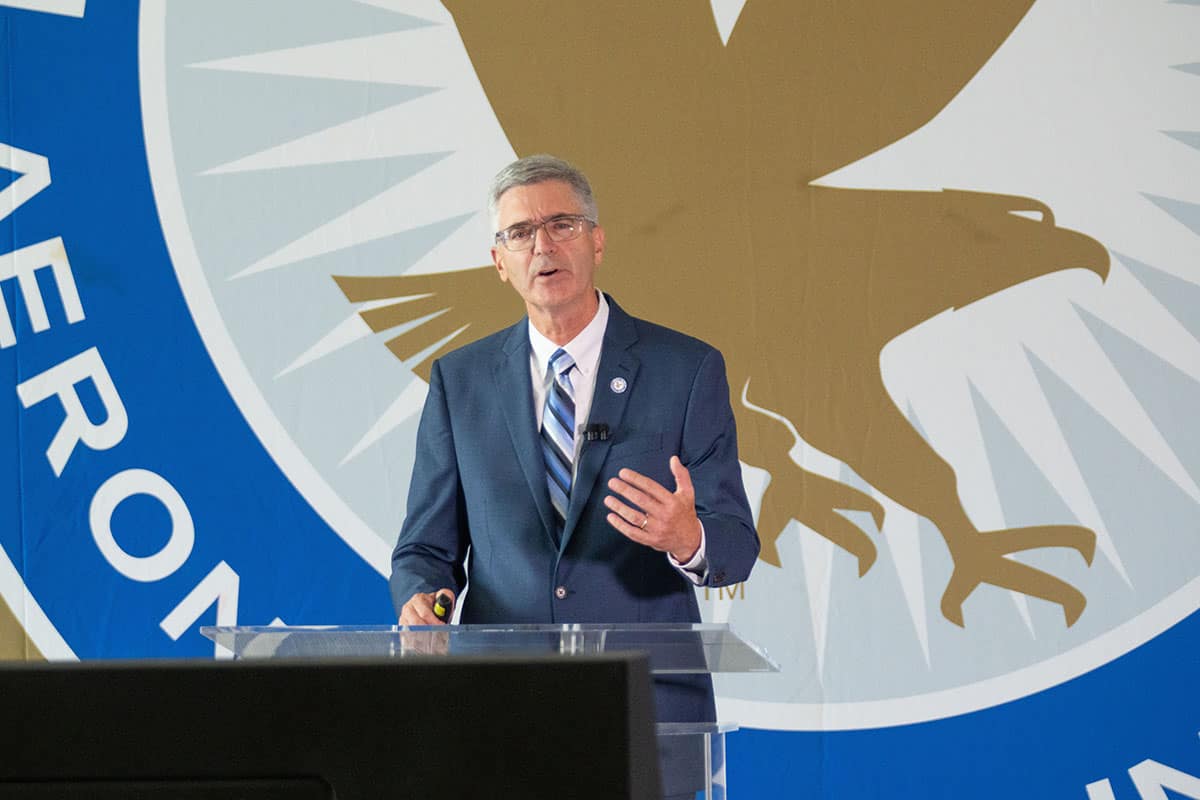 In outlining the university's priorities heading into the upcoming school year, Embry-Riddle Aeronautical University President P. Barry Butler asked faculty, staff and students to "focus on what you can control" amid the uncertainties of a continuing pandemic.
"Don't slow down," he said during his annual State of the University address, which was broadcast online to reach all three of Embry-Riddle's campuses simultaneously. "Let's keep moving."
Dr. Butler acknowledged that the pandemic has been a challenging time across higher education, but he noted that Embry-Riddle stayed strong throughout the crisis, and he thanked everyone for their persistence and hard work. "It took more than just leadership to make [our success] happen," he said. "It took everybody working together during this past year to be what we are today, so thank you for that."
He challenged the Embry-Riddle community to continue advancing the university's vision, and in particular, the following core values:
Global leadership as an aviation and aerospace educator.
A reputation for personal attention to student success.
And recognition as a definitive source for innovation and excellence in aerospace education and research.
University leadership measures progress against a five-year strategic plan (2018-2023), which Dr. Butler used as a roadmap in his virtual presentation.
Academic Excellence
He cited high 2021 rankings by U.S. News & World Report for Embry-Riddle's online bachelor's degree, bachelor's degree for veterans, bachelor's degree for business and aerospace engineering programs in Daytona Beach and Prescott. He thanked deans and faculty for developing a curriculum respected by industry leaders, reiterating that adding value to programs through multidisciplinary collaboration, data science, business acumen and communication skills makes graduates more marketable.
Enrollment continues to grow, President Butler said, praising academic programs for keeping students engaged and competitive, delivering 120,000 hours of classroom time and 170,000 hours of flight and simulator time over the past year.
Dr. Butler also welcomed academic deans, Dr. James Gregory (College of Engineering, Daytona Beach Campus) and Dr. Zafer Hatahet (College of Arts and Sciences, Prescott Campus) as new leaders. A presidential fellow for flight research, Dr. Barbara Holder, has also recently joined the university.
Stability and Growth
Through disciplined management, the university's financial position, including its credit rating, remains strong. Embry-Riddle continues to add academic programs, faculty, staff and resources to support student success. Institutionally funded scholarships have increased almost 90 percent since 2015. The university provides salaries, wages and benefits above national averages, including increases during the pandemic year. It has directed $400 million to capital expenditures over the past five years. Campus improvements include upgrades to flight operations, a new wind tunnel and student union at the Prescott Campus and a wellness center at the Daytona Beach Campus.
Global Leadership
Embry-Riddle Worldwide reaches more than 22,000 students. Nearly half are active-military personnel. The Singapore Campus has grown to 600 students. In Brazil, the university attracts students through Aviation English programs geared toward professionals with Portuguese as a first language.
Our Priority: Students
Preparing students for high-paying jobs and creating a true industry pipeline depends on supporting high graduation rates and promoting diversity and inclusion, according to Dr. Butler.
"Student success is our priority," he said.
Dr. Butler pointed out the need to be forward-looking and aligned with industry, using the new Master of Space Operations program as an example. The growth of commercial space more than doubled the projected enrollment in this program. Enrollment marketing will continue to target programs that will advance aviation and aerospace technology.
Research: Trending Upward
The university's Research Park is at full occupancy and expansion is underway. Contracts and grants are increasing, Dr. Butler said, and business partnerships are expanding. Consequently, last year saw eight Small Business Innovation Research and Small Business Technology Transfer programs, new patent disclosures and two new patents.
"Research expenditures are approaching $27 million," he said.
Future investment will focus on multidisciplinary centers of excellence that leverage Embry-Riddle's unique areas of expertise, President Butler said. The criteria for a center of excellence include a history of success in the area, availability of faculty from different colleges for collaboration and funding potential. The Center for Aerospace Resilience (CAR) is the first of these centers of excellence. CAR has already attracted more than $6 million in external funding, additional expertise, 12 graduate students and five undergraduates.
New centers of excellence may focus on autonomous systems, aerospace data science and artificial intelligence and flight research.
Looking Forward
Following the many challenges associated with the Covid-19 pandemic, Dr. Butler highlighted several reasons for optimism looking ahead. He pointed to industry metrics and the S&P Aerospace & Defense Select Industry Index to validate his confidence that aviation is rebounding. The indicator that is the greatest cause for optimism is a rebounding demand for our graduates, particularly in professional aviation, Dr. Butler said. He pointed to promising signs for philanthropic growth, Eagles' widespread commitment to the university's health and wellness initiatives, and he recognized how faculty and staff have continued to grow, develop and achieve over the course of the past year.
With fall semester classes set to begin on Aug. 30, Embry-Riddle is continuing to strongly encourage everyone to get vaccinated for Covid-19 and to wear masks indoors. The university's Covid-19 information, including a Frequently Asked Questions page, can be found online here.
Ginger Pinholster also contributed to this summary of Dr. Butler's address.
Posted In: Institutional News