U.S. News & World Report Ranks Embry-Riddle No. 1 for Online Bachelor's Degrees, Online Programs for Vets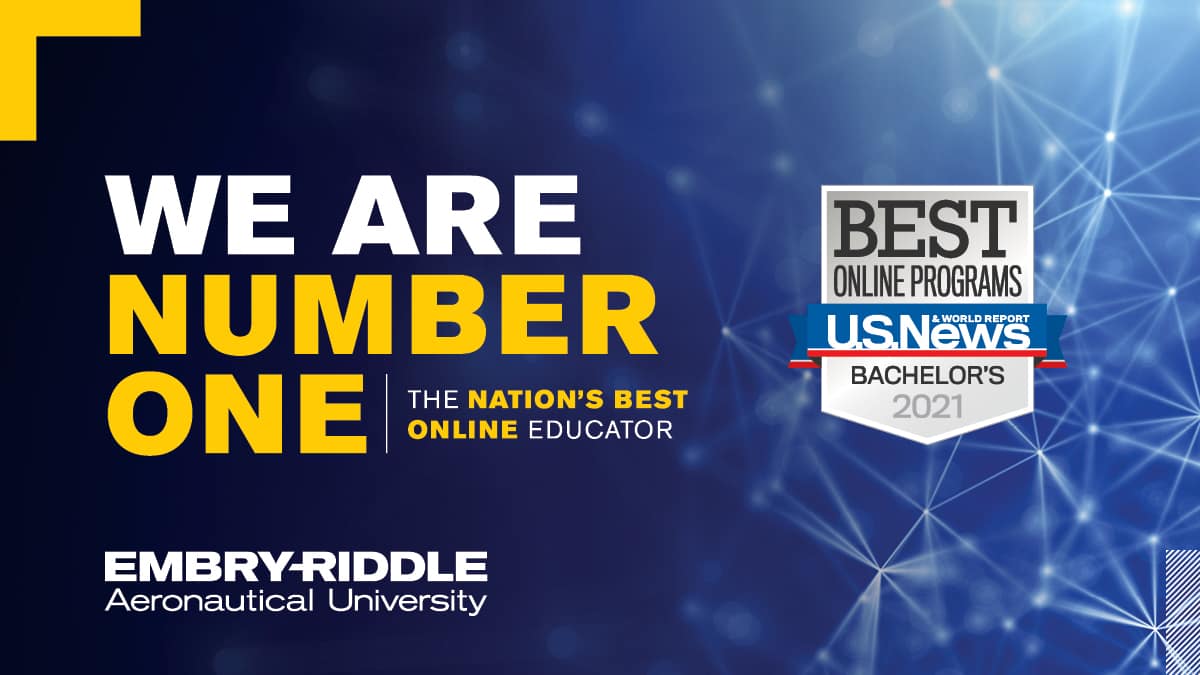 Embry-Riddle Aeronautical University has been awarded the No. 1 ranking for Best Online Bachelor's Degree Programs in the newly released 2021 national college and university rankings from U.S. News & World Report. This marks the fourth time in the past six years that Embry-Riddle has achieved the top spot in the annual report.
In addition, for the sixth year in a row, Embry-Riddle has been honored by U.S. News & World Report as the No. 1 school in the country to provide online bachelor degree programs for veterans.
Since 2014, Embry-Riddle's Worldwide Campus, a pioneer in online and distance learning, has ranked in the top five of the annual list in both categories.
"In a challenging year for all institutions of higher education, Embry-Riddle has proven that our commitment to supporting our students by offering the best online college education and experience available is consistent and unwavering. Chancellor Watret and the entire Worldwide team year after year demonstrate they are the best," said Embry-Riddle President P. Barry Butler, Ph.D.
Embry-Riddle Worldwide's College of Business also received high marks for their online business programs. In the new category of Best Online Bachelor's Business Programs, the university ranked No. 7.
"Embry-Riddle's innovative approach to education has set the precedent for the online learning experience in higher education. Robust programs and highly qualified and engaged faculty provide a platform for students to succeed," said Dr. John R. Watret, chancellor for the Worldwide Campus. "The creativity and collaboration between the Worldwide Campus faculty and staff allows for new and advanced ways to deliver exceptional, industry-relevant instruction."
In addition to outstanding support for veterans, Embry-Riddle has provided online and in-classroom degree programs, training and certification to our active military, their spouses and dependents for more than 50 years at nearly 100 military bases around the world.
The 2021 U.S. News & World Report ranking assessed online bachelor's degree programs across four general categories: student engagement (which counted for 35% of each institution's score); faculty credentials and training (20%); expert opinion (20%); and student services and technology (25%).
To maintain this level of academic success and student engagement, the Worldwide Campus continues to find new and innovative ways to ensure students have the resources they need to excel academically and professionally.
Led by faculty with subject matter expertise, students enrolled at Embry-Riddle Worldwide benefit from instructor-led asynchronous instruction, complimented by an array of other engagement strategies. Online degree programs feature multiple start dates throughout the year, with most terms running for nine weeks.
Computers, laptops or mobile devices can access the award-winning technology used to create real-world experiences for all students, including non-traditional students, working professionals and military families. Embry-Riddle students connect with a global network of classmates, instructors and tutors through a virtual student union. Academic advisors provide personalized assistance, which includes degree planning, plus career counseling is available that is tailored to individual needs and circumstances. Technical support is available 24/7.
Embry-Riddle's Worldwide Campus, which includes fully online programs as well as approximately 125 locations in the United States, Europe and Asia, offers bachelor's, master's and doctoral degree programs for some 23,000 students. The most popular undergraduate majors include Aeronautics, Aviation Business Administration, Communication, and more. According to Embry-Riddle Worldwide's annual alumni survey, 92.5 percent of graduates are employed or are in graduate school within a year of graduation.
Posted In: Business | Institutional News