Florida Cybersecurity Task Force Works to Improve Safety for All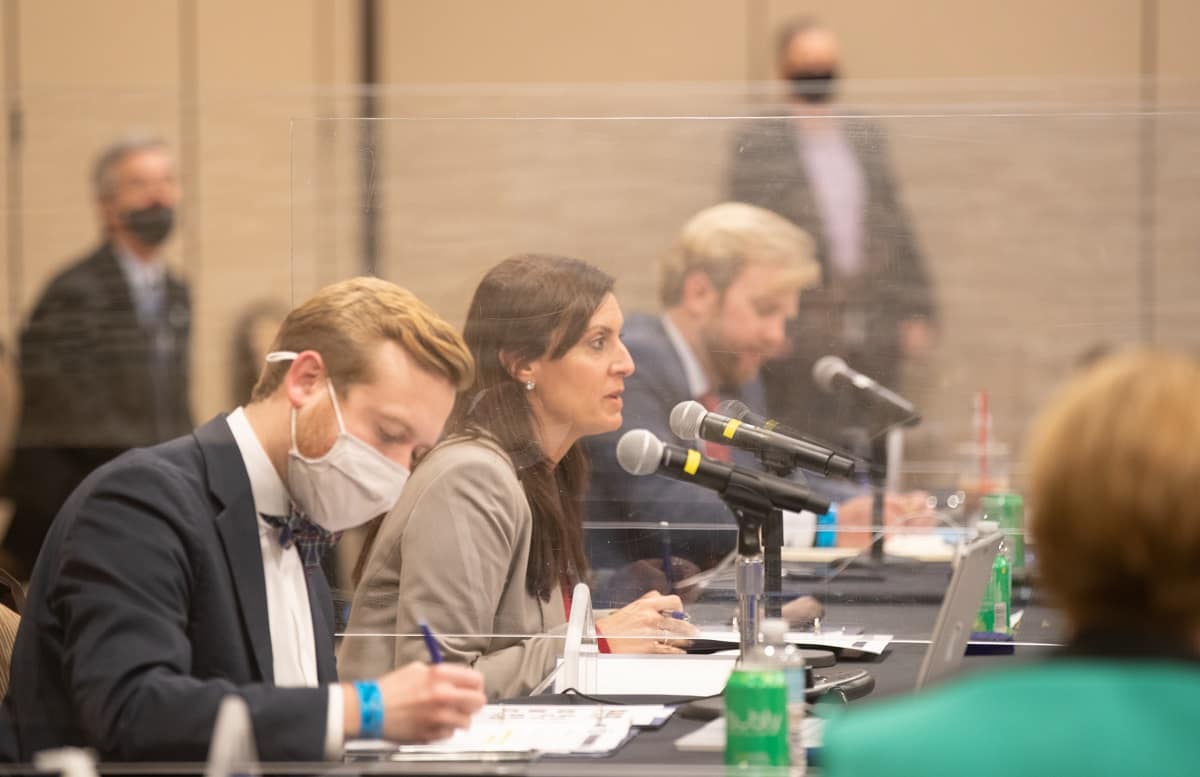 In keeping with Embry-Riddle Aeronautical University's strong emphasis on safety, the university on Dec. 11 hosted the Florida Cybersecurity Task Force to review risks as well as potential strategies for improving online safety.
Chaired by Florida Lt. Governor Jeanette Nuñez, the Task Force focused in particular on supply chain risks – an especially important topic as the state prepares to distribute Covid-19 vaccine as soon as supplies become available.
Nuñez thanked Embry-Riddle President P. Barry Butler for hosting the meeting, which drew a dozen Florida leaders who serve on the Task Force. All participants remained physically distanced, separated by clear plastic barriers, for safety.
President Butler commended Nuñez's commitment to, and advocacy for cybersecurity. He also expressed gratitude to those at the state and federal levels who have supported Embry-Riddle's efforts to build a workforce of "white hat" cyber-crime fighters.
Cybersecurity represents very high stakes for the aviation industry, both financially and in terms of safety, Butler said, adding that modern aircraft are essentially "flying computers." As home to 24 airports that serve international passengers and cargo – including some of the world's busiest hubs – rigorous cybersecurity is paramount to the aviation industry and to Florida's economy more broadly. A single data breach could compromise the personal information of millions of people and place companies in jeopardy. "The work of the Task Force is important to the state of Florida and the country," he said.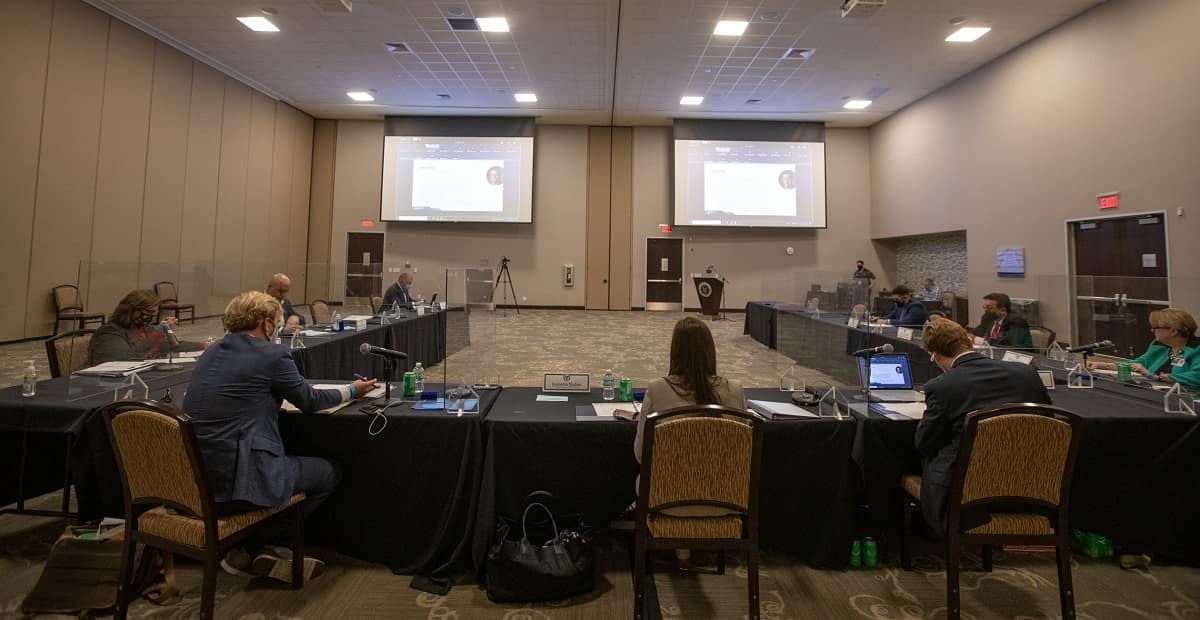 The Florida Cybersecurity Task Force meeting took place with full safety measures in place, including plastic barriers and social distancing.
Center for Aerospace Resilience
Embry-Riddle this year established a unique cybersecurity initiative in its research park called the Center for Aerospace Resilience (CAR), Butler announced. The new center is helping to protect the data that flows between aerospace platforms, vehicles and towers, both from a hardware and a software perspective. CAR, a partnership with the University of Florida, is funded by a $1.75 million grant from the State of Florida.
This new center will be a research organization as well as a clearinghouse for the latest data, said CAR Director Dr. Remzi Seker, Embry-Riddle's associate provost for research. "Although CAR will focus on aero systems and solutions," Seker said after the meeting, "multidisciplinary research teams will pursue discoveries that can be applied across a range of areas, from logistics and urban mobility, to autonomous systems, telecommunication, information management, manufacturing and more."
Tightening the Supply Chain
During a public portion of the Task Force meeting, Tony Turner, vice president for security solutions, Fortress Information Security, shared a presentation on supply chain risks. His presentation encompassed principles for effective vendor risk management as well as assessment solutions.
In response to questions, Turner noted that risk analysis will be essential for ensuring the resilience of the supply chain that supports Covid-19 personal protective equipment, and soon, vaccinations.
Turner said that "phishing" attacks – which happen when scammers contact you via text message, email or telephone to try to trick you into sharing sensitive information – have become increasingly common. (Embry-Riddle faculty, staff and students can log onto ERNIE to better understand phishing and review tips on how to avoid being victimized.) Turner also noted that today's cyber criminals have expanded their efforts to victimize smaller "mom and pop" businesses – not just big companies.
The Florida Cybersecurity Task Force, established by the state legislature to work in conjunction with the Department of Management Services, works to "analyze the current state and potential for improvement in the security program of state government and that of the individual agencies and prioritizing the risks posed by identified threats." The task force includes 13 members from public and private sectors who have backgrounds in security.
The Task Force will meet once more before delivering a final report with recommendations by Feb. 1, 2021.
Posted In: Institutional News | Security Intelligence and Safety