Eagles Earn 'Life-Changing' Scholarships to Pursue Careers in Tech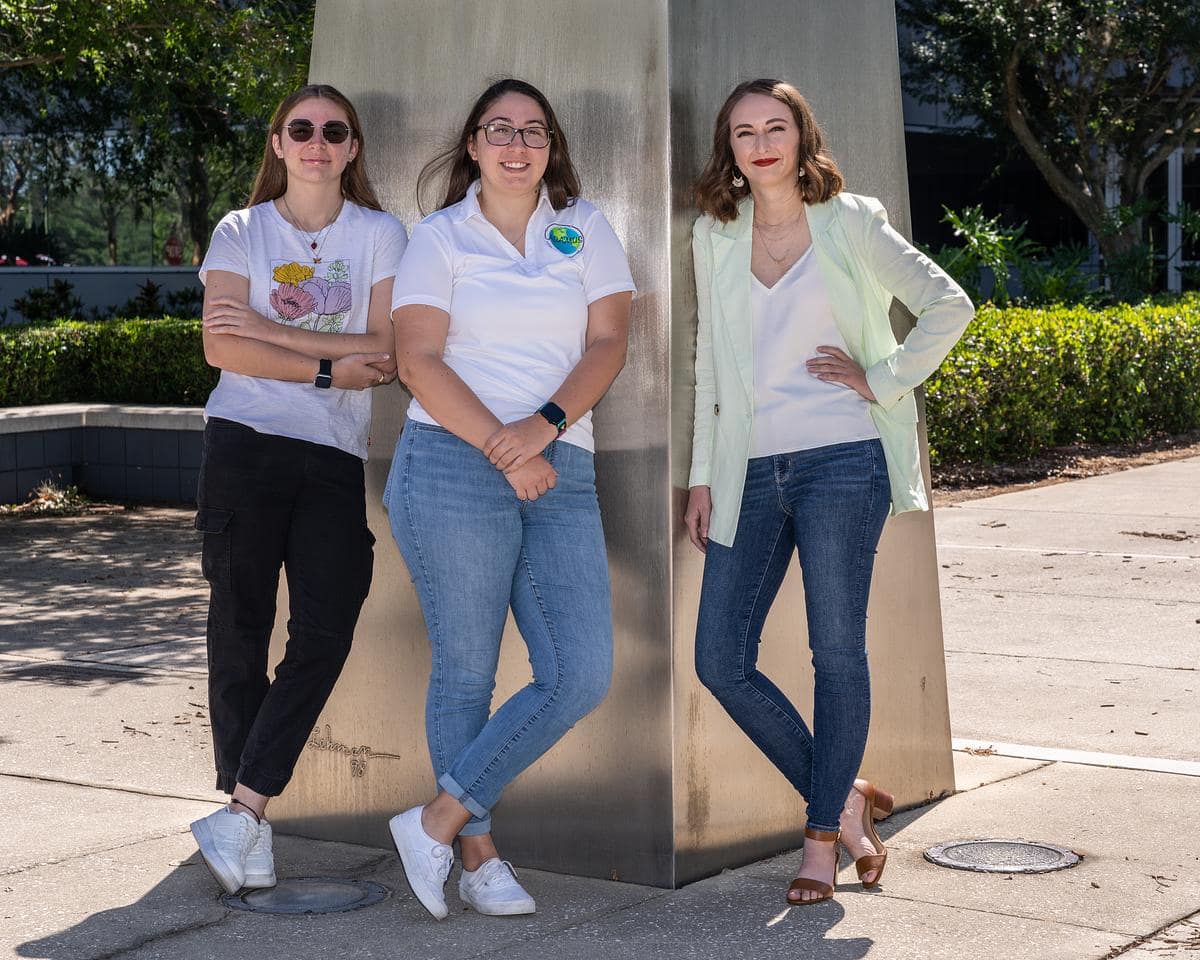 For recent Embry-Riddle Aeronautical University graduate Hannah Hodge, scholarship funding is a game-changer.
"I've always wanted to pursue more education, but funding has always been my biggest struggle," said Hodge, who earned her Bachelor of Science in Electrical Engineering degree in May. Now, thanks to an Intuitive Machines and Columbia Sportswear Advancing Women in Technology Program fellowship, she will continue on to pursue her Ph.D. of Science in Electrical Engineering and Computer Science.
Hodge is one of three Embry-Riddle graduate students in the program's inaugural class of fellowship recipients. "This scholarship is really life-changing," she said.
Hodge and Taylor Yow were each selected for a $45,000 fellowship for the program, while Katharine Larsen was chosen for a $10,000 fellowship.
Intuitive Machines — manufacturer of the Nova-C Lunar Lander, which is expected to launch later this year with an Embry-Riddle camera system onboard — and Columbia Sportswear teamed up with Embry-Riddle on the program to support outstanding graduate and undergraduate women in STEM-related fields.
Hannah Hodge
Hodge, a St. Augustine, Florida native, said the electrical aspect of engineering has always fascinated her.
"It's almost like magic in the way that it works," she said. "You can't see it, but it connects people."
Hodge credited Dr. Eduardo Rojas, associate professor in Embry-Riddle's Electrical Engineering and Computer Science Department, with encouraging her to apply for the fellowship. Hodge worked on research with Rojas, who is also the director of the university's Wireless Devices and Electromagnetics (WiDE) Laboratory, in addition to serving as a research assistant on his team for the MTT-Sat Challenge, which is a worldwide competition wherein student teams design and build radio frequency and microwave hardware for small satellites.
Hodge said she was visiting NASA's Jet Propulsion Laboratory (JPL) in Pasadena, California, as part of an academic exchange program when she found out she was chosen for the fellowship. As a graduate student, she hopes to conduct her research in antennas and wireless systems for space applications.
"After the experience at JPL, I'd like to work for NASA," said Hodge. "That has always been a dream of mine."
Taylor Yow
A graduate student pursuing her master's degree in Aerospace Engineering, Yow said it feels amazing to be one of the first women to receive this fellowship.
"I never expected that I would be able to be a role model for young girls interested in STEM, but through this fellowship, I've gotten to share my story and show that women can, and should, pursue graduate degrees in STEM fields," said Yow, a Niceville, Florida native, who earned her bachelor's degree in Aerospace Engineering with a minor in Business Administration.
Joining the EagleCam team in 2019, she has worked on project management, hardware building, implementation of image processing algorithms, planning early data dissemination and calibrating the navigation cameras on the Nova-C lander. Her research contributions have resulted in American Astronomical Society/American Institute of Aeronautics and Astronautics conference papers.
"My dream is to work in mission control, whether for a government agency like NASA or JPL, or a commercial company like Intuitive Machines," said Yow. "I would also love to continue doing public relations and getting the public interested and excited about space exploration."
Katharine Larsen
Larsen, who is pursuing her Ph.D. in Aerospace Engineering with a concentration in dynamics and control, was chosen for a $10,000 program fellowship. She completed her bachelor's degree in 2021 and her master's in Aerospace Engineering in 2022.
"Not only does this fellowship program aid me in the completion of my education and research goals without worrying about finances, but it also allows me to devote more time toward helping other women in STEM," said Larsen.
Larsen, who is from Ocala, Florida, was chosen last spring to receive a U.S. Department of Defense (DoD) Science, Mathematics and Research for Transformation (SMART) Scholarship, which will cover her tuition in full and include an annual stipend. Part of the award includes Larsen working summers at Eglin Air Force Base, located in the western Florida Panhandle, with an additional time commitment after graduation.
"Through the SMART Scholarship Program, I have been a part of a STEM outreach community, helping other students secure funding for their academic careers," she said.
Larsen is working with Aerospace Engineering professor Riccardo Bevilacqua on research to develop better methods to predict how fragments from a warhead strike will behave, reducing the chance of collateral damage. They have received a $442,508 grant from the Air Force Office of Scientific Research for the warhead fragmentation research.
Ten Undergraduate Scholarship Awardees
A total of 10 undergraduate students from Embry-Riddle were also awarded $10,000 scholarships through the Intuitive Machines/Columbia Sportswear Advancing Women in Technology Program. They are listed as follows:
Cristina Arena, Electrical Engineering, 2025
Carly Bosma, Computer Science, 2024
Anna Conover, Aerospace Engineering, 2025
Jesika Geliga Torres, Aerospace Engineering, 2024
Emelia Kelly, Aerospace Engineering, 2025
Hope Lea, Electrical Engineering, 2027
Caitlin Marotta, Aerospace Engineering, 2026
Nicola-Isabella Ruiz, Aerospace Engineering, 2024
Rachel Swan, Electrical Engineering and Computational Mathematics, 2025
Makayla Winchester, Electrical Engineering, 2027
Posted In: Applied Science | Computers and Technology | Engineering | Space