Eagles Visit Intuitive Machines to Make Final Preparations on EagleCam CubeSat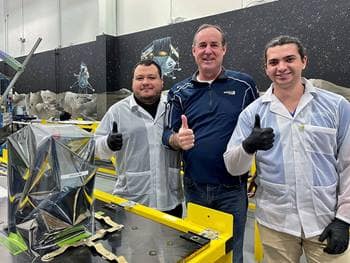 Embry-Riddle doctoral student Daniel Posada, Intuitive Machines President Steve Altemus and Mechanical Engineering undergraduate student Daniel Lopez pose at Intuitive Machines headquarters in Houston. (Photo: Daniel Posada)
Two students from Embry-Riddle Aeronautical University's Space Technologies Laboratory recently visited Intuitive Machines (IM) in Houston to put the finishing touches on the EagleCam CubeSat, which is scheduled to launch to the moon later this year. Upon its arrival to the moon, EagleCam will snap the world's first third-person shot of a spacecraft as it makes an extraterrestrial landing, as well as test various innovative space technologies, such as an electrodynamic dust shield.
Aerospace Engineering Ph.D. student Daniel Posada and Mechanical Engineering undergrad Daniel Lopez performed final preparations on the device, conducted one last test of the deployment mechanism and then worked with IM technicians to integrate EagleCam onto a panel on the Nova-C Lunar Lander. Bolts were torqued and verified, final documentation was reviewed, and, finally, the device was inspected and approved by Embry-Riddle alumnus and IM President Steve Altemus ('87).
"We are excited for this milestone, as we are getting closer and closer to our launch towards the moon," Posada said. "We are putting all our efforts toward making history and achieving multiple firsts."
"As an undergraduate student, having the chance of working on a real project going to space is unique and challenging. I could not be more grateful to the Space Technologies Lab for this opportunity," Lopez added.
The EagleCam project is led by faculty mentor Dr. Troy Henderson, associate professor of Aerospace Engineering.
Posted In: Engineering | Space