Intuitive Machines and Columbia Sportswear Launch New Scholarship Program at Embry-Riddle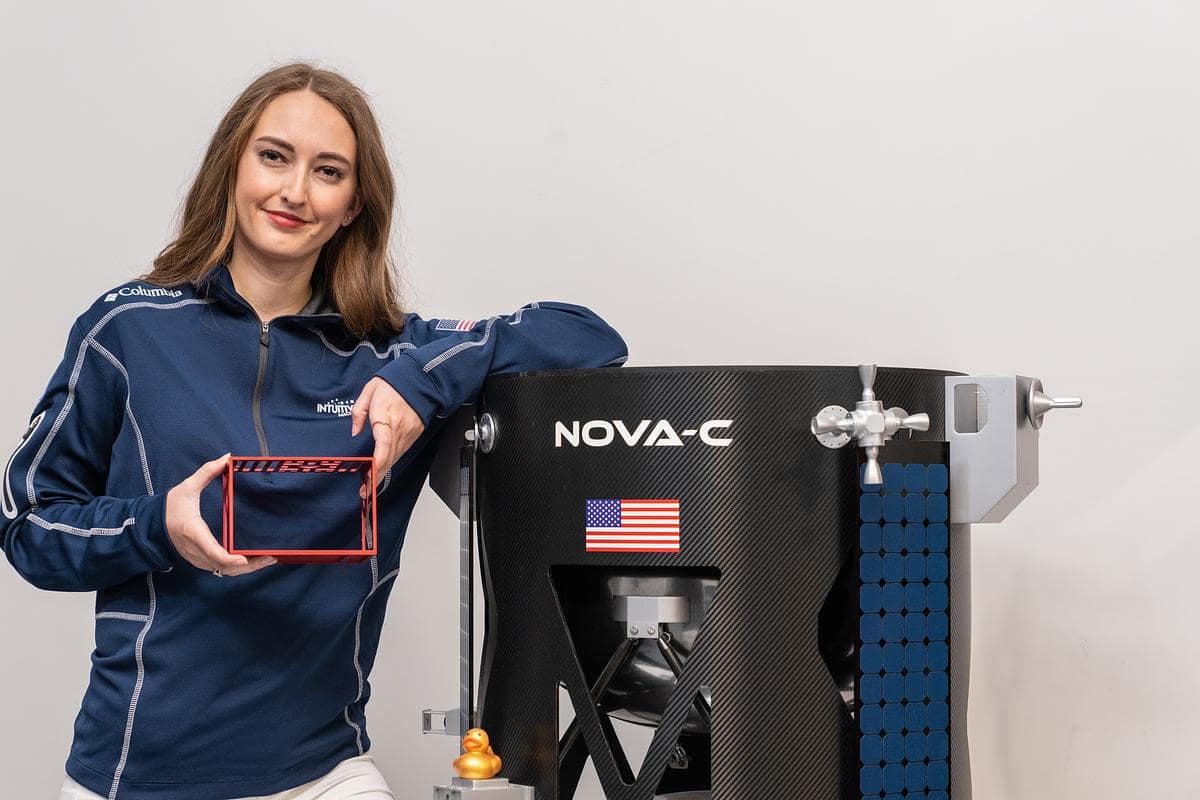 Taylor M. Yow set her career path in high school. More than anything, she wanted to become an engineer, working on spacecraft and orbital calculations. She didn't realize just how quickly she would become a part of science history after arriving at Embry-Riddle Aeronautical University.
When the much-awaited lunar landing happens, technology that Yow helped develop as part of Embry-Riddle's EagleCam team will be one of the first American satellite systems to touch the surface of the moon since 1972.
To other women who dream of STEM careers, Yow emphasized: "You can do it."
New Scholarship Program Debuts
Intuitive Machines, maker of the Nova-C Lunar Lander currently expected to launch in spring 2023, and Columbia Sportswear have teamed up with Embry-Riddle to support outstanding women in STEM like Yow.
The "Intuitive Machines and Columbia Sportswear Advancing Women in Technology Program" at Embry-Riddle will provide scholarships as well as fellowship opportunities to uplift undergraduate and graduate students in STEM-related fields.
Columbia and Intuitive Machines are partnering on this scholarship ahead of Intuitive Machines' first mission to the moon, in which the lunar lander will incorporate Columbia's Omni-Heat Infinity reflective insulation to help protect it from the extreme temperatures in space. Launching in fall 2023, the Intuitive Machines and Columbia Sportswear Advancing Women in Technology Program is supported by $200,000 in resources for students, which includes a $100,000 gift from each of the companies.
The selection process begins this spring and will provide approximately a dozen scholarships for undergraduate as well as graduate students at Embry-Riddle.
The EagleCam Project
Embry-Riddle's EagleCam will be taking the world's ultimate selfie when it captures the first-ever third-person views of a spacecraft making an extraterrestrial landing. As the Intuitive Machines Nova-C Lunar Lander approaches the surface of the moon, EagleCam will separate from the lander and land on the moon to capture the moment it touches down. More than just a camera, EagleCam will also uncover new scientific findings through dust plume imagery, dust accumulation analysis and lunar surface imagery.
Yow and other students are eagerly awaiting the lunar landing. A graduate student pursuing a master's degree in Aerospace Engineering, Yow said she never would have made it to Embry-Riddle at all without financial support.
"I would not have been able to pursue my dream without scholarships, awards and grants," said Yow, who grew up in Niceville, Florida. "I'm so grateful to the organizations that have made it possible for me to become an aerospace engineer."
Such initiatives are critically needed to help inspire more women like Yow, who plans to pursue an Engineering Ph.D. next. Women's participation in engineering and computer science remains low, and across all STEM fields, fewer women than men earn doctorate degrees, according to the National Science Foundation (NSF). For example, only about 2,700 women reached that goal in 2018, the NSF has reported.
Persistence Pays Off for Yow
Joining Embry-Riddle as a freshman was "definitely different," Yow said. In high school, she had been surrounded by women. Like schools across the country, Embry-Riddle is still working to diversify traditionally male-dominated programs. "It was a struggle at first," she said. "Men and women often have different ways of looking at things, but when we do communicate well, looking at an engineering problem from different perspectives, we actually come up with a better answer."
Yow, a self-described introvert, had to overcome her shyness. The Space Technologies Lab at Embry-Riddle, directed by Dr. Troy Henderson, associate professor of Aerospace Engineering, was a great place for Yow to practice her communication and project management skills. For example, she was able to present a paper at an international technical conference, showcasing her research on new methods of orbital motion. In 2022, she also received an important U.S. Department of Education award called a GAANN fellowship. "My parents joke that Undergrad Taylor and Grad Student Taylor are two different people – just because my confidence level has skyrocketed," she said. "I definitely had to learn how to be more assertive and make my opinions known."
Her father, who holds a master's degree in an engineering field, had always urged Yow to set her sights high. She had planned to pursue photojournalism until an Advanced Placement calculus teacher asked if she had ever considered Aerospace Engineering. From then on, Yow was hooked on the idea. "Embry-Riddle," a family friend advised, "is the place for Aerospace Engineers." After a campus tour, Yow knew where she belonged.
Yow earned her bachelor's degree in Aerospace Engineering with a minor in Business Administration. Now a master's student, she and other students are eagerly awaiting the lunar landing. They are also developing an immersive virtual-reality camera payload for Polaris Dawn, the first in a series of human spaceflight missions.
For more information about the Intuitive Machines and Columbia Sportswear Advancing Women in Technology Program at Embry-Riddle, visit www.intuitivemachines.com/columbia-partnership.
---
Intuitive Machines
Intuitive Machines is a diversified space company focused on space exploration. Intuitive Machines supplies space products and services to support sustained robotic and human exploration to the moon, Mars and beyond. Intuitive Machines' products and services are offered through our four business units: Lunar Access Services, Orbital Services, Lunar Data Services, and Space Products and Infrastructure. For more information, please visit intuitivemachines.com.
Columbia Sportswear
Columbia, the flagship brand of Portland, Oregon-based Columbia Sportswear Company, has been creating innovative apparel, footwear, accessories and equipment for outdoor enthusiasts since 1938. Columbia has become a leading global brand by channeling the company's passion for the outdoors and innovative spirit into technologies and performance products that keep people warm, dry, cool and protected year-round. To learn more, please visit the company's website at www.columbia.com.
Posted In: Engineering | Research | Space