Eagles Complete CubeSat Construction; Next Stop: the Moon
In preparation for an upcoming moon mission, a team of engineers at Embry-Riddle Aeronautical University has completed construction of a miniature satellite camera system. The CubeSat, known as EagleCam, is en route to Intuitive Machines' headquarters, in Houston, Texas, this week where it will be integrated onto the Nova-C Lunar Lander spacecraft ahead of its scheduled mission to the moon in early 2022.
EagleCam will take the world's first third-person shot of a spacecraft as it makes an extraterrestrial landing and will become the first university student project to land on the moon. Guided by several faculty, the project involves students studying aerospace, computer, electrical and software engineering and business.
"The development of this equipment has been a great opportunity for our students to get hands-on experience with a real spaceflight, applying theory from the classroom to hardware," said Dr. Troy Henderson, associate professor of Aerospace Engineering. "As a bonus: The experience also looks great to companies who are looking to hire students."
Read all about the EagleCam project, in the Embry-Riddle Newsroom.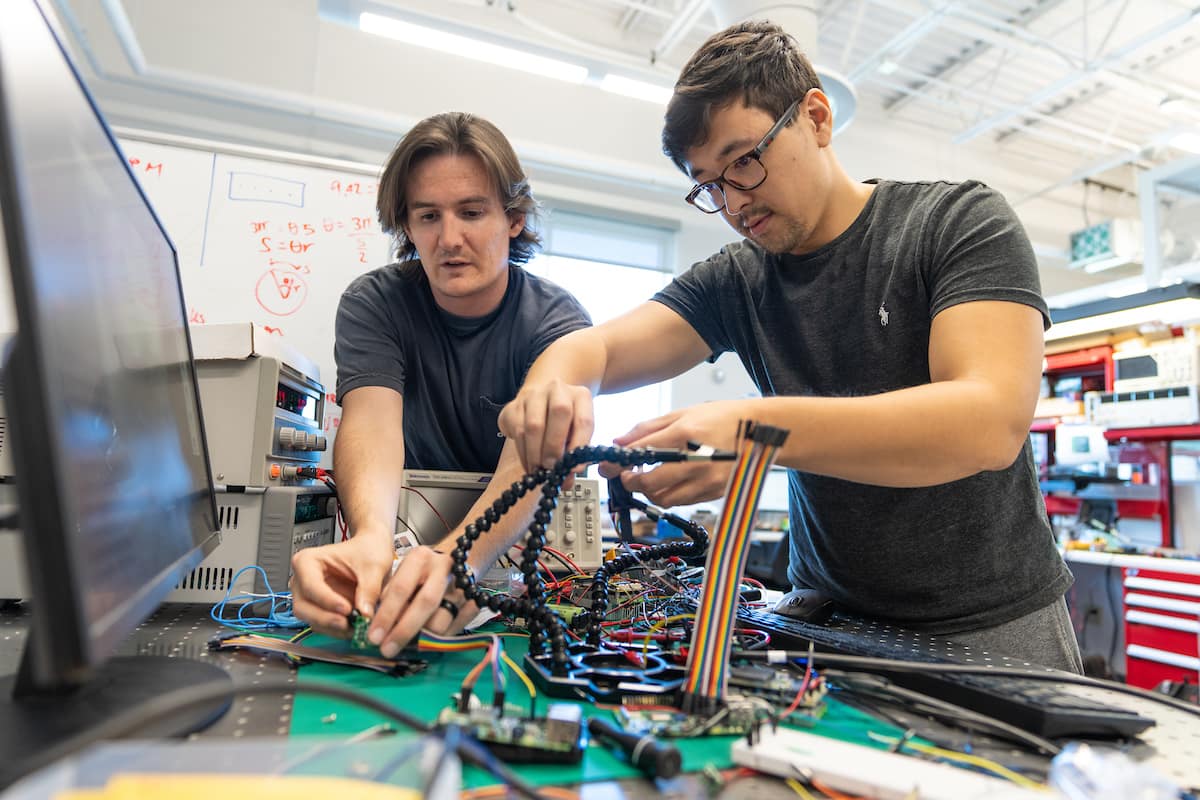 Ph.D. students Chris Hays and Aryslan Malik test the focus of the cameras and prepare the final build of the EagleCam CubeSat in the Space Technology Lab. (Photo: Embry-Riddle/Daryl LaBello)
Intuitive Machines' founder, Embry-Riddle alumnus Steve Altemus ('87), challenged his alma mater to engineer the out-of-this-world selfie when he visited the university in 2019. The Houston-based private company is one of several NASA has enlisted as a Commercial Lunar Payload Service provider to explore and test technologies ahead of the United States' crewed return to the moon in 2024.
"Planning and preparing with my teammates has given me a next-level experience that raises the bar for what I'm capable of in the industry," said Grace Robertson, an Aerospace Engineering senior from Washington Township, N.J. "Making the magic of a payload flight happen is not an easy feat, so this experience is unparalleled in preparing each of us for whatever we may choose to do. A lot of lessons come out of this experience, and even more great memories."
For Robertson, who has contributed to two space missions during her time as an undergraduate student at Embry-Riddle, EagleCam has supplied both a personal and professional boost.
"It sets me up wonderfully to kick-start my career from a stellar place," she said, adding that late nights working in the lab have helped her build friendships she hopes will last a lifetime. "Being on this team and contributing to something special is nothing less than a true high point in my college years."
Ph.D. student Daniel Posada, who serves as lead engineer on the project, agreed.
"It is not every day that we choose to go back to the moon," he said. "It took a team of approximately 400,000 people at NASA to achieve this goal back in the '60s. For us, from sophomore students to Ph.D.s, it's a major challenge to ensure our CubeSat will survive the beauty, harshness and coldness of space."
Throughout the course of the project, students are learning to build hardware to withstand harsh launch and space environments, as well as interface system sensors to computers — "which is what a lot of engineering is," Henderson added.
Thanks to funding from the NASA Florida Space Grant Consortium, the EagleCam team aims to prove that its camera system's power board can handle launch loads on a future suborbital flight and investigate whether or not microgravity will alter the focus of its camera lens, among other goals.
"It hasn't been easy, but we are proud to have taken on this challenge," said Dr. Maj Mirmirani, a faculty advisor and professor of Mechanical Engineering. "Thanks to private donations, the team of undergraduate, master's and Ph.D. students will be delivering space flight-ready hardware with the potential to give us a whole new perspective on space exploration."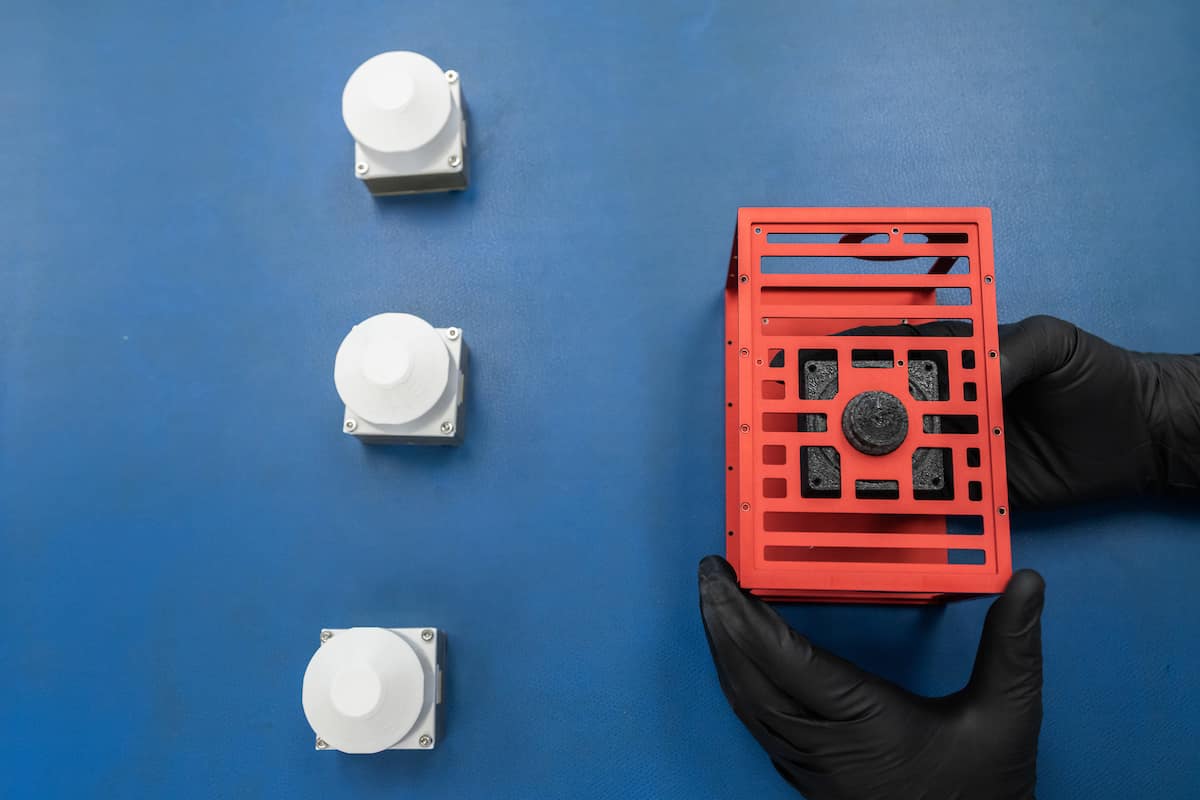 Three cameras with a 180-degree field-of-view are lined up against the CubeSat's external frame structure. Designed to withstand the harsh conditions of the space environment, the cameras will essentially ensure EagleCam captures a 360-degree view, regardless of how EagleCam lands on the moon. (Photo: Embry-Riddle/Bernand Wilchusky)
A Pioneering Project
The Nova-C, which will transport NASA and commercial payloads, will launch aboard a SpaceX Falcon 9 Rocket. As the Nova-C approaches the moon, EagleCam will launch about 30 seconds before landing and freefall to the moon's surface in time to capture what is essentially a selfie of the Nova-C spacecraft as it touches down.
Three wide field-of-view cameras will capture the landing from three sides of the CubeSat, and then send the photos back down to the lander via WiFi – a technology never before used on the moon and engineered entirely by Embry-Riddle students and faculty.
"Delivery of EagleCam to Intuitive Machines is the realization of everyone's engineering and dreams," Posada added. "This delivery is the ending of a venture but the beginning of many more."
Among those ventures, EagleCam will demonstrate an electrodynamic dust shield developed by NASA Kennedy Space Center. The shield will use an electric field to remove the fine lunar regolith from two of EagleCam's camera lenses.
Charles Buhler ('95), an Embry-Riddle alumnus and NASA Kennedy Space Center senior research scientist, worked with students and faculty to integrate the dust shields that he developed.
"The data from a successful test could impact future space missions, including the return of humans to the moon," Buhler said.
After working on the project for nearly two years, the team's recent delivery of EagleCam to Intuitive Machines represents a major milestone. The team also recently passed a "FlatSat 1.0" test, meaning data and power commands were successfully communicated between EagleCam and the Nov-C flight computer. Research on other mission-related initiatives will continue until launch day.
"Additionally, my group is working on hazard detection and avoidance algorithms," Henderson said. "This will allow the Nova-C lander to identify safe sites in the terminal descent phase by identifying rocks and the slope of the terrain."
Dr. Eduardo Rojas, assistant professor of Electrical and Computer Engineering, and his team will deliver the WiFi antennas for the first-ever lunar surface transmission. Assistant professor Dr. M. IIhan Akbas also contributed to the project.
*Kelly Pratt contributed to this report.
Posted In: Computers and Technology | Engineering | Space