Eagle Named to Aviation Week's 20 Twenties Sends Message of Hope to Women in STEM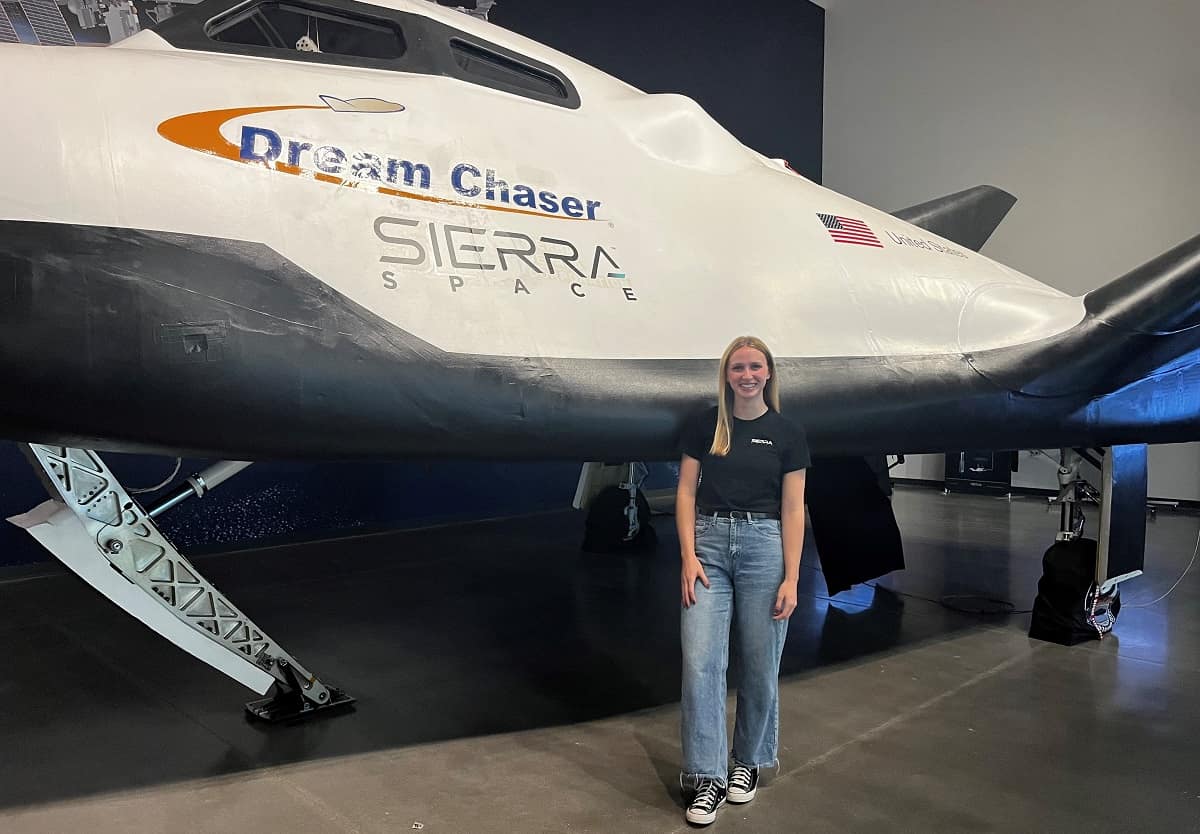 Grace Robertson has always been one of the few women in the room throughout her training to become a space industry worker — and that makes sense, considering that women represent less than 12% of global aerospace engineers. But, she says, that's "just a statistic."
"As children, we dream of becoming firefighters, doctors or even rocket scientists," said the recent Embry-Riddle Aeronautical University alumna ('22), who this week was named to Aviation Week Network's 20 Twenties Class. "It takes someone telling us we can't to convince us we shouldn't try. Sticking to your convictions and pursuing your goals despite those doubts is what makes dreams a reality."
Now, as one of only 20 students selected nationwide for Aviation Week's annual awards program, and working as a systems engineer on the Dream Chaser spaceplane at Sierra Space, in Colorado, she knows her years of dedication have paid off. Still, she hesitates to identify herself primarily by her work.
"Being an engineer is not everything you need to be," she said, offering advice to the next generation. "Don't overwork yourself trying to prove that you belong. Stick to the things you love and you'll be better able to contribute to your vision, and to that of your bigger-picture STEM goals."
For Robertson, pursuing what she loves has paved the road to her career with wild achievements in research and academia — such as when she was named an Astronaut Scholar, or when she led a team in designing an autonomous robot to clean microplastics from beaches. Her two most memorable projects during her time at Embry-Riddle, though, were EagleCam, a project to build a camera system that will snap history's first-ever lunar "selfie," and working in the Derbyshire Place Community Garden, where she led Honors Program students for two years as they built a vegetable garden in an urban food desert.
"The opportunities I had to thrive at Embry-Riddle were unique, but for reasons other than the obvious," said the former Aerospace Engineering student, noting that it's not the labs or location that make an experience special. "I've seen students make brilliant scientific discoveries out of seemingly the most simple prototypes, and seen project teams work tirelessly to chase their goals.
"The culture at Embry-Riddle, of students and faculty doing whatever it takes, together, to make their dreams a reality, is what's special."
She points to the Derbyshire Garden project as a prime example.
"The goal was to break down equity disparities in race, gender, nationality and wealth," said the Washington Township, New Jersey, native. "This experience will live with me always, as I learned I am nothing if not a servant to my community."
Simply, that's the takeaway she plans to use as a north star throughout her career, guiding her goals and projects.
"If I can contribute to even of a fraction of the greater vision of space exploration — or be the light that young women are looking for to shine on the image of themselves in the future — I've left my mark," she said. "Then everything I've done has been worth it."
One way she's hoping to leave a mark, for instance, is in Sierra Space's Young Professionals Group, where she is leading efforts to engage local elementary and middle school students in STEM-outreach events. She is also helping to found a nonprofit to offer assistance to employees in need at Sierra Space, particularly those who have lost their homes in wildfires or suffered critical illnesses.

"Very few students have a drive to pursue their passions like Grace," said Dr. Troy Henderson, director of Embry-Riddle's Space Technologies Laboratory, which hosted the EagleCam project. "She started making contributions to EagleCam from the first day. Her passion and organizational skills helped inspire the team to reach the end goal: to land a camera system on the lunar surface."
Dr. Geoff Kain, Honors Program director who worked closely with Robertson on the Derbyshire Garden project, agreed.
"She is a dynamo of well-directed energy, bridging a focus on future space exploration with very Earth-directed humanitarian and environmental concerns," he said. "Whatever Grace does, she pursues with passion, and we will all be the better for it."
Robertson currently resides in Denver, Colorado, where she's applying to a master's program to study bioastronautics with a focus on how plant habitats can sustain life support systems in space.
"You belong anywhere you dream to be," she said. "Wanting to learn and contribute something bigger than yourself is enough. The important thing is to rise up and conquer another day."
EagleCam will soon launch aboard the SpaceX Falcon 9 Rocket. Updates will be provided as they are available.
Posted In: Applied Science | Engineering | Space