Students Design Autonomous Robot to Clean Microplastics from Beaches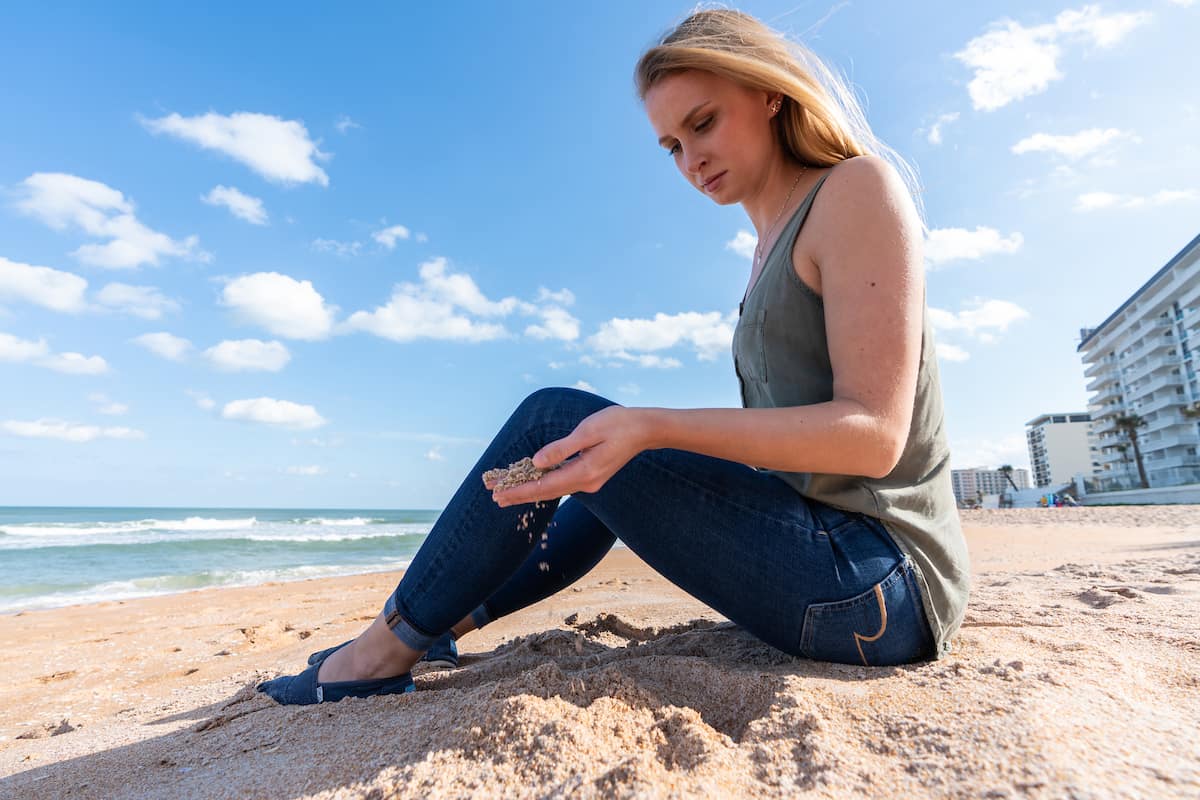 Grace Robertson, a sophomore at Embry-Riddle Aeronautical University, leads a team of 35 young problem solvers. Their mission? Design a robot that will separate microplastics, a type of pollution, from the sands of local beaches — and find a way to reuse those plastic particles.
"Last January, I was doing a beach cleanup, and we noticed all these tiny pieces of plastic that were too small to pick up with our fingers, and they broke into smaller pieces," Robertson said. "I knew we had to do something."
In her research, Robertson learned that millions of metric tons of plastic are produced each day, and that tiny pieces of these plastics, or microplastics — defined as less than 5 millimeters in length — are in the air we breathe, the fish we eat and the water we drink. She also discovered that a single-use plastic water bottle can have 10,000 tiny pieces of plastic in it.
"No one really knows the impacts of this yet," Robertson said, adding that most research into the subject only began in 2015.
Then a freshman, Robertson embarked on a project to build a robot to help cull microplastics from beach sand. The work is supported by a $4,250 Ignite Initiative grant from the Embry-Riddle Office of Undergraduate Research. As general team lead on the project, Robertson has helped organize four sub-teams. She leads the electrical team, while three other undergraduates — Emma Bucey, Jackson Schuler and Matt Liepke — run the logistics, design and software teams, respectively.
"This project is preparing the students for the workforce by exposing them to all of the challenges that come with a complex, multidisciplinary project," said Embry-Riddle professor of Engineering Lisa Davids. "The student leaders defined the problem themselves, acquired funding, organized a large team into a logical structure of sub-systems, established clear lines of communication, developed clear goals and a timeline to meet those goals, and have conducted a great deal of literature research to arm themselves with the data and knowledge needed to solve their problem."
The project — called Thetis, after Poseidon's daughter, the protector of the sea — involves an autonomous robot that looks like a small tractor. Using a GPS system, LiDAR obstacle avoidance and a technique called geofencing, the robot will comb through dry sand one to three inches deep in a prescribed area, utilizing an induced electrical charge to attract the microplastics and gather them.
"Think about a Roomba that vacuums the house," said Robertson. "This is how the bot will comb the beach for microplastics: section by section, operating completely on its own."
A secondary part of the project involves developing technology to use the collected microplastics so they won't end up in a landfill. As Robertson pointed out, "If we take the microplastics out of the sand but throw them into the landfill, they will wind up back in the water."
The research team is looking at technologies employed by such organizations as TechniSoil and UNICEF that use plastic bricks to build houses in developing countries. Another possible solution would be to employ a filament extruder to determine if the microplastics can be used for 3-D printing.
Robertson, an Aerospace Engineering major, is very excited about Project Thetis, and about all of the innovation coming out of Embry-Riddle.
"This project has impacted my life way more than I could have ever thought," she said. "It's taught me about sustainability and about how people learn, and how to be on a team. The number of projects that Embry-Riddle students have their hands on never ceases to astound me. They're pushing the brink of innovation every day. That's Embry-Riddle, and it continues to blow my mind on a daily basis."
Posted In: Applied Science | Engineering | Research