Green-Thumbed Honors Program Eagles Give Back, Work to Feed Local Community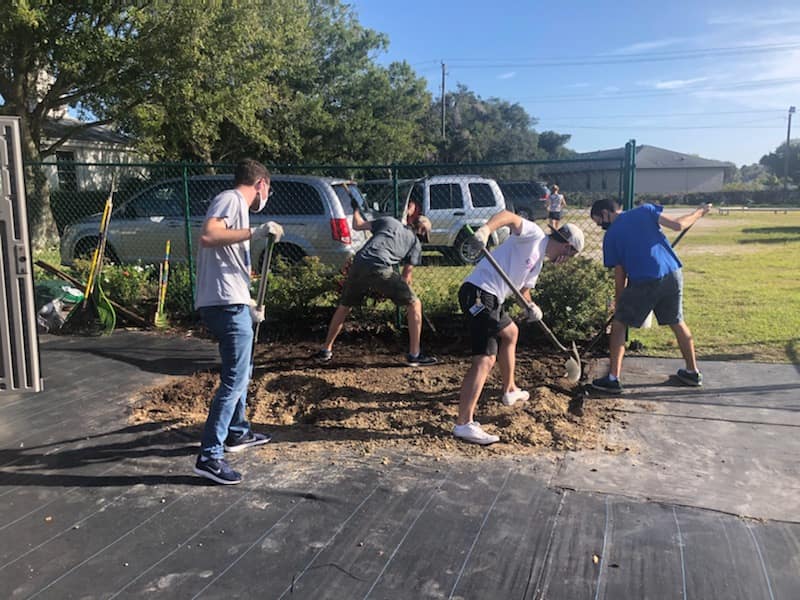 About 35 students in Embry-Riddle Aeronautical University's Honors Program have worked all year long to feed people experiencing hunger and disenfranchisement throughout the local community, through a partnership with Derbyshire Place, a nonprofit near the Daytona Beach Campus. This holiday season, as throughout most of the year, local families will be able to reap the benefits of their hard work.
"Aside from the academic rigor of the Honors curriculum, we have built a successful Honors Program by also developing a strong sense of student community over the years through all sorts of gatherings, projects and special events," said Dr. Geoffrey Kain, Honors Program director and professor of Humanities. "Under Covid-19 restrictions, this has posed new challenges, which is what made Derbyshire's community garden seem like just the right undertaking: a limited number of students gather at scheduled times, outdoors in open air, all wearing masks, and we work together and share quality time as we grow fresh food."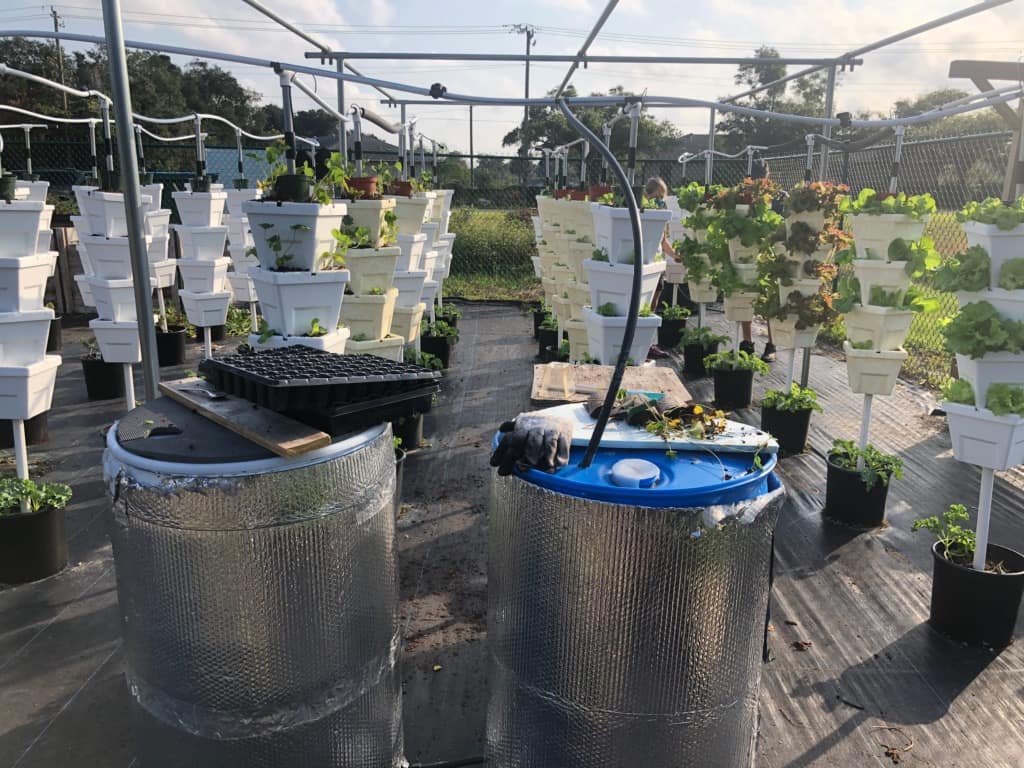 Eagle volunteers are working to expand the hydroponic system at Derbyshire Place's community garden from 40 towers to 200. (Photo: Geoff Kain)
The community garden is situated in a "food-insecure neighborhood," Kain added. There, students have volunteered time to plant and grow fresh vegetables with no chemical fertilizers, pesticides or herbicides; expand the hydroponic system already in place; run a bi-weekly community farmers market; and assist master gardener Russell Royce to manage the plants from seed to table. They also plan to build more garden beds to expand capacity beyond the 30-plus currently on site.
"Given the intensity of social and political unrest over the summer, we are sensitive to how we in the Honors Program might help to bridge some of the divides in our culture," Kain said. "A good answer is to plant more seeds of community."
Derbyshire Place works with Volusia County on a system whereby local residents — many in public housing — can use food stamps to buy the community garden's fresh produce right in their own neighborhood.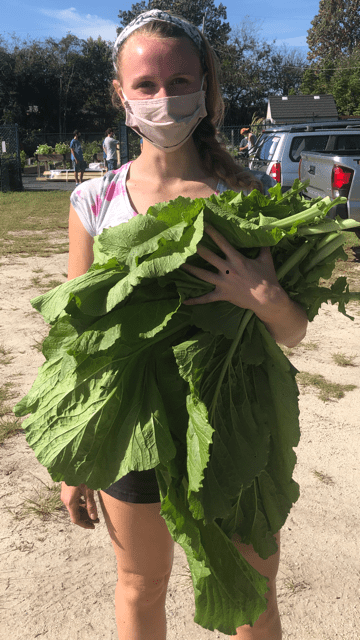 Junior Grace Robertson, arms full of fresh mustard greens, serves as the designated student leader of the Honors Program's community garden project. (Photo: Geoff Kain)
"A good part of our produce also goes to Hope Place, a shelter for displaced mothers and their kids, as well as unaccompanied homeless youth," Kain said. "Health data for this region are not at all good, but that is a big part of the purpose: crossing cultural, racial and generational lines to make a positive impact."
One way the team has sought to accomplish this is by building new structures at the garden, such as a screened seed-starter structure and a hydroponic farm expansion. Each of these projects required the help of students with construction experience, as well as the application of Engineering principles learned from students' coursework. The "seed shed" is designed to house and protect newly-planted seeds and seedlings from weather exposure prior to being transferred to garden beds. Students are also learning principles of succession planting: when to plant new seeds and put out seedlings as mature plants are harvested.
"These are skills and environmental and social principles that hopefully the students will take with them and help to impact other communities — and their own families — in future," Kain said.
For students, the work is challenging and educational, but even more important, it's meaningful.
"This project is a true action for incremental change to, at length, positively and profoundly affect the community around us," said Aerospace Engineering junior Grace Robertson, designated student leader on the project who also contributes to research to design autonomous robots that clean microplastics from local beaches. "It's about taking a step, day by day, to bring equity to our neighbors. For me, and all of my peers in the Honors Program, working in the community garden is all about contributing to something much larger than ourselves, which is what life is all about."
All proceeds from the sale of produce at the roadside Community Market are reinvested back into the program, used to buy new seeds and tools, and before long, expand operations. According to Kain, the team not only plans to build additional garden beds in the future but also provide the technical expertise and manpower to grow the hydroponic program from about 40 towers to 200, a goal of Miguel Rodriguez, executive director of Derbyshire Place.
"The Embry Riddle student's under the direction of professor Kain have made an immediate positive impact on the garden and this community," Rodriguez said. "The student's expertise, drive and passion have made our farmers market, as well as the upcoming expansion, a reality. They have helped us to become the model of urban farming in a food desert."
We are sensitive to how we in the Honors Program might help to bridge some of the divides in our culture. A good answer is to plant more seeds of community.
By working to establish a steady, local food supply — one that's cultivated and cared for by community volunteers — the program promotes sustainability and encourages students to think about farming practices, critical soil health and the source of our foods on both a macro and micro scale.
"It isn't always easy to retain a sense of community in our current Covid reality, but by working safely outdoors, we do just that — as well as enhance our service commitment and address what I deeply believe are fundamental issues of health and survival in the face of mass agro-chemical monoculture," Kain added.
The program also reinforces the importance of giving back.
"I've learned from my peers, and from members in the Derbyshire community, that profound human connection is what truly unites us all," Robertson said. "At the core, we all have a thirst for good. We all want to do what's best. We just sometimes need to have an opportunity to do so, and the relationship between our Honors Program and the Derbyshire community is just that."
Embry-Riddle's Honors Program is currently in its 18th year and is comprised of 450 active students, representing every degree program on the Daytona Beach Campus.
Posted In: Institutional News