Students Building Underwater Virtual Reality Headset for Space Training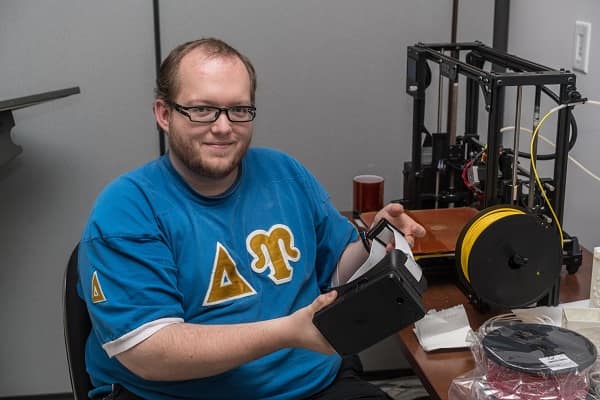 Virtual reality is a valuable tool for simulating environments as NASA astronauts prepare for space missions. They also train underwater to get a feel for what it's like to be in space. Two Embry-Riddle students are looking to merge those worlds. Human Factors students Nathan Sonnenfeld and Matt Meyers have used a 3-D printer in the Game-based Education & Advanced Research Simulations (GEARS) Lab to make a plastic headset that uses wireless technology to create virtual environments, similar to Oculus Rift goggles.
"This is an underwater version of the Rift, and the hope is to allow us to more effectively and cheaply simulate a system that is similar to NASA's underwater test bed that is used to train astronauts," said Meyers. "It gives you the feeling and experience of being in microgravity in space."
The funding for the research project was made available by the Ignite Initiative – a program that encourages students to pursue their research interests and get real-life, hands-on experience --and is part of the lab's Project Exodus that is studying the impact of games and simulation on learning and training.
The entire headset took four days to print and consists of 18 pieces. The headset has been assembled and includes a removable head mount where the screen of a cell phone can be strapped inside. The next stage of the research will be to test the strength of a wireless signal underwater so that it can be used to transmit virtual reality programs to the screen of a cell phone.
"There is little to no difference in this headset compared to the Oculus Rift, except for the software," Meyers said.
Human Factors Associate Professor Jason Kring said the goggles could possibly be used in the future during a NASA Extreme Environment Mission Operations (NEEMO) mission in which students could test the system with astronauts at the underwater research facility 'Aquarius' in the Florida Keys. Kring's team will participate in its third NEEMO mission next summer.
"This could make someone feel more immersed or present in an environment," Kring said. "A virtual or augmented reality during a NEEMO mission would be very beneficial."
Posted In: Applied Science | Aviation | Business | Computers and Technology | Engineering | Human Factors | Institutional News | Research | Security Intelligence and Safety | Space | Uncrewed Systems