Embry-Riddle Brasil and CFLY Aviation Announce New Partnership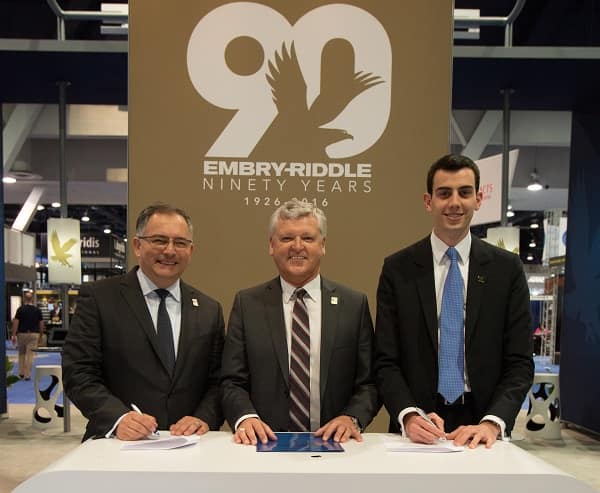 In a signing event at the 2015 National Business Aviation Association (NBAA) Annual Convention in Las Vegas, Nev., Embry-Riddle Brasil and CFLY Aviation representatives set the seal on a new partnership to provide aviation education and training in Brazil. The memorandum of understanding, which was signed by Embry-Riddle's liaison to Brazil, Fabio Campos, and CFLY partner, Francisco Lyra, and attended by the university's Interim President, Dr. John Watret, merges the extensive aviation knowledge of the world's largest aerospace university with the combined knowledge of 135 years of aviation expertise and extensive hands-on experience of the Brazil-based aviation consulting company.
"It's in our best interests to combine our complementary strengths," Lyra said. "CFLY has the expertise in the Brazilian aviation market and plans to establish an aviation school in Brazil and Embry-Riddle has 90 years of experience in serving the global aerospace industry and plans to expand in Brazil."
Embry-Riddle and CFLY initially will offer professional education for working adults in the subjects of aviation business, aviation operations and air traffic management. Embry-Riddle has already offered its first professional program in Brazil earlier this Fall. The Human Factors in Aviation was a five-week long course delivered online and in-classroom and had students from different sectors of the industry. A broader range of Embry-Riddle's programs could be available in the future. Brazilian students may also take Embry-Riddle courses online or at the university's residential campuses in Daytona Beach, Fla., or Prescott, Ariz.
"Embry-Riddle's involvement with aviation education and training in Brazil dates back nearly 72 years, to World War II, when the university assisted Brazil's air force in establishing the Aviation Technical School in São Paulo," said Embry-Riddle Interim President Dr. John R. Watret. "We're glad to be back, and excited to help prepare the professionals required by the expanding Brazilian aviation market."
Embry-Riddle Brasil's office is scheduled to open April 2016. The office will house the university's operation in South America, including business development, corporate relations, and recruitment.
CFLY is currently constructing the Catarina International Airport in São Paulo. Scheduled to open by the end of next year, it will be Brazil's first 100 percent publicly operated airport solely for corporate aviation and will feature FBOs, hangars and maintenance facilities.
Contact
Fabio Campos, University Liaison to Brazil, Sao Paulo, Brazil, +55 (19) 99919-8099; (386) 344-4259 fabio.campos@erau.edu 
Posted In: Applied Science | Aviation | Business | Computers and Technology | Engineering | Human Factors | Institutional News | Research | Security Intelligence and Safety | Space | Uncrewed Systems
---
About CFLY Aviation
CFLY Aviation is an aviation consulting company based in São Paulo, Brazil. The company has more than seven years of experience and a combined 135 years of expertise in aviation, both public and private. CFLY successfully operated a 150,000-square-mile apron at Rio de Janeiro's International Airport during Brazil's 2014 Soccer World Cup and partnered with Greenwich Aerogroup's Brazilian Helicopter Operation to provide transportation services during the event. CFLY is also a strategic partner of Jet Aviation in Brazil. CFLY's services include aircraft and fleet management, aircraft brokerage, infrastructure and hangar management, flight crew management and recruitment and staff management. CFLY also has its own maintenance crew for its 25 First Class Group aircraft, 15 ultra-long-range aircraft and 50 pilots. For more information go to www.cflyaviation.com.