The Boeing Company Promises Job Interviews for ROTC Graduates from Embry-Riddle Aeronautical University and Other Top Schools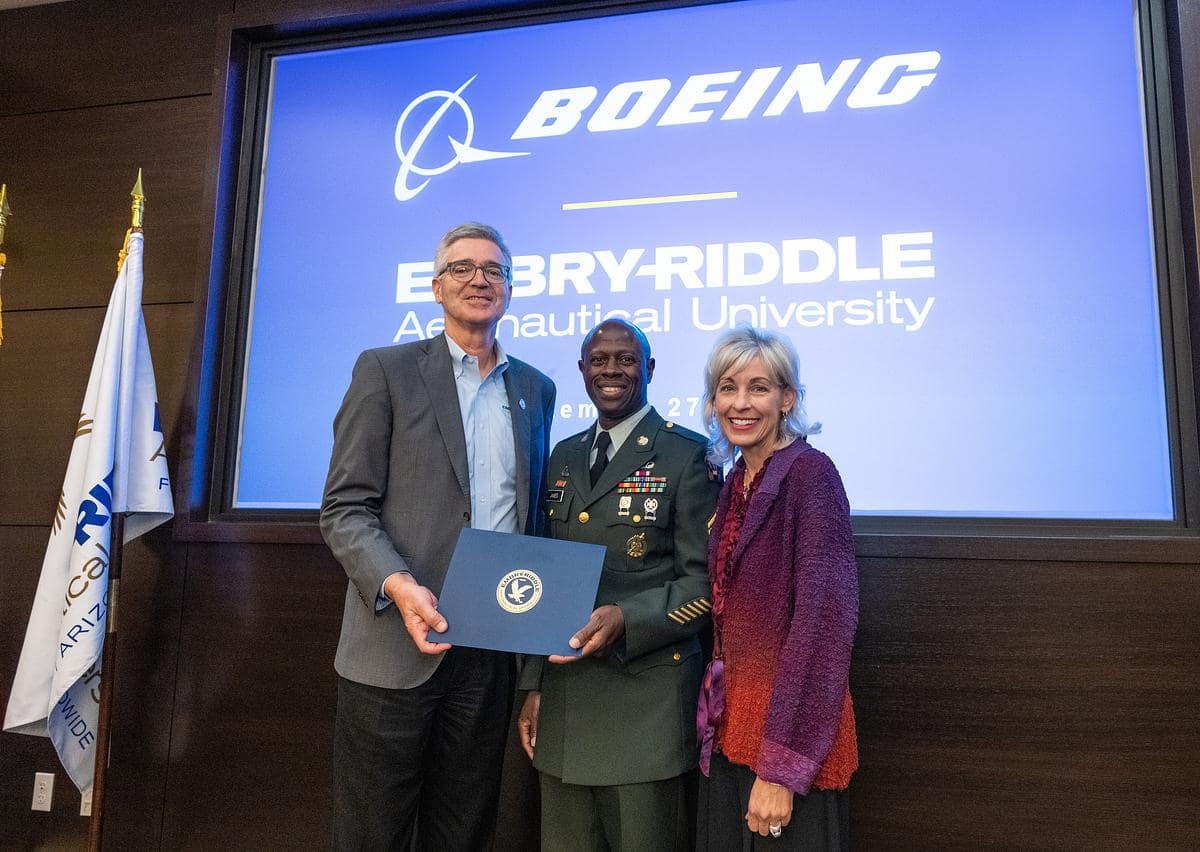 Meaningful, high-paying jobs for young people are the focus of a plan set forth on Sept. 27, 2022, by The Boeing Company and Embry-Riddle Aeronautical University.
Under a new agreement, Boeing will provide guaranteed job interviews for Reserve Officer Training Corps (ROTC) graduates from Embry-Riddle as well as three partnering schools — Bethune-Cookman University, Daytona State College and Stetson University. Job interviews will be offered to ROTC graduates after they complete their military service commitment.
Embry-Riddle's ROTC programs were among the first four to be selected by Boeing to take part in the ROTC interview initiative. An agreement-signing ceremony took place during the planned Boeing Week at Embry-Riddle, which was originally organized to feature a weeklong series of activities, culminating with a career fair and networking event with aviation and aerospace leaders from Boeing, before Hurricane Ian forced a rescheduling of the week's festivities.
"At Embry-Riddle, we place enormous value on our military students, and we are deeply grateful to Boeing for their commitment to promoting success for members of the military," said Embry-Riddle President P. Barry Butler, Ph.D., during the ceremony at the university. "Service to our community and beyond is an integral part of everything we do at Embry-Riddle, and Boeing shares our long-standing dedication to serving those who serve."
Butler added that the new agreement "is an exceptional benefit for ROTC graduates. It is also in keeping with our goal to help transitioning military members secure meaningful, high-paying career positions in the civilian realm, where their work ethic, discipline and skills can promote innovation and competitiveness."
In remarks during the signing ceremony, Ms. Leanne Caret, executive vice president and senior advisor to The Boeing Company, said: "The Boeing Company has every confidence in Embry-Riddle's ability to cultivate strong talent, and we are grateful to leaders like Dr. Butler who share our vision for cultivating talent and instilling the skills and values needed to thrive in our industry."
Caret added that the new agreement with Embry-Riddle honors those who selflessly fight for freedom, as well as the sacrifices of their families. "The greatest act that any of us can do, as Americans, is to pay it forward," she said. "This [agreement] is our way of paying it forward." She thanked those who were on hand at the ceremony, "honoring this commitment to the wonderful men and women who, because of their selfless acts, enable us all to be here today."
Officiating at the signing on Sept. 27 was retired U.S. Army Staff Sgt. Arnold James, who is the Career Services director for Embry-Riddle's Worldwide Campus.
Serving Those Who Serve
Embry-Riddle's legacy of support for the military dates back to the school's founding in 1926. The university's current service to military and veteran students has long allowed Embry-Riddle to retain the top spot in the "U.S. News & World Report" Best Online Bachelor's Programs for Veterans category. Embry-Riddle's residential campuses also rank among the Top 5 in the Best for Vets category of the same rankings.
Embry-Riddle was launched to train airplane pilots immediately after World War I. When World War II erupted, the demand for aviators and mechanics surged. Allied nations sent more than 25,000 young men to several Embry-Riddle centers in Florida to be trained as pilots and aviation technicians. During the Korean War, the U.S. Air Force contracted with Embry-Riddle to train airmen in the fundamentals of airplane maintenance. After the war, the university continued to provide aviation-related education and training for military personnel.
The university's association with the Air Force dates back to the Army Air Corps, as early as 1939, when Embry-Riddle participated in the Civilian Pilot Training Program. In addition to pilots, Embry-Riddle trained students to build and repair all varieties of aviation instrumentation. During the war, a seaplane base continued operations as an all-female division. In partnership with what is today the Air Force, Embry-Riddle helped provide pilots, mechanics and technicians to allied military forces during World War II as well as the Korean War.
Top ROTC Operations
Embry-Riddle supports top-performing ROTC operations at both of its residential campuses, located at Daytona Beach, Florida, and Prescott, Arizona.
At Daytona Beach, students can train for service in the Air Force, Army and Navy. At Prescott, ROTC programs are offered for Air Force and Army officers in training. Both operations also include a Marine Corps Platoon Leaders Program. Recent accomplishments have included:
The Air Force ROTC (AFROTC) programs at Prescott and Daytona Beach were ranked in 2019 among the top 10% of all 145 AFROTC detachments nationwide by the Department of the Air Force's Air Education and Training Command (AETC, or Air University).
The two detachments — 028 in Prescott and 157 in Daytona Beach — now produce the largest number of rated aviation officer candidates for the Air Force outside of the Air Force Academy.
The nation's first two ROTC Cadets selected to officially attend the U.S. Army's Air and Space Basic Course (Michael Flynn and Lilyanne Pepe) will be from the Army ROTC program at Embry-Riddle's Daytona Beach Campus.
Air Force ROTC Cadets at Embry-Riddle received some of the first commissions as leaders and Guardians in the U.S. Space Force.
In 2018, former Detachment 028 Cadet Austin Fischer was named Outstanding ROTC Cadet of the Year in 2018 by the Air Force Association.
Posted In: Aviation | Institutional News