Saluting Our Future Space Leaders: Eagle Cadets Chosen Among First in Nation for Prestigious Army Training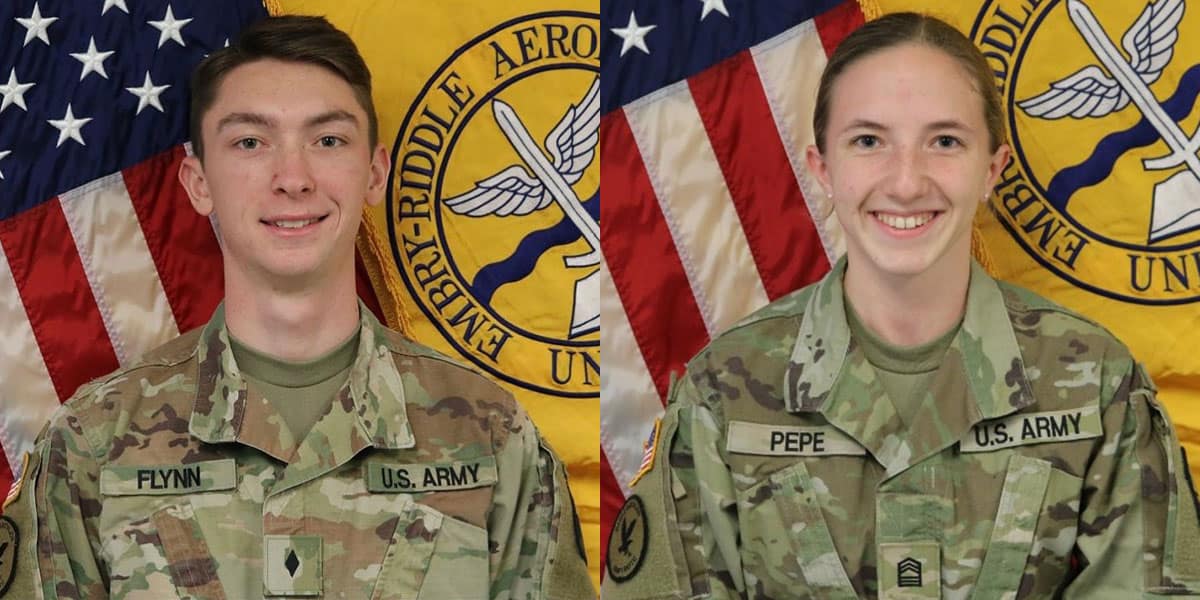 The nation's first two ROTC cadets selected to officially attend the U.S. Army's Air and Space Basic Course will be from the Army ROTC program at Embry-Riddle Aeronautical University's Daytona Beach Campus.
The cadets — Michael Flynn, a recent Space Physics graduate, and Lilyanne Pepe, a rising senior majoring in Astronomy and Astrophysics — will attend the exclusive course as a first step toward pursuing future careers as Army Space Operations Officers.
"When I first toured Embry-Riddle, I loved the idea of small class sizes, the numerous opportunities for hands-on research as an undergraduate and the space-focused degree specialization," Pepe said.
With dreams of becoming an astronaut, she is also minoring in Applied Mathematics and Military Sciences, and sees participation in the U.S. Army course as a pivotal first step in her space journey.
"I strongly believe this program will help me get there because it will provide me with necessary foundational knowledge needed to understand the Army's role as a warfighting function in space," she said. "It will lay a foundation that will allow me to further my quest for knowledge of the world beyond Earth and how that affects our everyday lives."
In addition to her coursework, Pepe works as an undergraduate research assistant, conducting research on stars with Dr. Stephen Gillam, assistant professor of Physics and Astronomy. She is also involved with the local community as a member of her church's praise band and food pantry, which serves 120-150 families per week, in addition to mentoring middle- and high-school students back in her hometown of Parish, Florida.
"I've been interested in the endless possibilities of outer space for longer than I can remember," she said, adding that she plans to become a space operations officer after graduation. "It is this curiosity and passion that has propelled me into my chosen career path."
The research she is conducting with Dr. Gillam focuses on a type of star that is similar to our own sun, except that it has spots of pulsating brightness.
"These pulsations are probably due to seismic activity in their atmospheres," Gillam said, lauding Pepe's contributions. "She is a skillful and knowledgeable data analyst and loves everything about operating telescopes, particularly the three remotely operated ones available to astronomers at Embry-Riddle. I look forward to continuing to work with her this summer and beyond."
Taking part in this sort of hands-on research was a main contributor to Flynn's decision to attend Embry-Riddle, as well.
"I was drawn to Embry-Riddle because I could major specifically in Space Physics, as opposed to a general physics degree," Flynn said. "It's the only school in the nation to offer Space Physics as an undergraduate-level degree program."
After graduating this May, he will commission into the Army Cyber Corps, with the intention of eventually transferring into the branch's Space Operations functional area.
"This program will give me a better understanding of the practical elements of Army Space Ops, and I would like to combine what I learn there along with my degree and apply it to national defense," said the Keansburg, New Jersey, native.
During his time as an undergraduate, Flynn collaborated with Dr. Michael Hickey, professor of Physics, to analyze the propagation of Martian mountain waves, research they plan to submit for publication this summer. He also worked with the Office of Undergraduate Research and was named this past semester's Outstanding Student in Space Physics.
"Michael has been a delight to work with — extremely hardworking, diligent and creative," said Hickey. "I firmly believe he has a tremendous career ahead of him."
Specifically, Flynn and Hickey have used a full-wave model in their research to focus on how mountain waves on Mars depend on strong sandstorms and can reach high altitudes in the planet's upper atmosphere.
This summer, Pepe and Flynn will head to United States Military Academy at West Point to participate in the Air and Space Basic Course, scheduled to take place May 30 to June 10.
"This will be a rare and invaluable opportunity for the cadets, as they interact with peers at West Point and learn the basics about the military's approach to space," said Lt. Col. Rob Moyer, Army ROTC commander. "It's a big first step for them."
This Army ROTC news complements the continued accomplishments of Embry-Riddle Air Force ROTC cadets, who received some of the first commissions as leaders and Guardians in the U.S. Space Force.
Posted In: Institutional News | Space