Embry-Riddle Aeronautical University AFROTC Programs Named Among the Nation's Best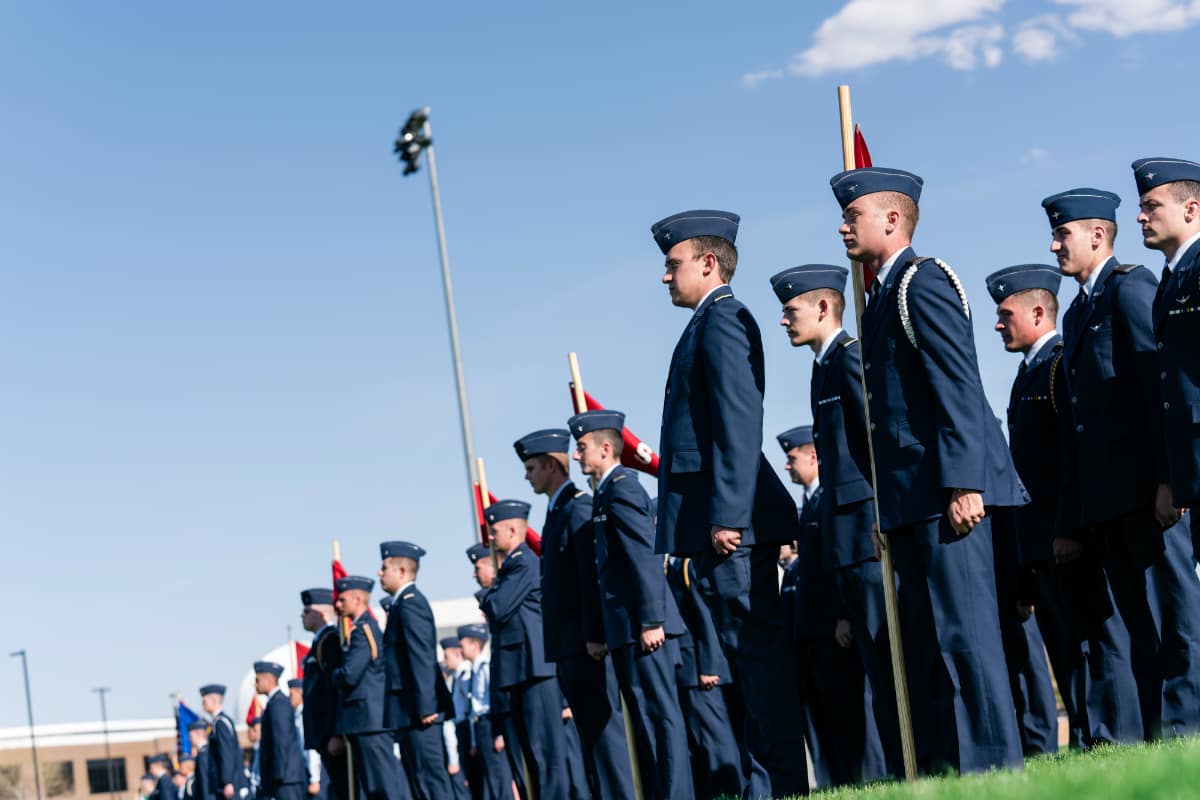 U.S. Air Force Reserve Officer Training Corps (AFROTC) programs based at Embry-Riddle Aeronautical University in Prescott, Ariz., and Daytona Beach, Fla., have been identified among the top 10 percent of all 145 AFROTC detachments nationwide.
The two detachments – 028 in Prescott and 157 in Daytona Beach – are top producers of rated aviation officer candidates for the Air Force outside of the Air Force Academy.
The Department of the Air Force's Air University, part of Air Education and Training Command, completed a "viability study" of all AFROTC detachments, which recruit, educate and commission officer candidates through education, field training and professional development training programs. That evaluation, based on objective data from fall 2014 through summer 2018, encompassed total officer production, ability to meet Air Force requirements for officers in aviation and Air Force-identified technical degree fields, cadet quality and program cost.
In Daytona Beach, AFROTC Detachment 157 produced 35.2 officers and 19.6 officers with technical degrees per year during the five-year evaluation period, performing in the 98th percentile for those criteria. Detachment 157 was in the 99th percentile based on its production of 23 aviation officers per year. Detachment 028 in Prescott produced 28.8 officers and 18.2 officers with technical degrees per year during the evaluation period, performing in the 97th percentile of all detachments for those criteria.
Cost-Effective, Efficient Training
Both detachments also scored exceptionally well in terms of the cost to educate and train each officer. The AFROTC programs at Embry-Riddle cost nearly a third less than the maximum amount desired by the Air Force, placing these detachments in the 94th (Prescott) and 88th (Daytona Beach) percentiles nationally in terms of value versus investment.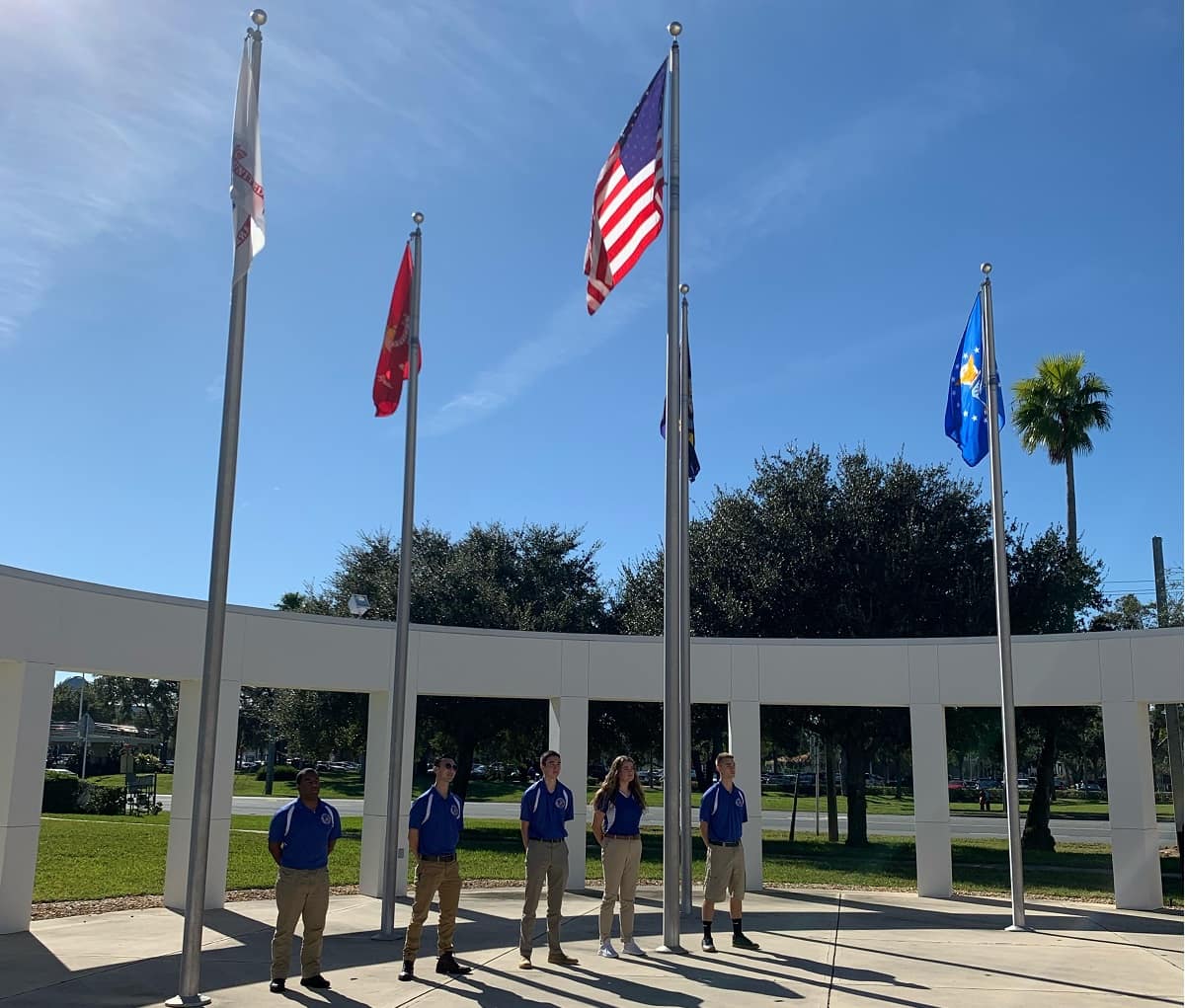 Cadets Marcell Gilliam, Doug Nguyen, Robert Kramer, Sarah Poole, and Ryan Bowen stand among the symbols of those who have come before them." (Photo: Embry-Riddle/Olivia Shumbo)
"AFROTC Detachments 157 and 028 are extremely efficient at producing officers, and they are providing outstanding value to both cadets and the Air Force," said Embry-Riddle President P. Barry Butler. "We are proud of the continuing high level of educational quality that both detachments are providing to student cadets."
To further enhance value, the programs have worked hard to ensure scholarships are widely available to prospective cadets, said Col. Jon Berry, commander of Detachment 028. Scholarship support was a significant incentive for Embry-Riddle alumna Major Nicole Bittle ('00), assistant professor of Aerospace Studies and a member of the cadre of Detachment 157. "When I was in high school, I wanted to be an astronaut, and an up-and-coming field of study was Engineering Physics," she recalled. "Embry-Riddle had one of only a few Engineering Physics programs nationwide. I came to Daytona Beach and fell in love with the campus and the culture … It felt like home."
Col. Berry said of the recent viability study, "Detachment 028 is exceptionally proud of our cadets and cadre and their demonstrated commitment to academic and professional excellence. The top 10 percent overall ranking signifies the quality, caliber and service-oriented nature of our cadets. Personally, I'm very proud to be part of the program and thrilled by the support of the Embry-Riddle family."
Improving the Academic Experience
Col. Jason Patla, commander of Detachment 157, noted that the unique Embry-Riddle environment, focus on academic quality, and commitment to a small instructor-to-student ratio adds value for cadets. "We are embedded in the Embry-Riddle culture so that students get an academy-like experience within a university that understands the ROTC, and with significant personal service to each individual."
In letters to Detachments 028 and 157 while serving as the Air University commander, U.S. Air Force Lieutenant General Anthony J. Cotton particularly called out Embry-Riddle's "consistent support to the AFROTC program." This has included support with advance housing placement for cadets, paid and volunteer opportunities on the campuses, and access to advanced aerospace facilities, he wrote. On the Daytona Beach Campus, a newly approved Military Science minor "will make the academic experience significantly better for future cadets," Lt. Gen. Cotton added.
The Air Force Association Outstanding ROTC Cadet of the Year award in 2018 went to Austin Fischer, a cadet with AFROTC Detachment 028 on Embry-Riddle's Prescott Campus. Fischer, who will graduate next week, is a highly accomplished aeronautical engineer, selected to be a pilot in the Air Force and competitively train for an opportunity as a fighter pilot.
Some 15 percent of the students on Embry-Riddle's Prescott Campus are enrolled in Army or Air Force ROTC activities. On Embry-Riddle's Daytona Beach Campus, 13 percent of the student population is enrolled in the Army, Air Force, Navy, and Marine Corps ROTC activities.
Posted In: Institutional News