Eagle Researchers Use Motion-Capture Technology to Improve Safety, Accessibility of Water Parasports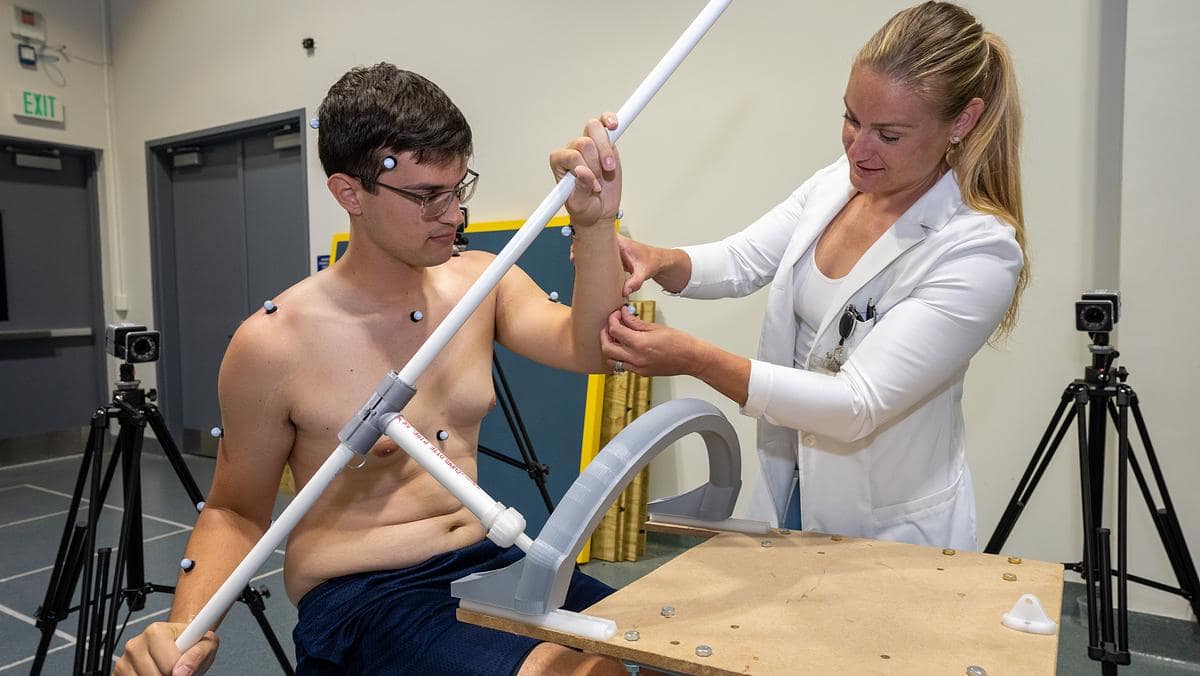 Researchers at Embry-Riddle Aeronautical University are building a device to help those with mobility disabilities safely enjoy water sports.
Dr. Christine Walck, an assistant professor in Embry-Riddle's Department of Mechanical Engineering on the Daytona Beach Campus, leads the Biomechanical Analyses Lab (ERBAL), which has teamed up with the Oceans of Hope Foundation for the project. Their mission is to build better assistive devices for use in water parasports, particularly kayaking, and Walck is using motion-capture technology as a jumping-off point to study human movement.
"The technology can tell you the motion profiles of a person so you can design effective assistive devices," said Walck, whose lab is collecting data from Oceans of Hope volunteers for the research. "We can't design a device before we know their movements."
Oceans of Hope is a nonprofit based in New Smyrna Beach, Florida, that offers adaptive ocean access for individuals with spinal cord injuries and physical disabilities. The organization aims to empower paraplegics and quadriplegics to safely experience surfing or kayaking.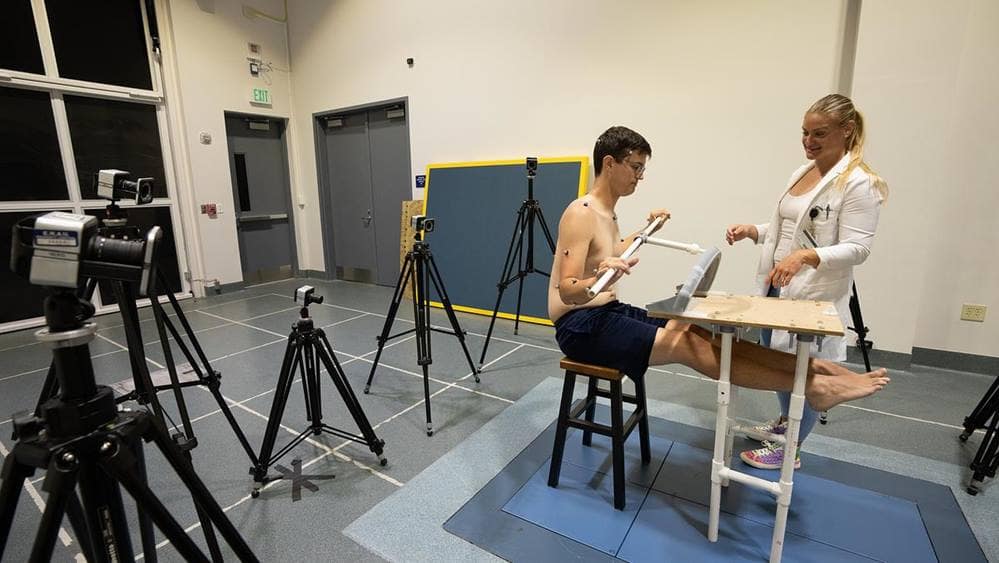 Dr. Christine Walck monitors graduate student James Palmer, who is using an assistive device that is being designed as part of research to make kayaking more accessible for parathletes. (Photo: Embry-Riddle/David Massey)
Many of the foundation's members have spinal cord injuries or other disabilities, so Walck's team first needs to understand how such injuries effect their motion profiles to be able to design an adaptive device that will help them build strength and improve their range of motion.
As part of the research, the lab will capture and analyze people's different motion profiles and research the pathological motion patterns associated with spinal cord injury for advancements in assistive devices used in parasports.Embry-Riddle graduate student Paola Diaz-Portela, who is pursuing her Ph.D. in Mechanical Engineering and has experience working in the biomedical industry at an orthopedic device manufacturer, is working with Walck on the motion-capture technology project.
The spinal cord injury motion database will allow for a better understanding of the biomechanics of the participants and enable the development of new adaptive devices and rehabilitation interventions.
Studies show that outdoor recreation can greatly improve the physical and mental health of people with spinal cord injuries, Walck said, so she is excited to help find solutions to make these activities more accessible for parasport participants.
Started in 2014, Oceans of Hope has about 130 participants in the four surf events they hold each year. The organization started with adaptive surfing and then introduced adaptive kayaking in 2019, holding four events each fall and spring with up to 18 guests per event, said Mike Recicar, a volunteer with Oceans of Hope.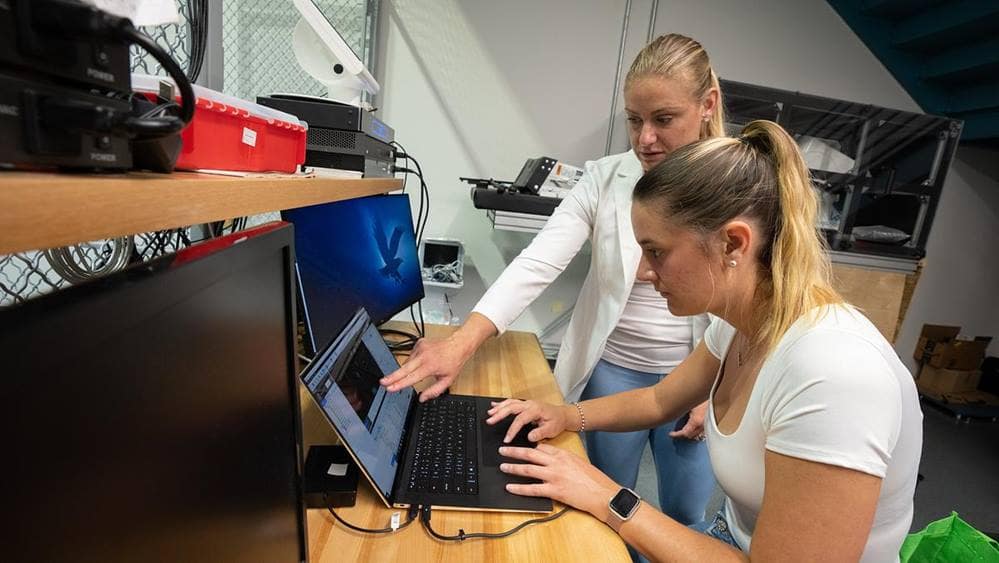 Dr. Christine Walck works with graduate student Paola Diaz-Portela on research developing a parasports device to make kayaking accessible. (Photo: Embry-Riddle/David Massey). (Photo: Embry-Riddle/David Massey)
"We work with a range of ages and abilities, and we have a number of guests who are recovering from a stroke, spinal cord injury or other physical disabilities," said Recicar."Having an ideal paddle system gives them that ability to improve their upper body strength and mobility, and get outside."
However, he said the adaptive kayaking system the foundation is currently using has mechanical and ergonomic flaws, which need to be addressed.
"An adaptive kayaking program gives our participants the freedom to get outdoors," Recicar said. "The physical and mental health benefits of just getting them back into the community and feeling good again are incredible."
Posted In: Applied Science | Engineering | Research