Embry-Riddle Professor Wins NSF CAREER Award for Advancing Treatment of Infant Skeletal Conditions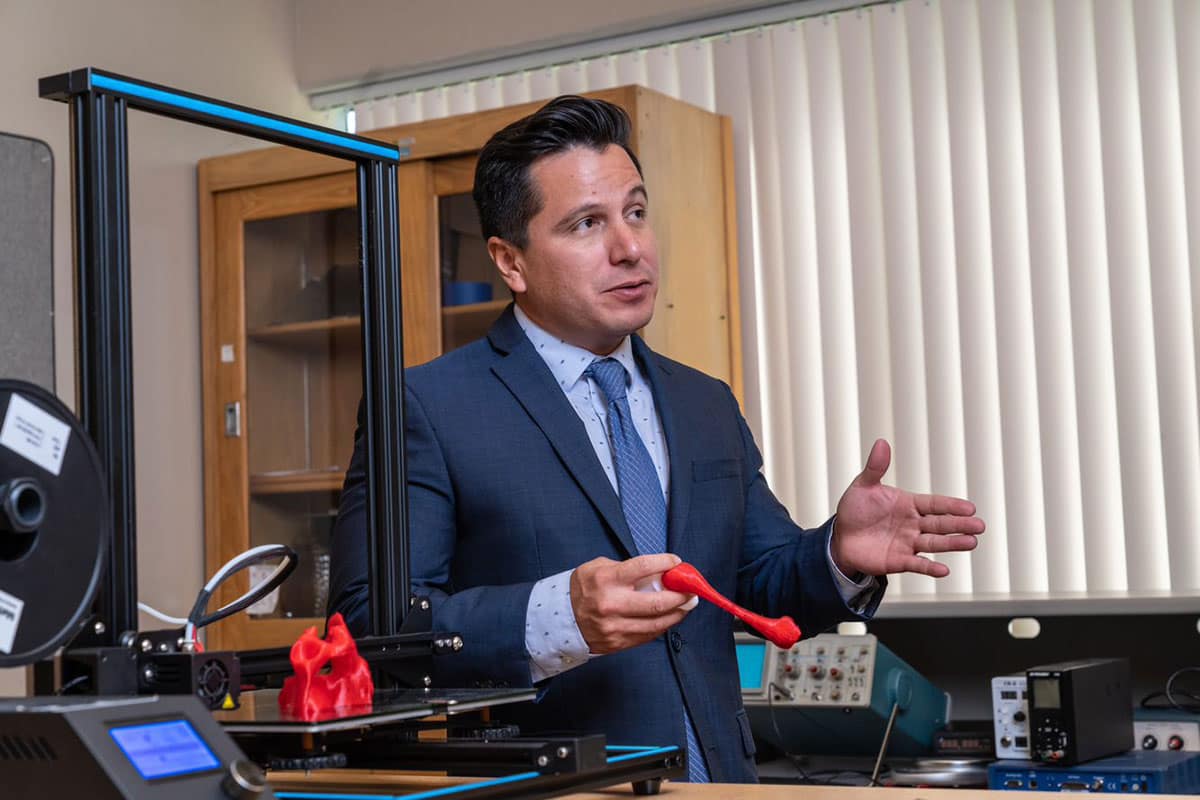 Research designed to improve the prevention and treatment of such infant joint disorders as hip dysplasia, led by Embry-Riddle Aeronautical University's Dr. Victor Huayamave, has received a prestigious, five-year award from the National Science Foundation (NSF) Faculty Early CAREER Development Program in the amount of $577,000.
"This grant will help support students through undergraduate research and master's degree and Ph.D. assistantships," said Huayamave, assistant professor in the Department of Mechanical Engineering. "The students will be mentored in medical imaging segmentation, musculoskeletal modeling, statistical shape modeling and finite element modeling."
The research funded by Huayamave's award will use the hip joint as a test system to then move toward the study of other biomechanical pathologies, such as scoliosis, spina bifida and clubfoot, with the aim of establishing new approaches to better understand and treat those conditions.
The research builds on extensive work Huayamave has done on the subject, especially focused on infants' hips, which can be susceptible to malformation and dysfunction. One of his objectives is to establish a causal link between untreated or mistreated dysplasia in infants and children, and the eventual need for hip replacement in adulthood.
In February, he published as lead author an article in the Journal of Children's Orthopedics suggesting that an inward turning of the femur in infants is not associated with the development of hip dysplasia. The article was co-authored by Embry-Riddle Ph.D. student Tamara Chambers.
The NSF funding will support education for high school, undergraduate and graduate students by exposing them to new concepts in the study of joint development through hands-on projects and 3D printing and visualizations. Huayamave said he plans to incorporate concepts from the ongoing research work into classes in Embry-Riddle's Mechanical Engineering and Human Factors and Behavioral Neurobiology departments.
In the NSF award proposal, Huayamave wrote that the award will "enhance and accelerate" his collaborations with other scientists and clinicians both in this country and abroad, including in Peru, where he has worked on incorporating virtual reality and robotics into his research.
Dr. Jim Gregory, dean of the College of Engineering, described the award as an important boost to Huayamave's work.
"Professor Huayamave is a rising star in the College of Engineering, and the CAREER award will supercharge his research innovations," Gregory said. "His work promises to shed new insight into the development of infant hip joints, leading to better prevention techniques and potentially leading to improved treatments. We are excited for Professor Huayamave and look forward to learning about his insights and innovations in this important project."
Huayamave and Dr. Eduardo Divo, professor of Mechanical Engineering and senior associate dean of the College of Engineering, have worked with the International Hip Dysplasia Institute and the University of Central Florida on hip dysplasia research. They have used 3D computer modeling to simulate the dynamics involved in reducing the disorder with a device worn by infants with hip dysplasia known as a Pavlik harness and also to seek different engineering solutions, especially for severe cases, which tend not to improve with the Pavlik harness. Their biomechanical research is designed to provide a better understanding of how various hip dysplasia treatments and positions affect the hips, to try to identify the biomechanical factors that may cause abnormal growth and to seek improvements in non-surgical treatments.
Other CAREER Awards in 2023
Two other Embry-Riddle researchers are also receiving award funding this year from the NSF's Faculty Early CAREER Development Program. Dr. Subhradeep Roy, assistant professor in the Mechanical Engineering Department, will develop a data-driven modeling framework of human driving behavior and traffic interactions so that autonomous vehicles can one day safely share the road with humans. Dr. Jeremy Riousset, assistant professor in the Physical Sciences Department, has brought NSF funding from the Florida Institute of Technology to Embry-Riddle to study atmospheric electricity on Earth and Mars.
Posted In: Applied Science | Engineering | Research