New $670,000 Federal Grant to Help Eagle Researchers Take on Fusion Energy Generation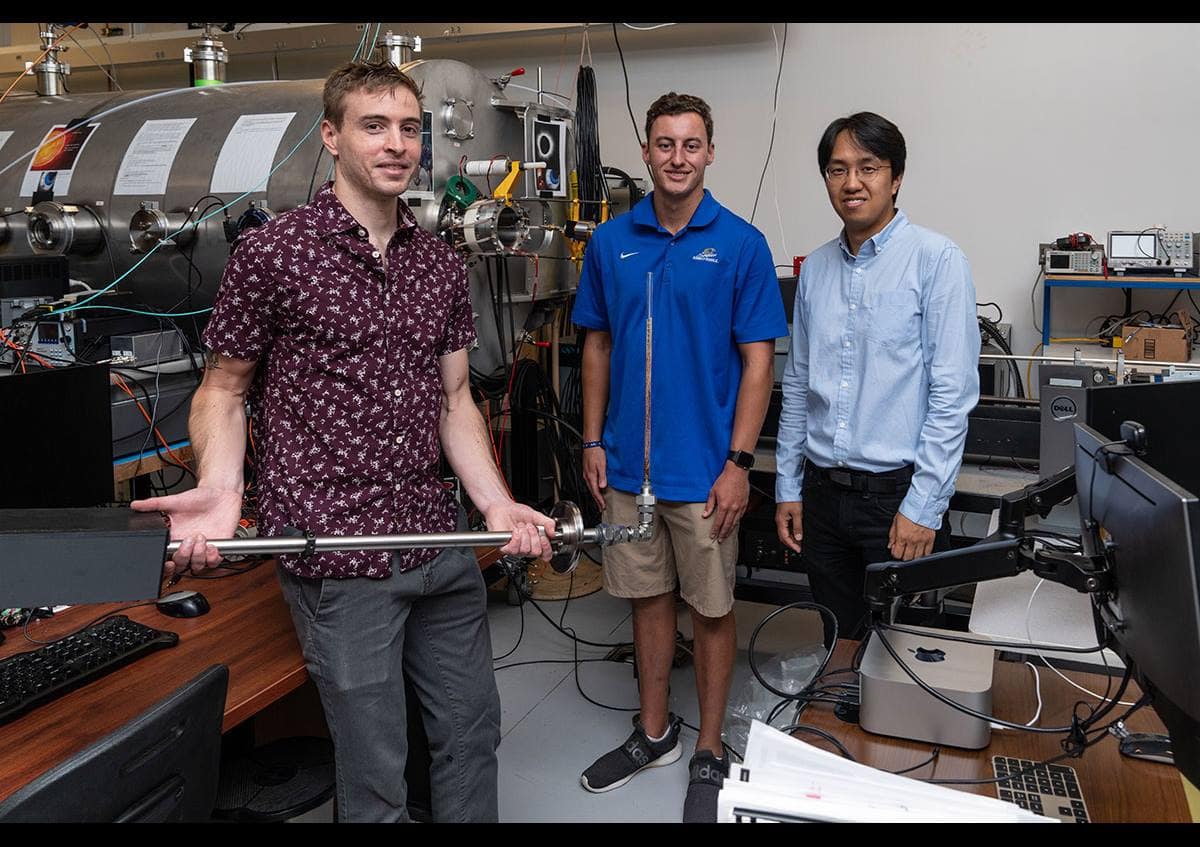 Embry-Riddle Aeronautical University researchers are working on technology that could make fusion power generation economically viable, thanks to a $670,000 grant from the U.S. Department of Energy (DOE).
"If successful, this method can help accelerate the commercialization of cost-effective fusion devices," said Dr. Byonghoon Seo, assistant professor in the Department of Physical Sciences and the project's principal investigator.
Thermonuclear fusion — in which two nuclei combine to form one smaller-mass nucleus, thus releasing energy — presents a potential energy source that does not produce greenhouse gases or long-lasting radioactive waste, according to the DOE.
Fusion occurs in the sun and other stars. Initiating fusion on Earth involves generating plasma, or gases so hot that ions can fuse together. The technology being investigated at Embry-Riddle involves heating the ions in plasma using intrinsic characteristics of the plasma rather than expensive external heating sources.
With this research, "we come closer to understanding how we can use plasma to produce nuclear fusion," said Connor Castleberry, a junior in Space Physics and Computational Mathematics who is involved in the project. "If perfected, it would be a safe, environmentally friendly and renewable power source."
Castleberry's support role in the research involved building a laser device used to record the temperature and ionization of the plasma. His ongoing measurements will indicate the effectiveness of the research design.
According to Seo, the research topic is also related to fundamental space physics. Two other participating Embry-Riddle faculty in the Department of Physical Sciences, Dr. Heidi Nykyri, professor, and Dr. Xuanye Ma, research associate professor, will interpret and reproduce the experiment's results using computer simulations.
Dr. Jeremy Ernst, Embry-Riddle's vice president for research and doctoral programs, emphasized the importance of the research to the advancement of fusion energy.
"This important work has high potential to offer process insights and further form knowledge surrounding economical fusion power generation. Research outcomes associated with this effort stand to contribute to multiple fields with potential to demonstrate utility that spans industries," Ernst said. "The work of Dr. Seo's team is a highly notable instance of Embry-Riddle faculty and student researchers collaborating to benefit the research community in guiding further study, discovery and application."
Aerospace Engineering senior Christopher Lamb, who will begin a master's degree in Engineering Physics in January, has worked for nine months in assembling a plasma accelerator and is also equipping Embry-Riddle's vacuum chamber with multiple electromagnetic sensors.
Lamb "will mainly perform the experiment," Seo said.
"This work has developed me professionally and in my engineering discipline," said Lamb, who is planning a master's thesis that will investigate a magnetized plasma jet. "Plasma has many applications in energy generation and commercial industries, such as chip manufacturing, metal recycling, propulsion and much more.
"This lab work is very relevant to my career goals."
Posted In: Applied Science | Engineering | Research