Eagles - Stay Connected on the Prescott Campus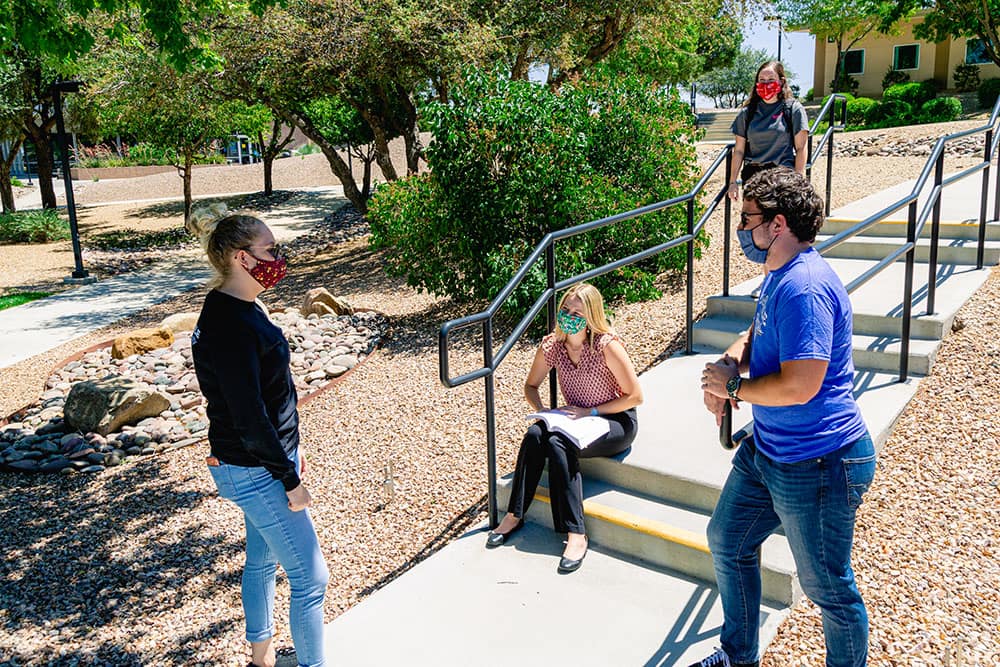 From physically distanced "escape rooms" to movie and trivia nights, Embry-Riddle is ramping up its student engagement efforts to keep students connected with each other and the school. On the university's Prescott, Arizona campus, the student engagement team continues to line up many fun social events for students. In addition, almost 20 Career Services opportunities are on the calendar between now and early November.
"Even as we wear our face coverings and remain physically distanced, we should also be forging connections with classmates and peers," said Embry-Riddle President P. Barry Butler. "Your community is here for you. Reach out for it. At the same time, don't forget to keep looking ahead to a bright post-pandemic future by taking advantage of Embry-Riddle's many career services opportunities."
Prescott Campus Chancellor Dr. Anette Karlsson agreed. "I'm so proud of the overwhelming majority of students who are making good choices and staying safe," she said. "I would also like to thank all employees as well as students who are working hard to provide engaging social and career opportunities for students."
Designated Exercise Areas
Designated exercise areas on the Prescott Campus also allow students to remove their face coverings, stay healthy and blow off steam, so long as they keep their distance from others. Review themap of designated exercise areas on the Prescott Campus. Face coverings must be worn to and from the designated exercise areas.
Campus Social Events & Clubs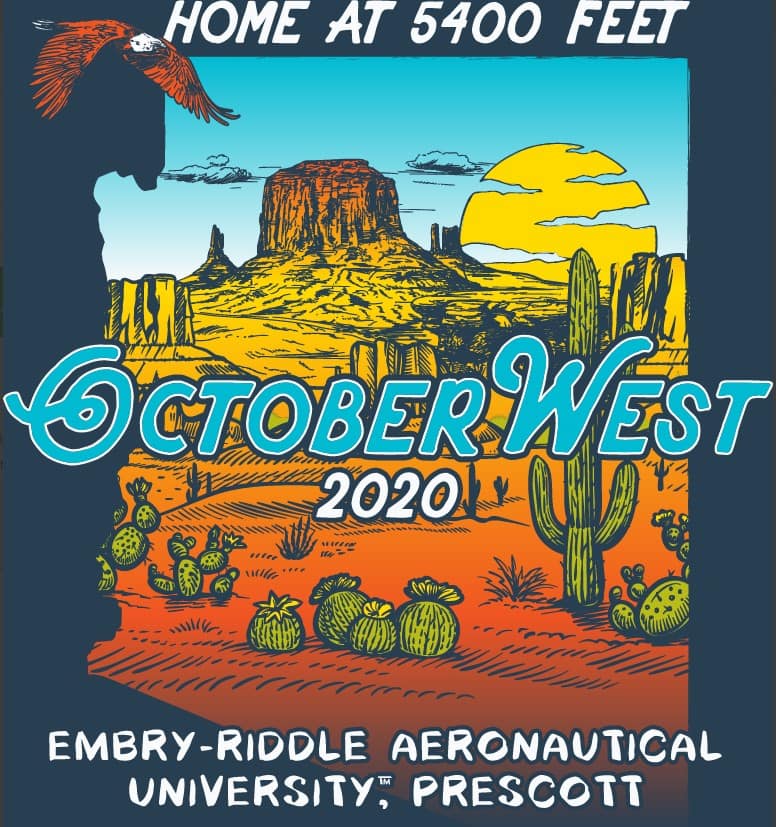 A fun array of student activities are planned by the Prescott Campus Student Engagement team.
In addition, student clubs and organizations listed on ERNIE are a great way to become more connected, and there's something for everyone – whether a student's passion is aviation, music, satellites or unmanned systems.
Forthcoming campus social events are listed below. Most events will be accessible to students by logging onto EagleLife.
OctoberWest Movie Night – Oct. 2, 8:00 p.m.
Planetarium Show: Dream Big – Oct. 3, Jim & Linda Lee Planetarium, 5:00 p.m.
Escape Rooms – Oct. 9
Netflix Party Night – Oct. 16, 8:00 p.m.
Netflix Halloween Party – Oct. 23, 8:00 p.m.
Juggler Marcus Monroe – Oct. 30, 8:00 p.m.
Trivia Night: Nov. 6, 8:00 p.m.
Summoning Spirits – Nov. 13, 8:00 p.m.
Aviation Outlook Webinars
From aviation and aerospace industry leaders, to the Chairman of the National Transportation Safety Board, Administrator of the FAA, key players in unmanned aerial systems and technical experts helping launch rockets into space, Embry-Riddle's Aviation Outlook webinars allow students and others to watch and ask questions of a range of accomplished and inspiring guests.
These free webinars, scheduled every two to four weeks, are open to all and use an online format that allows for audience participation regardless of location, via Zoom. They are presented by the Deans of Embry-Riddle's three Aviation Colleges, each webinar will provide the most recent and relevant industry information for prospective and current students, alumni and friends.
The next Aviation Outlook webinar, featuring a Women's Network Panel, will take place via Zoom on Wednesday, Oct. 7 at 6:00 p.m. EDT.
Jim and Linda Lee Planetarium
In addition to the Dream Big show in the planetarium on Saturday, Oct. 3 at 5:00 p.m., students can enjoy past events online, including recent Astronomy and Space Physics Undergraduate Research Presentations as well as the Prescott September Sky show.
Watch Embry-Riddle's planetarium webpage or the related YouTube page for upcoming virtual shows.
Industry/Career Expo Presentations
Students who missed recent Industry/Career Expo preparation presentations may visit the Career Services YouTube Channel to watch recordings at their convenience. Students with questions may reach out to their Career Services Program Manager: https://careerservices.erau.edu/contact.
Keep Looking Forward – Career Services
Students are also encouraged to "keep their eyes on the prize" – meaningful jobs in the future – by participating in events organized by Embry-Riddle's Career Services.
Students enrolled at all Embry-Riddle campuses can participate in most of the following activities. All events are accessible to students, alumni and employers via the Handshake platform.
JCPenney SUIT-UP Event, now through Oct. 31
Co-op/Internships – Have Questions? We have Answers! Tuesdays, 3:00 - 4:00 p.m. EDT
Career Services and Industry Panel Update, Oct. 7, Noon - 1:00 p.m. EDT
Northrop Grumman: Creating and Sustaining a Culture of Belonging, Oct. 7, 4:00 - 5:00 p.m. EDT
Gulfstream Aerospace Information Session, Oct. 7, 5:00 – 6:00 p.m. EDT
Collins Aerospace Virtual Information Session, Oct. 12, 5:00 – 6:00 p.m. EDT
Late Night with Lockheed Martin Information Session, Oct. 12, 9:00 – 10:00 p.m. EDT
Fall 2020 Virtual Industry/Career Expo, Oct. 13, 11:00 a.m. – 5:00 p.m. EDT
L3Harris Virtual Info Session, Oct. 13, 5:00 – 6:00 p.m. EDT
Behind the Scenes, An Inside Look at Piedmont Airlines, Oct. 14, Noon – 1:00 p.m. EDT
Coffee Chat: Is Grad School for You?, Oct. 21, 3:00 – 4:00 p.m. EDT
Virtual Graduate School Fair, Oct. 21, 4:00 – 7:00 p.m. EDT
Coffee Chat: Drop in for LinkedIn, Oct. 28, 3:00 – 4:00 p.m. EDT
Jobs in the U.S. for International Students, a special presentation by Lou Paris, Oct. 28, 5:30 – 6:30 p.m. EDT
Coffee Chat: Federal Opportunities, Nov. 4, 3:00 – 4:00 p.m. EDT
Veterans' Week Embraer Q&A, Nov. 9, 5:00 – 6:00 p.m. EDT
ERAU Veteran Q&A with Airbus, Nov. 10, 1:00 – 2:00 p.m. EDT
Students Urged to Ask for Help if Needed
Embry-Riddle students have repeatedly been urged to reach out for help if they need it at this time. Health officials have noted that major disease outbreaks can cause feelings of loneliness and isolation, and trigger or worsen mental health issues and substance abuse. Students should not hesitate to reach out for help – sooner rather than later.