Events - Embry-Riddle Aeronautical University
Upcoming Events
Saturday May 08, 12:00 PM to Saturday June 05, 1:00 PM
Various Locations and Online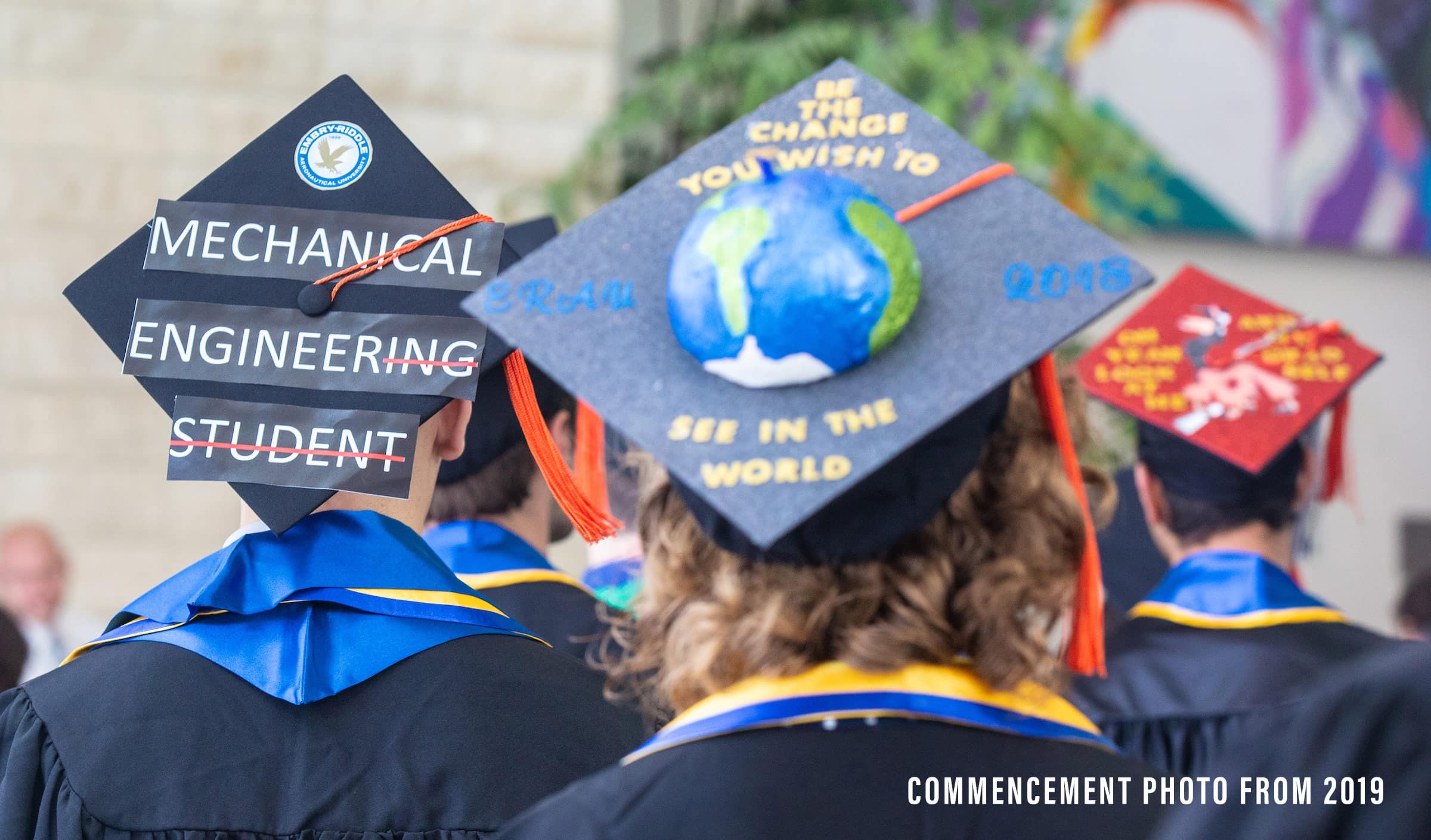 Learn More About Spring 2021 Commencement
For its spring 2021 commencements, Embry-Riddle Aeronautical University is taking a blended approach that preserves the best elements of traditional graduation ceremonies while also leveraging technology to keep everyone as safe as possible.
Pre-recorded virtual (online) commencements for Embry-Riddle's residential campuses will feature keynote speaker Dr. Ellen Stofan, the John and Adrienne Mars Director of the National Air and Space Museum. Embry-Riddle Worldwide's virtual commencement will feature keynote speaker Colonel (Ret.) Mark W. Tillman, whose distinguished career spanned 30 years in the United States Air Force and included service as commander of Air Force One in 2001.
All graduates will be individually recognized during pre-recorded virtual commencements celebrating the remarkably resilient Class of 2021, across all three of Embry-Riddle's campuses. The virtual commencements will be posted online by these times:
Prescott, Arizona – Saturday, May 8, 9 a.m. MST (all graduates)
Daytona Beach, Florida – Monday, May 10, 10 a.m. EDT (undergraduate students) and 3:00 pm EDT (graduate students)
Worldwide Campus – Saturday, June 5, 1 p.m. EDT (all graduates)
In addition to virtual commencements, all residential campus students (on or off campus) who have persevered and succeeded against all odds, despite the historic pandemic, will still be able to walk across graduation stages as their name is read during separate celebratory stage-walk events.
All graduates enrolled at the residential campuses, whether they live on or off campus, will be invited to walk across the stage as their classmates and faculty mentors, in full regalia, applaud and cheer them on. Professional photographs and video will be taken and posted online so that graduates can share their special moment later with family and friends. All Covid-19 safety protocols will be in place. To limit group sizes, family members and others outside of the Embry-Riddle community will not be able to attend the stage-walk events.
Find more detailed information about virtual commencement ceremonies on our graduation websites, linked below: