Upcoming Events
Tuesday September 28, 6:30 PM to Tuesday September 28, 8:00 PM
Daytona Beach Campus - Willie Miller Instructional Center, Lemerand Auditorium and via Zoom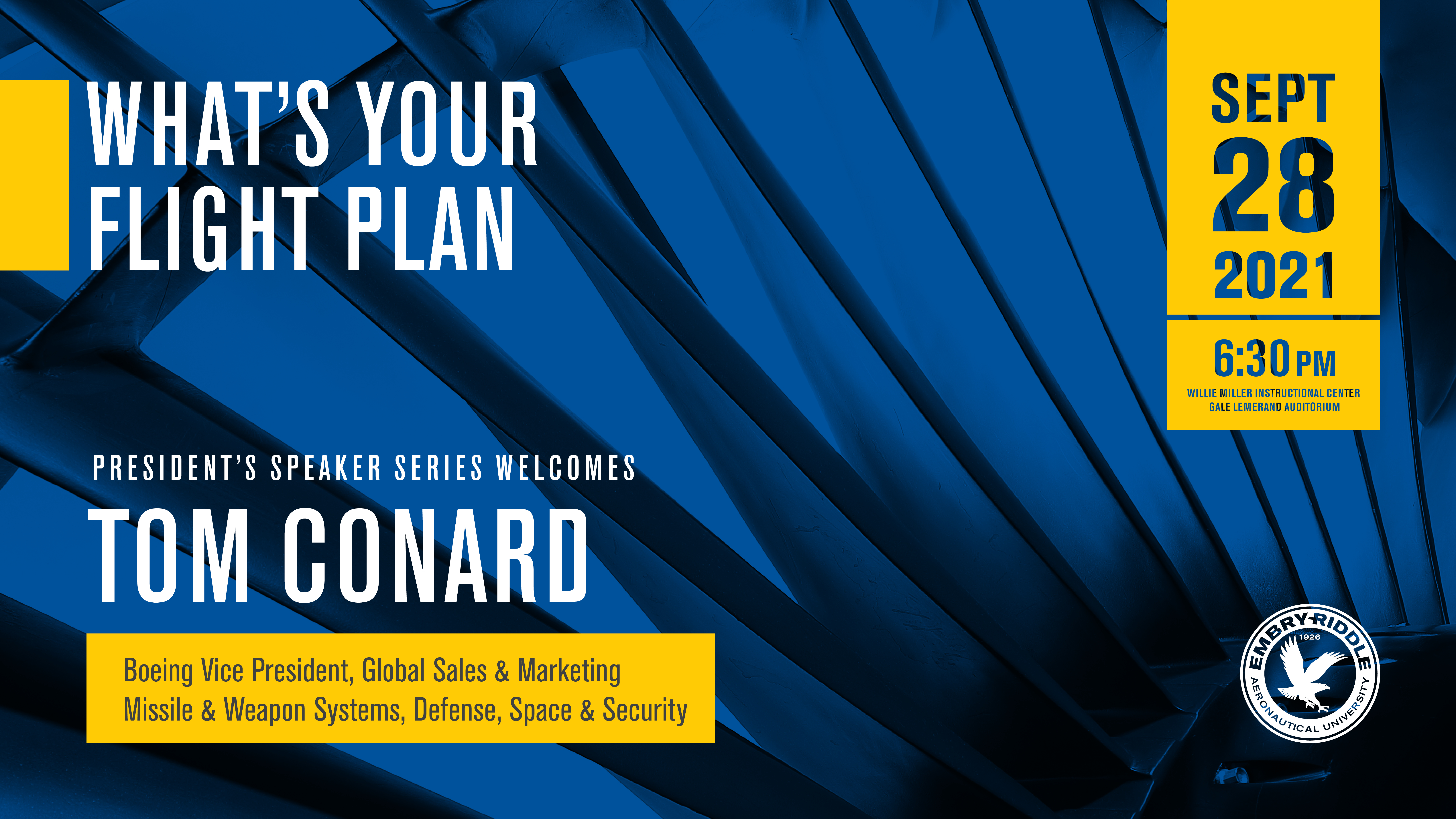 This 90-minute President's Speaker Series event begins on Tuesday Sept. 28 at 6:30 p.m. EDT / 3:30 pm MST and is free and open to the public. You may also live stream this program via Zoom. Click on this Zoom link to watch the program live.
During Boeing Week at the Daytona Beach Campus, the President's Speaker Series Welcomes Alumnus Tom Conard, Vice President, Missile and Weapon Systems, Global Sales and Marketing, Defense, Space & Security for The Boeing Company.
In his 30 plus year at world's largest aerospace company, he has held a number of high profile sales and marketing positions, including as the capture team executive for the T-7A Red Hawk, an all-new advanced pilot training system designed for the U.S. Air Force that will train the next generation of fighter and bomber pilots for decades to come. The Red Hawk builds off the legacy of the Tuskegee Airmen, paying tribute to the legends of the past and the heroes of the future.
Conard began his aerospace career as a flight test director for the B-1B supersonic strategic heavy bomber. He also worked at NASA as the chief test conductor for the Space Shuttle Endeavour (OV-105) during manufacturing, testing and check-out and supported Aerojet Rocketdyne with space shuttle engine testing and development for America's return to space flight with STS-26 Discovery after a 32-month hiatus following the loss of the Space Shuttle Challenger.
Conard holds a Bachelor of Science in aviation management from Embry-Riddle Aeronautical University and a Master of Business Administration. Conard has also been a member of the Embry-Riddle Industry Advisory Board.
Each 90-minute Presidential Speaker Series event is free and open to the public, with ample free parking on campus. Events will be held in the Willie Miller Instructional Center, Lemerand Auditorium or in the Henderson Welcome Center on the Embry-Riddle Campus, 1 Aerospace Blvd., Daytona Beach (see campus map). Videos of all Speaker Series programs can be seen on Embry-Riddle's YouTube channel a few days after the event.
The Presidential Speaker Series at Embry-Riddle's Daytona Beach Campus welcomes industry leaders, prominent alumni and important trailblazers in aviation, aerospace and related fields who will address our students, faculty and staff and the greater community. Each dialogue may touch on a wide range of topics, including perspectives on effective leadership and groundbreaking technologies, while offering opportunities for thought-provoking interactions with the audience.
For more information, please contact the Provost's Office at dbprorsvp@erau.edu.