State of the University Applauds Progress, Prioritizes Student Success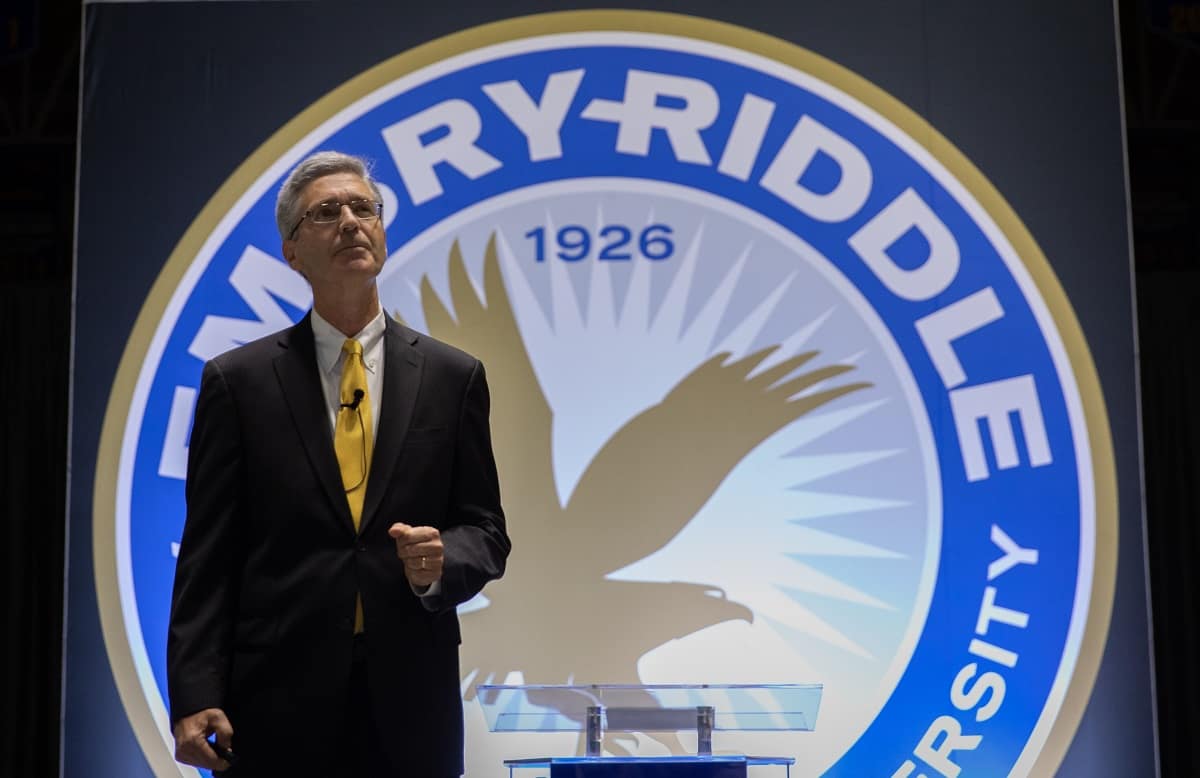 Faculty and staff packed the ICI Auditorium on the Daytona Beach, Fla., campus for Embry-Riddle Aeronautical University's 2019 "State of a Great University," as President P. Barry Butler framed his annual address. In an hour that underscored his belief in both the passion and potential of students, faculty and staff, he delivered a report on progress toward the strategic plan introduced in 2018.
The university's five-year strategic plan sets goals and metrics in five areas: enrollment management, student experience and success, global recognition, research and innovation, and philanthropy and alumni relations.
Enrollment Management
Butler praised faculty and staff for proactive preparation for a residential enrollment that is up by 21 percent for first-year students in fall 2019, compared to the prior year. Student applications rose by 39 percent during the same time-period, he said. Although demographic projections suggest a 14 percent drop in college-age students by 2026-28, Embry-Riddle's unique focus on aviation and engineering will keep enrollment high, in Butler's view. A large student population enrolled in Embry-Riddle's Worldwide Campus, with an average student age of 33, is another safeguard against dropping enrollment, he noted.
Student Success
Student success took the center space on Butler's visuals and is a priority he returned to often. He shared a moment he had witnessed from his window as an example. A groundskeeper stepped in to take a photo of a family at the Wright Flyer. Butler said this kind of personal touch leaves an even more memorable impression than the campus itself.
Resources and relationships are both a factor in student success, according to Butler. ERNIE Central, a kind of "one-stop shopping" resource for students, and ALEKS, a math assessment and tutoring program, deliver student-focused services. The addition of specialized labs such as the new wind tunnel, multipurpose unmanned aerial vehicles including Penguin C aircraft, and new Cessnas and Diamonds will also give students invaluable hands-on experience.
Projects aligned with industry objectives make students attractive to employers, he noted. Butler gave the example of a capstone project by students from the Prescott, Ariz., campus that resulted in patentable concepts. The aircraft they designed, which Butler jokingly likened to a "Transformer" toy, takes off vertically and transitions to wing-borne flight. This prototype was a collaboration with Bell.
In meetings with industry leaders, Butler reported higher financial rewards for "skilling up" — augmenting engineering capability with a foundation in business and data analytics. He also mentioned internships as the third advantage that Embry-Riddle can provide to students.
A new initiative will also give students real-world experience by immersing them in collaboration in the virtual world. A pilot project will engage students from both residential campuses in a virtual team tackling a NASA design competition. Butler added he hoped to see more multidisciplinary and virtual teams in the future.
Global Recognition
Butler acknowledged Embry-Riddle's presence in nine countries, 33 states and "2+" residential campuses, with the inclusion of Singapore. He extended the definition of the university's global reach by citing the successful use of diverse modes of delivery throughout the world.
Research and Innovation
Research "clusters" will continue to focus on aviation data analytics, aero cybersecurity and autonomous systems and simulation-based training, Butler said.
Before his address began, a series of slides highlighted recent research grants to faculty from the College of Arts & Sciences and the College of Engineering. A mention of the university's two most recently named National Science Foundation (NSF) Faculty Early Career Development Program honorees, Dr. Kshitija Deshpande and Dr. Ali Tamijani, prompted cheers from the audience.
In addition to research funded by NASA and the NSF, Butler tied $60 million from the State of Florida to resources such as the Applied Aviation and Engineering Research Hangar, which is set to open soon at full occupancy. The MicaPlex facility, also at full occupancy, is now home to 15 companies supported by $10 million in seed money, and the two-year-old Embry-Riddle Research Park has created 30 jobs and 75 student internships, he reported
The Federal Aviation Administration (FAA) has authorized a five-year commitment to the Florida NextGen Test Bed, with task orders of more than $63 million, Butler added. He encouraged faculty to involve graduate and undergraduate students in FAA research.
Hosting government and industry leaders will expand Embry-Riddle's working partnerships, he said. Over the past year, the Daytona Beach Campus has hosted the U.S. Department of Transportation, Department of Defense, and Department of Energy as well as representatives from the National Transportation Safety Board. "Airline execs touring our Flight Line tell me their pilots would be jealous," said Butler.
Philanthropy and Alumni Relations
It has been a record-breaking year for Embry-Riddle's Philanthropy and Alumni Relations, he said; gifts of $26 million more than doubled the university's annual goal. He noted that this total reflects the two largest gifts to the institution, one from an anonymous donor to support student success, and an endowment from the estate of Helen Wessel that endows the Aerospace Physiology program.
Butler also acknowledged the generosity of the David and Karen O'Maley family and the support of faculty and staff, which resulted in record-setting donations to the 2019 giving campaign.
A $100 million campaign is in development, he said. Funds raised will support academic excellence, interdisciplinary centers of excellence and student success initiatives, including scholarships.
Butler closed his remarks by reiterating the strategic vision for Embry-Riddle and taking a backward glance. He took the audience back to Operation Bootstrap, a community effort to help Embry-Riddle move to Daytona Beach in 1965. In sharing this history, he acknowledged the invaluable support of former Trustee Jay Adams, who died this month, and Trustee Emeritus Phil Elliott, who was in the audience for Butler's address. Both were early believers in the value Embry-Riddle would bring to the area and beyond.
Posted In: Institutional News