Prof. Ali Tamijani Wins Coveted NSF Early Career Award for Pioneering Research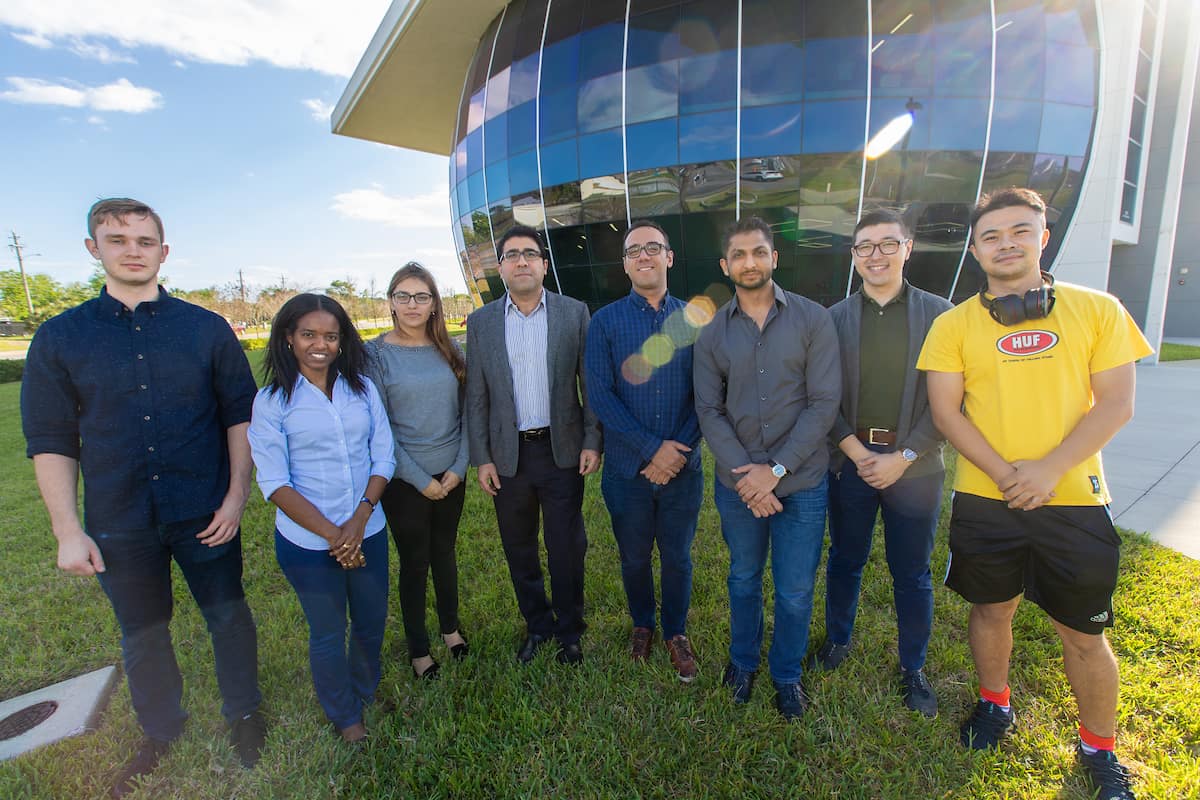 Research that could lead to more lightweight, efficient aircraft wings, orthopedic implants, and a host of other consumer technologies, spearheaded by Dr. Ali Tamijani of Embry-Riddle Aeronautical University, has received a highly competitive, five-year, $500,000 National Science Foundation (NSF) Early Career Award.
An assistant professor of Aerospace Engineering at Embry-Riddle's Daytona Beach Campus, Tamijani in 2017 received another early career faculty award through the U.S. Air Force Office of Scientific Research's (AFOSR) Young Investigators Research Program. That award, recognizing researchers showing exceptional ability and promise in conducting basic research, provided $360,000 in support for three years.
Tamijani's latest accomplishment reflects the depth of his expertise and confirms Embry-Riddle's continuing transformation as a premier science and engineering institution, said Provost Lon Moeller. "The NSF Early Career Award is a tremendous achievement that will propel Ali's research as well as his students to even greater heights," he added. "We're very happy for Ali and for Embry-Riddle."
College of Engineering Dean Dr. Maj Mirmirani said of Tamijani's award: "Embry-Riddle has long been known as the world's leading aviation and aerospace university. Now, we're building on those successes, through this type of outstanding work, to expand our research enterprise. We want to ensure that our students have the best possible opportunities for new knowledge as well as career advancement. We also want to ensure that Embry-Riddle is at the forefront of providing solutions for industry."
Those efforts accelerated with the 2017 opening of Embry-Riddle's Research Park, anchored by the John Mica Engineering and Aerospace Innovation Complex (MicaPlex), and the 2018 installation of an advanced subsonic wind tunnel, Mirmirani added.
Tamijani's research group is currently using the equipment in the Structures, Composites, and Materials labs in the MicaPlex. That equipment includes, for example, an ExOne 3D printer as well as machines for Digital Image Correlation and Scanning Electron Microscopy, and the high-performance computing facility.
To win his latest award, Tamijani competed with about 450 other proposals submitted to the NSF's Division of Civil, Mechanical and Manufacturing Innovation. Approximately 15-20 percent of this year's proposals were awarded.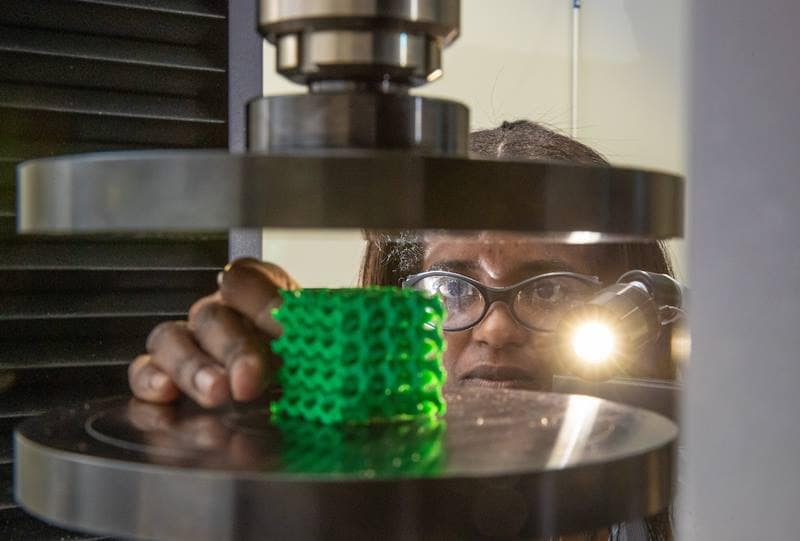 One of Dr. Ali Tamijani's students, Rossana Fernandes, positions a honeycomb sample object to test the performance of optimized cellular structures in the Structures Lab at Embry-Riddle's MicaPlex facility. (Photo: Embry-Riddle/David Massey)
Research That Gets Results
Tamijani's research has been focused on innovative lightweight and efficient structural designs using novel analysis techniques and robust optimization algorithms, coupled with advanced manufacturing processes. His work provides tools for optimizing designs to support many different applications, including aerospace structures, biomedical devices, energy absorbers, heat exchangers and acoustic insulation treatments.
The optimization methods being developed in Tamijani's lab focus on overall structures as well as their cellular components. "Our design approach will permit microstructures to vary in optimal ways throughout the structure, and they incorporate manufacturing constraints associated with 3D printing techniques into the optimization process," he explained. "Our new technique will allow the design and fabrication of innovative structures with unrivaled performance."
The NSF Early Career Award will also allow Tamijani to introduce young people to engineering, through STEM outreach activities. Toward that end, young people will be introduced to cellular structure design and fabrication concepts, integrated them into interactive learning plans through hands-on demonstrations, visual tools and concept mapping. Last summer, Tamijani offered a four-week educational program for K-12 students that provided hands-on demonstrations and visual tools on structural design and additive manufacturing.
Helping Students Build Careers
Providing Embry-Riddle students with the knowledge and mentoring they need to secure rewarding positions in academia or industry has been a priority for Tamijani.
His research activities have made it possible to build an outstanding research program, resulting in highly trained graduates from Embry-Riddle's Ph.D. and Master's degree programs. "All of my graduate students publish their work in refereed journals," Tamijani noted. He added that several of his students have received outstanding student awards within the Aerospace Engineering department.
Currently, Tamijani is working with a post-doctoral researcher while advising or co-advising three doctoral program students and three Master's degree students. His former students are now working for organizations such as Gulfstream Aerospace, Orbital Sciences Corporation, and the Wintec Institute of Technology at Jinhua Polytechnic University.
Tamijani's post-doctoral researcher, Dr. Kaveh Gharibi, is conducting research to optimize structural performance, functionality and efficiency using structural load paths. That work is supported by the AFOSR Young Investigator Award.
Before joining Embry-Riddle in 2013, Tamijani received his Ph.D. in Engineering Mechanics from Virginia Tech in 2011. He was a postdoctoral research associate in Virginia Tech's Aerospace and Ocean Engineering Department from 2011-2013. He was a Gulfstream Aerospace Corporation consulting faculty member. He was also selected for the 2014-2016 Air Force Summer Fellowships, and he is an associate editor of the Journal of Aerospace Science and Technology.
Embry-Riddle's
Department of Aerospace Engineering
on the Daytona Beach Campus is the largest in the country.
Posted In: Applied Science | Aviation | Engineering | Research