Prof. Eduardo Rojas Wins NSF Early Career Award to Develop Smaller, More Versatile Antennas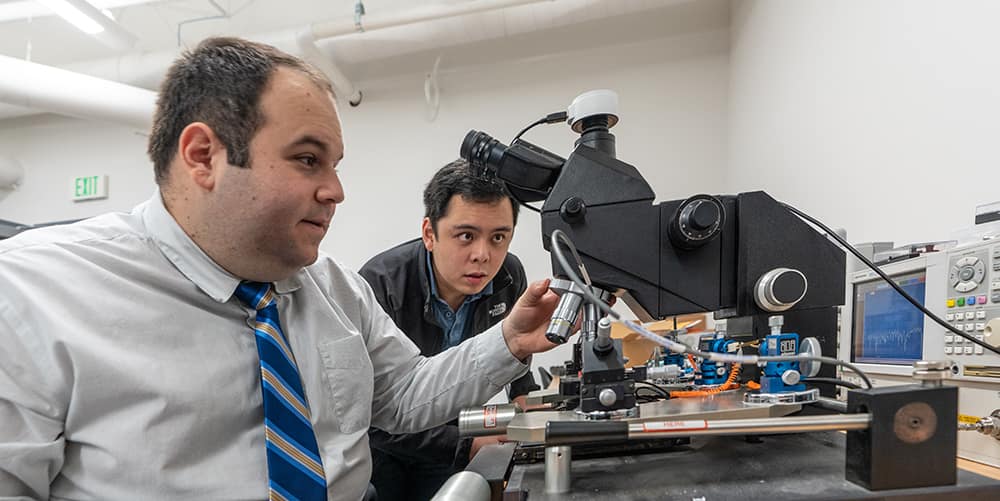 For his efforts to create efficient, lightweight, reconfigurable antennas, Dr. Eduardo Rojas of Embry-Riddle Aeronautical University has received a National Science Foundation (NSF) Faculty Early Career Development Program award of $500,000.
Smaller, more versatile antennas, developed using a unique process of 3-D printing combined with pulsed-laser machining, could someday improve aerospace systems, space exploration or even certain types of medical treatments such as tumor targeting, said Rojas, assistant professor of Computer & Electrical Engineering and director of the Wireless Devices and Electromagnetics Laboratory (WiDE Lab) in the university's Research Park.
"Our fundamental research at Embry-Riddle, funded by the NSF, has the potential to revolutionize the field of wireless devices through the discovery of novel 3D geometries, materials and manufacturing processes to support the next generation of antennas," Rojas said. "The work will also help prepare the next generation of engineers to become innovative problem solvers."
Rojas' award will support research commencing in 2020. Embry-Riddle had two other NSF Early Career Award winners for the 2018-19 academic year. They were Prof. Ali Tamijani, whose work could lead to more lightweight, efficient aircraft wings and other technologies, and Prof. Kshitija Deshpande, for her efforts to improve space weather prediction by leveraging big data and machine learning.
A Milestone Achievement
Embry-Riddle Provost Lon Moeller congratulated Rojas on his award. "Eduardo's recognition by the NSF inspires us and fills us with pride," Moeller said. "Winning the NSF Early Career Award is a milestone achievement that will advance Eduardo's research and open new doors for his students. Dedicated, innovative educators like Eduardo who actively engage students in the discovery process are a large part of what makes our university so special."
Rojas' winning proposal focused on "additive manufacturing," which involves combining materials to print devices layer by layer, based on a 3D model. In Rojas' lab, housed at Embry-Riddle's MicaPlex facility, student researchers use a state-of-the-art additive manufacturing system that is integrated with a femtosecond laser to produce 3D high-frequency electronics. The work is somewhat similar to the way that an artist creates a sculpture, Rojas explained. "If you're working on a sculpture, you would first build a rough figure, then you would use a very fine tool to add details to your masterpiece," he said. "For our work, we print a structure in a somewhat defined way, but with limitations, then we use the laser to add the finer features."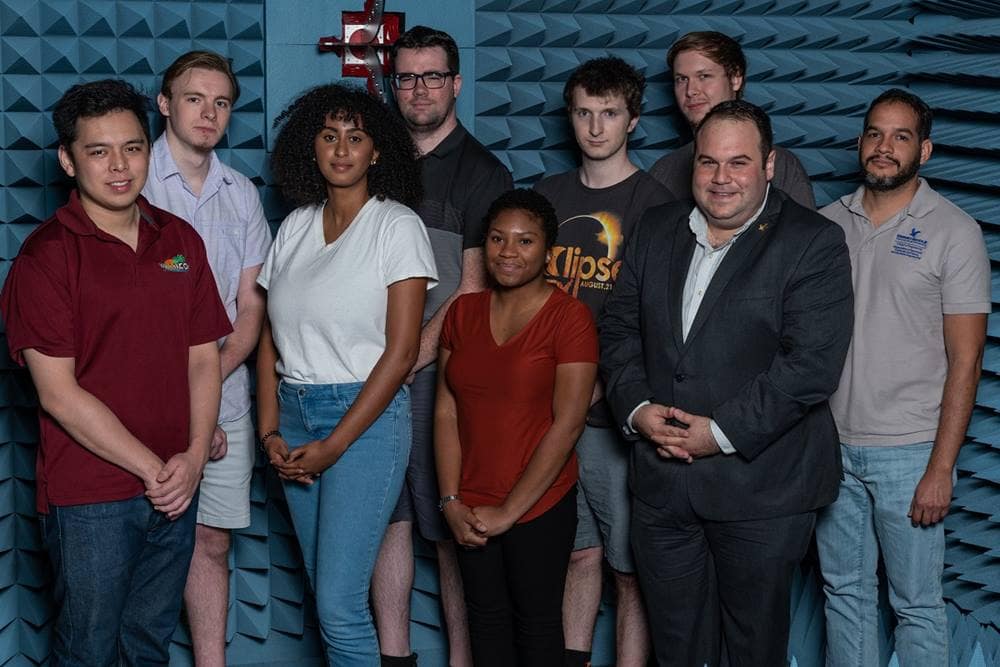 NSF Early Career Award Winner Dr. Eduardo Rojas (second from right) and his students are shown in the anechoic testing chamber in Embry-Riddle's Wireless Devices and Electromagnetics (WiDE) Laboratory, which is part of the MicaPlex research facility. (Photo: Embry-Riddle/Daryl LaBello.)
For example, one of Rojas' students, Ph.D. candidate Noemí Miguélez Gómez, has been working with him to create special antennas for small research satellites called CubeSats. The goal of that work is to improve communication systems for CubeSats. Because of their small size, CubeSats carry minimal power to transmit and receive signals. In an effort to solve this problem, Rojas envisions a large, flat reflectarray antenna that would fold up for travel, but bloom open when needed.
"These types of antennas have several novel aspects," Rojas explained. "They are lightweight and have an origami-based stowing mechanism, and they can be additively manufactured in space, using space-rated materials."
Dr. Maj Mirmirani, dean of Embry-Riddle's College of Engineering on the Daytona Beach Campus, said, "This award is a testament to the high caliber of Dr. Rojas' research. The innovative and unique process of fabricating highly specialized antennas has the potential to impact several industries. Dr. Rojas' tireless dedication to STEM education shines through the additional teaching initiatives he has planned for high school and engineering college students."
Currently, Rojas works with 12 students, including four doctoral-level students, three master's students and five undergraduates. He takes pride in the diversity of students in his lab and in the industry-relevance of their skills. Part of his NSF Early Career Award will support education and outreach to inspire more students to pursue science, technology, engineering and mathematics (STEM). High-school students will take part in hands-on activities and have access to motivational videos featuring role-model engineers and astronauts who will explain basic antenna engineering concepts. In addition, Rojas plans a new Embry-Riddle antenna course, along with an advanced cellular phone-based teaching tool to help undergraduate students visualize complex 3D concepts in electromagnetics and antenna engineering.
Rojas has extensive knowledge of radio-frequency circuits, additive manufacturing using 3D printers, antennas, monolithic microwave integrated circuits, and material science for high-frequency circuits. He earned his M.S. and Ph.D. degrees from the University of South Florida, all in Electrical Engineering; in 2014 and 2017, respectively. Rojas had more than 30 peer-reviewed publications, and he is a reviewer for the
IEEE MTT-S Transactions on Microwave Theory and Techniques
as well as
Proceedings of the IEEE,
among other prestigious journals. He has four U.S. patents and three active U.S. patent applications. He is member of the IEEE MTT-S Technical Committee 24 and the RTCA SC-236 committee for Standards for Wireless Avionics Intra-Communication System (WAIC) within 4200-4400 MHz.