Graduate Student's Work Advances Space Communication Systems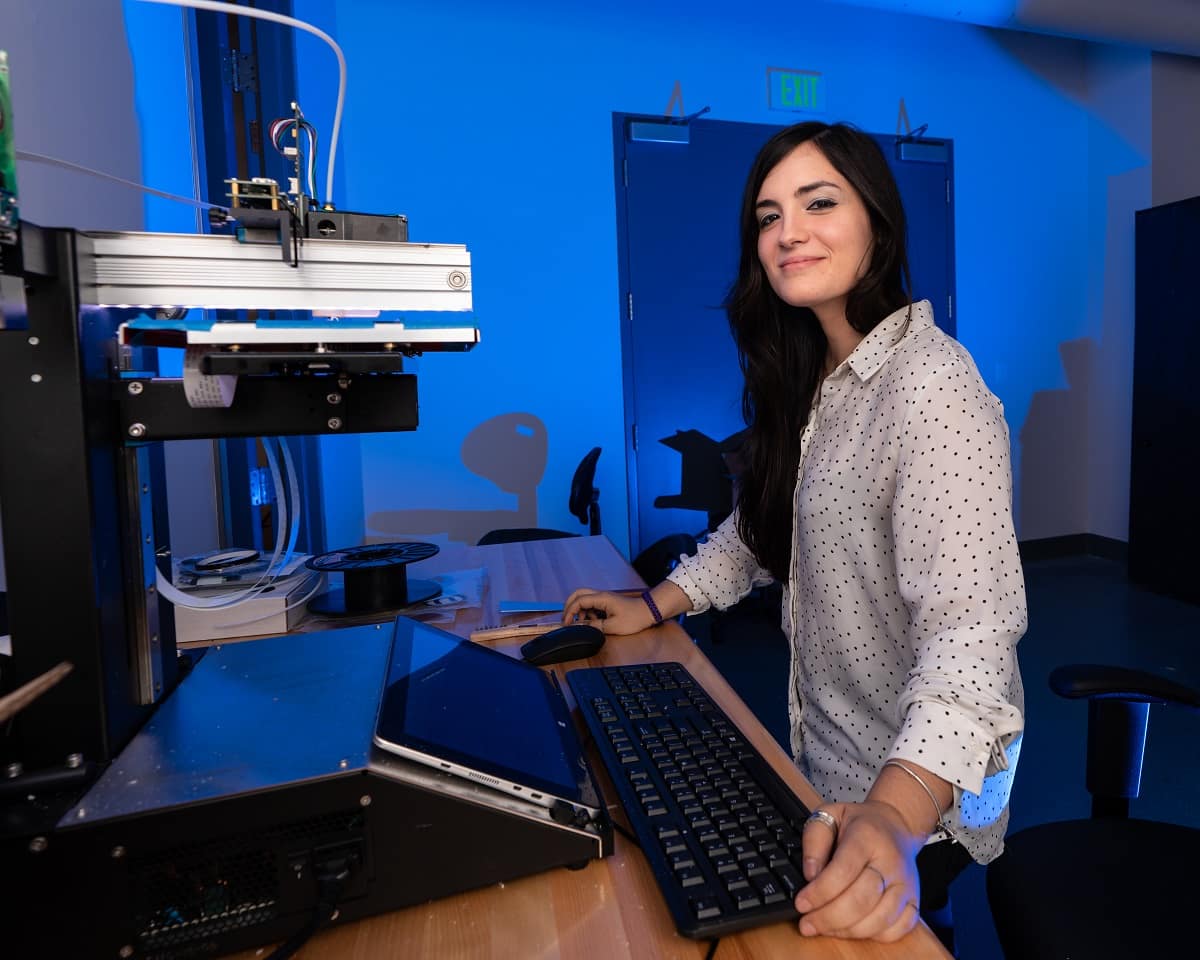 When Noemí Miguélez Gómez came to Embry-Riddle Aeronautical University two years ago, she found the best of all worlds.
She's been able to work toward her master's degree in Electrical and Computer Engineering, take part in several amazing engineering projects and also polish her skills in English, a language that's fascinated her since she was a young girl growing up in her native Spain.
As she enters the home stretch in her Embry-Riddle education, Miguélez Gómez is now helping to create a new kind of communications antenna for CubeSats, miniature satellites designed for specific types of space research.
In addition, she will soon play a key role in studying how 3D printed materials perform in radio-frequency communication systems aboard the International Space Station (ISS) — work outlined in a newly inked memorandum of understanding between Embry-Riddle and L3Harris Technologies (L3Harris).
Miguélez Gómez knows she's in the right place for discovery and innovation.
"I knew I wanted to get a master's and I looked at first in Germany and wound up a little bit farther, in Daytona Beach," she said. "I really liked Embry-Riddle because it was the only university, from the group that I considered to apply to, that offered an electrical and computer engineering track but also involved satellite systems."
She added, "The sector that I liked was space systems, space communications, but the tracks offered in some aerospace degrees were not exactly what I was looking for. Even though the European space sector was an excellent possibility, I felt that if I had the opportunity to expand my horizons while at the same time improve my language skills, doing my graduate studies in the United States was something worth considering."
With her degree in telecommunications from the Polytechnic University of Barcelona, BarcelonaTech, Miguélez Gómez felt ready to get involved in the challenging course work and high-end research that the graduate program at Embry-Riddle promised. But she believed her own communication skills needed some work, too.
"When I decided I wanted to come to the United States, I was too shy to speak in English because people could hear my Spanish accent," she said. "But I trained my ear because I started watching my favorite TV show in English."
Advancing Communication
In every area of her life, from developing her language skills to advancing high-tech communication systems for use in space, all of her efforts are paying off in a big way.
Her current CubeSat project with Dr. Eduardo Rojas in the Embry-Riddle Wireless Devices and Electromagnetics (WiDE) Laboratory is focused on bolstering communication using deployable antennas. Small research CubeSats may offer only one-tenth of a cubic meter of space, and therefore "you don't have a lot of power for communications," Miguélez Gómez explained. To improve communication, she has been working on a foldable antenna that would reflect signals in space to improve transmission performance. The work involves 3D printing and testing dozens of components. This antenna is part of an academic-industry partnership.
The newly opened WiDE lab is located in the John Mica Engineering and Aerospace Innovation Complex, or MicaPlex, the cornerstone building in Embry-Riddle's Research Park. It gives students like Miguélez Gómez access to a design room with state-of-the-art software, advanced manufacturing equipment including 3D printers, and a testing area, among other perks.
"We are dividing this antenna into different pieces or elements and our main focus right now is, how are we going to fold it and unfold or deploy the antenna?" said Miguélez Gómez, who is a graduate research assistant in the Wireless Devices and Electromagnetics (WiDE) Lab as well as the Space and Atmospheric Instrumentation Lab (SAIL). "We also need to know how these changes in making these antennas deployable are affecting its final performance."
While working on the CubeSat antenna, Miguélez Gómez also plays a key role on a high-altitude balloon project within SAIL, funded by the U.S. Air Force Office of Scientific Research, exploring how future hypersonic vehicle designs can account for the effects of atmospheric turbulence and particles in the middle stratosphere.
Thanks to a new agreement with L3Harris, Miguélez Gómez will now get to help send 3D-printed devices to the International Space Station in spring 2020. Improving the viability of such components for space applications will require understanding exactly how they respond to, and perform in the space environment, Rojas explained. For six months, the 3D-printed devices will send signals from the ISS to new satellite ground stations at Embry-Riddle, he said. The project is also being supported by Dr. Tim Wilson, chair of the Department of Electrical, Computer, Software, and Systems System Engineering.
In addition to all of her scientific accomplishments, Miguélez Gómez has managed to significantly boost her English-language skills. Today, she is set to chart her future course. She says she is ready for whatever life has in store for her.
Posted In: Applied Science | Engineering | Research | Space