Over 900 Diplomas Earned at Embry-Riddle's Fall 2022 Commencement Ceremonies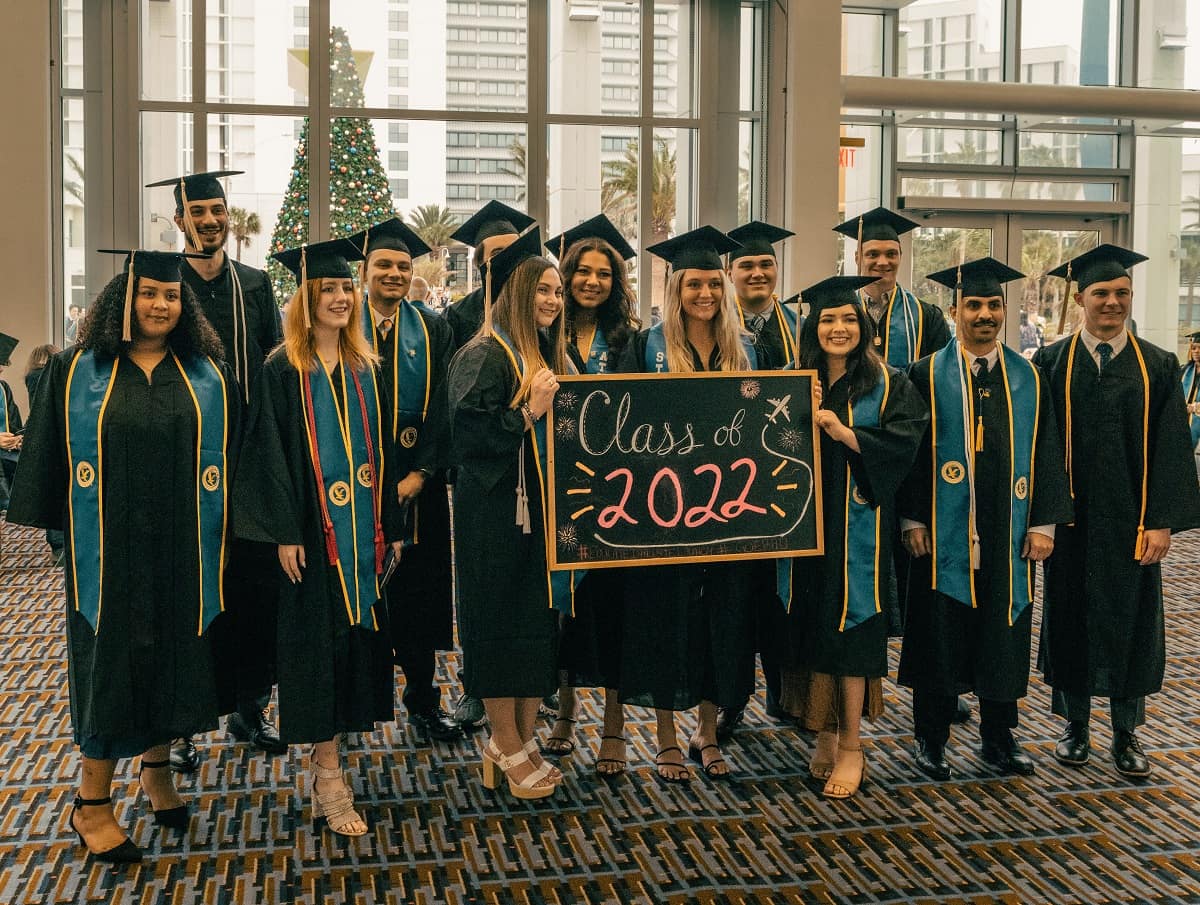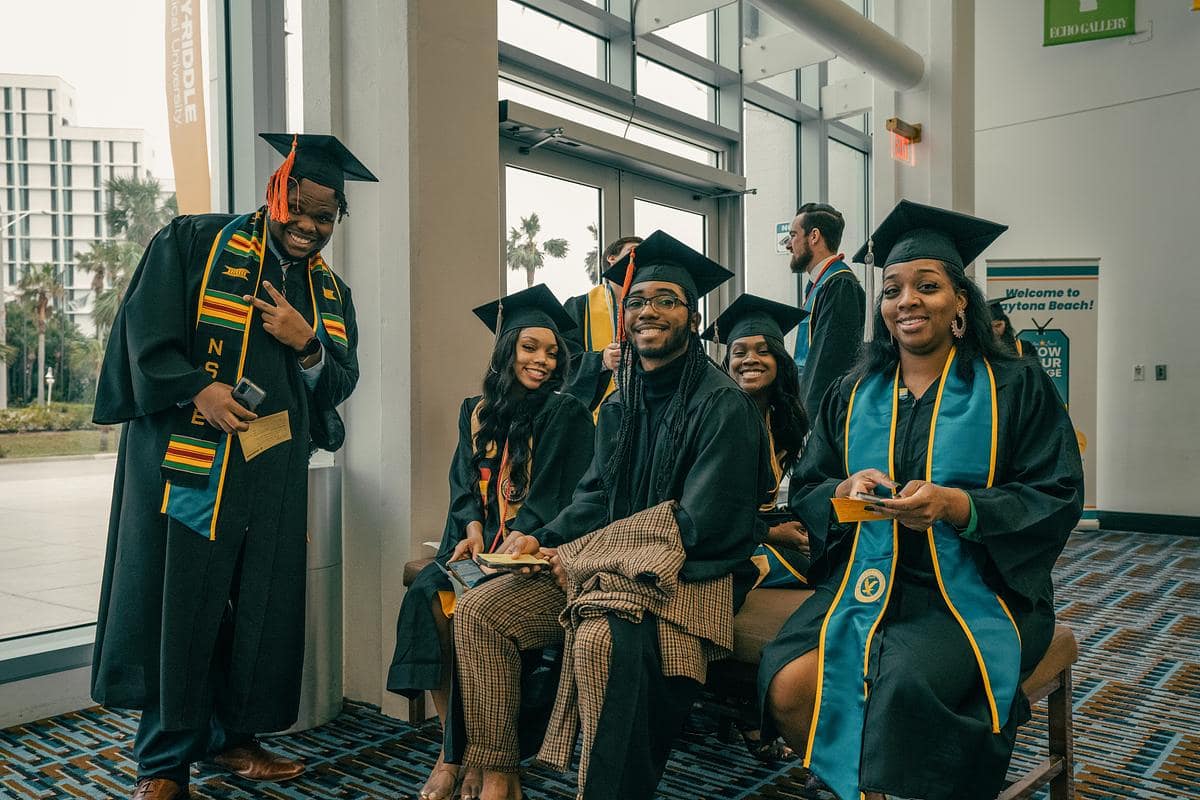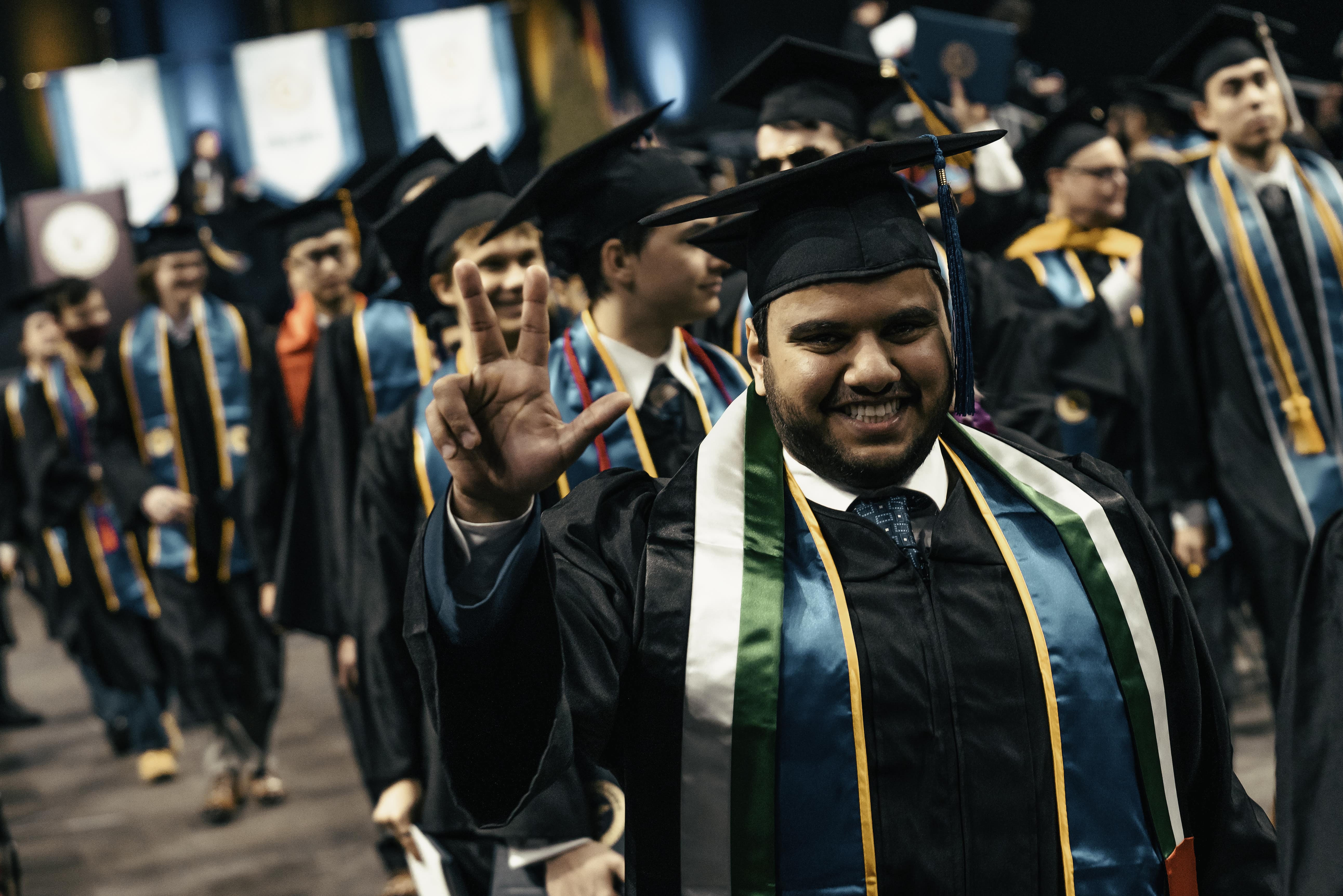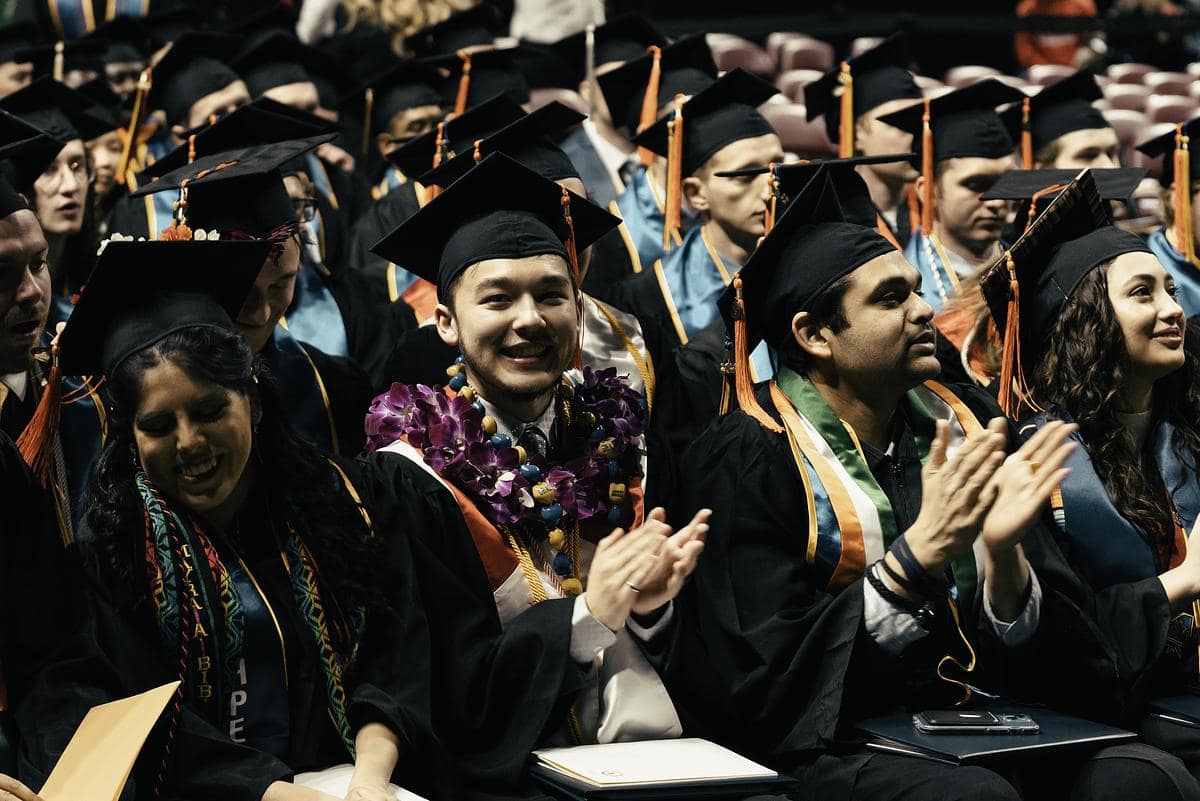 A total of 915 students from the fall 2022 graduating class walked the stage this past week to earn their diplomas at Embry-Riddle Aeronautical University commencement ceremonies, held in Daytona Beach, Florida — on Thursday, Dec. 15 — and Prescott, Arizona — on Saturday, Dec. 17.
"Wherever you go, remember that you are an Embry-Riddle Eagle," Embry-Riddle President P. Barry Butler, Ph.D., told graduates. "For you, the sky will never be the limit."
Butler went on to cite notable Eagle alumni.
"We can count nine astronauts, the chief of staff for the U.S. Air Force, the chief master sergeant for the Air Force, the acting FAA administrator and former NTSB chairman, Robert Sumwalt, who now heads up Embry-Riddle's Center for Aviation and Aerospace Safety," he said. "Today's graduates will achieve similar successes."
A total of 107 graduates who participated in the week's festivities were students from Embry-Riddle's Worldwide Campus. One standout student from the graduating class was Michelle Tabor, who earned her associate's degree in addition to her Private Pilot's License, all before graduating high school. Another student — Vince Taguba, a native of the Philippines who earned his degree in Aeronautical Science at the Prescott Campus — attended both residential campuses, as well as Embry-Riddle Asia, in Singapore, during his time as an undergraduate.
"Graduation is not just for me — it's for everyone who was there for me throughout my college years," said Taguba, who is the first in his family to travel to America for college. "When I decided to go here, my parents were very supportive. They tried to push me to reach for my dreams."
He started his bachelor's degree program at the Singapore Campus, spent two years in Daytona Beach then one year in Prescott. Next, he'll build up his flight hours by working as an Eagle pilot instructor.
"We're one university," he said. "One Embry-Riddle."
Daytona Beach Campus
A total of 644 students earned degrees in the Daytona Beach Campus commencement ceremonies on Thursday, Dec. 15: 483 as undergraduates, 106 who received master's degrees, and 16 who earned doctoral degrees, and 39 graduates from the Worldwide Campus who walked in the Daytona Beach ceremony.
This year's doctoral class was especially notable, containing a unique cohort of five engineering grads, all of whom immigrated from other continents to study at Embry-Riddle and have already secured jobs at leading industry firms, and one who overcame extraordinary personal obstacles to achieve her goals. Read more about that group online.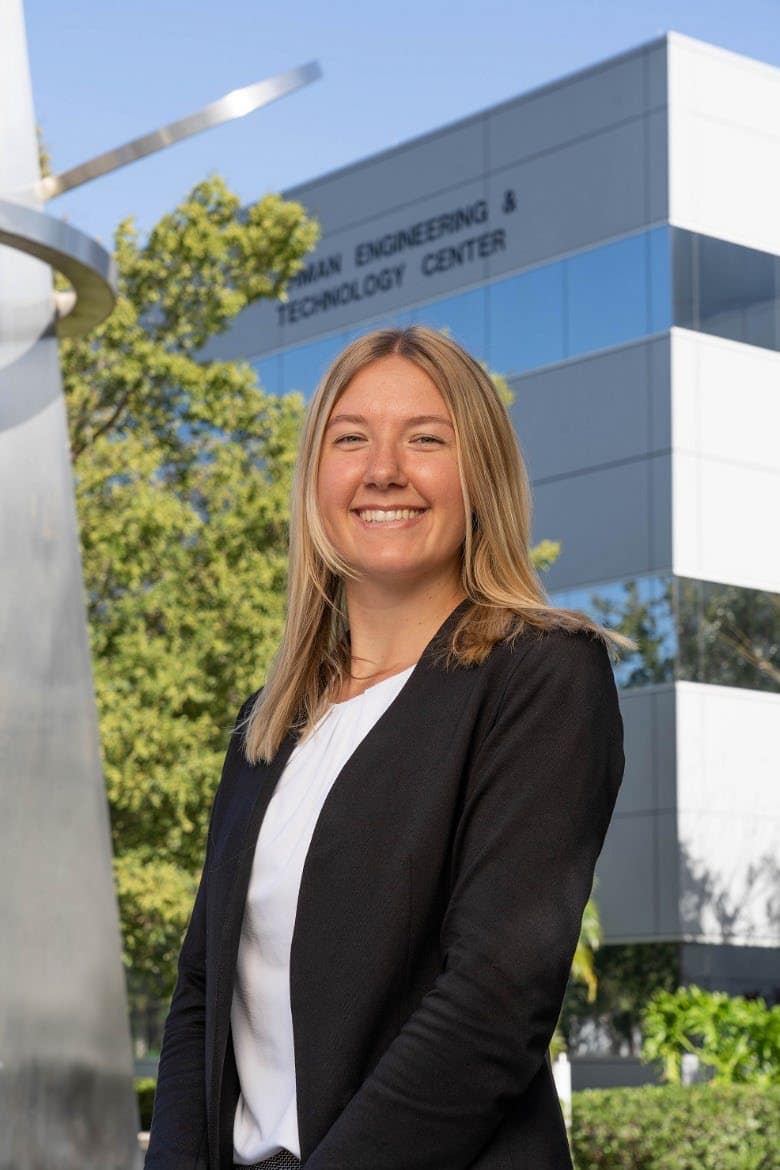 Diana Sears served as the featured student speaker at the Daytona Beach Campus ceremony. (Photo: Diana Sears)Aerospace Engineering graduate Diana Sears served as the day's student speaker. During her time at Embry-Riddle, Sears earned five internship positions at major industry firms, earned her Private Pilot's License and mentored underclassman as a resident advisor and Women's Ambassador. She was also the president of the Tau Beta Pi National Engineering Honor Society and the Senior Class Council, and in her sophomore year, she earned Embry-Riddle's Sorority Woman of the Year award for leading an event that raised over $20,000 in support of families affected by autism.
"We can change the world because of who we are," Sears told the graduating class. "We represent 69 countries from around the globe, students with disabilities, veterans, students identifying with the LGBTQ+ community and more. We are trailblazers, with many being first-generation college students, and first to become a pilot or engineer."
She then cited various obstacles this year's graduating class had to overcome — such as the Covid-19 pandemic and three separate hurricanes interrupting their studies — and how doing so proved their resilience.
"I found my own resilience when I was diagnosed with Tourette's Syndrome in second grade," she added. "I had a lot of trouble making friends, since uncontrollable twitching apparently makes you weird. But I decided to own my differences and chose to chase the dreams I made for myself."
After graduation, Sears, a native of Downingtown, Pennsylvania, will begin her career as a mechanical design engineer for Boeing Phantom Works.
Leanne Caret, executive vice president and senior advisor for The Boeing Company and a member of the company's executive council, delivered the day's keynote address. She was also bestowed an honorary doctorate, conferred with assistance of Board of Trustee Steve Nordlund, to reflect her incredible career achievements — including serving as president and CEO of Boeing Defense, Space & Security, and Fortune magazine naming her to its Most Powerful Women list in 2021 for the fifth consecutive year.
Six ROTC cadets from Embry-Riddle also commissioned into the U.S. Army at the event, 11 commissioned into the Air Force, two into the Navy and three into the Marines.
Prescott Campus
A total of 271 graduates walked the commencement stage at Embry-Riddle's Prescott Campus ceremony Dec. 17, including 199 bachelor's degree earners and four master's students, as well as five associate's degree recipients, 26 bachelor's and 37 master's students from the Worldwide Campus.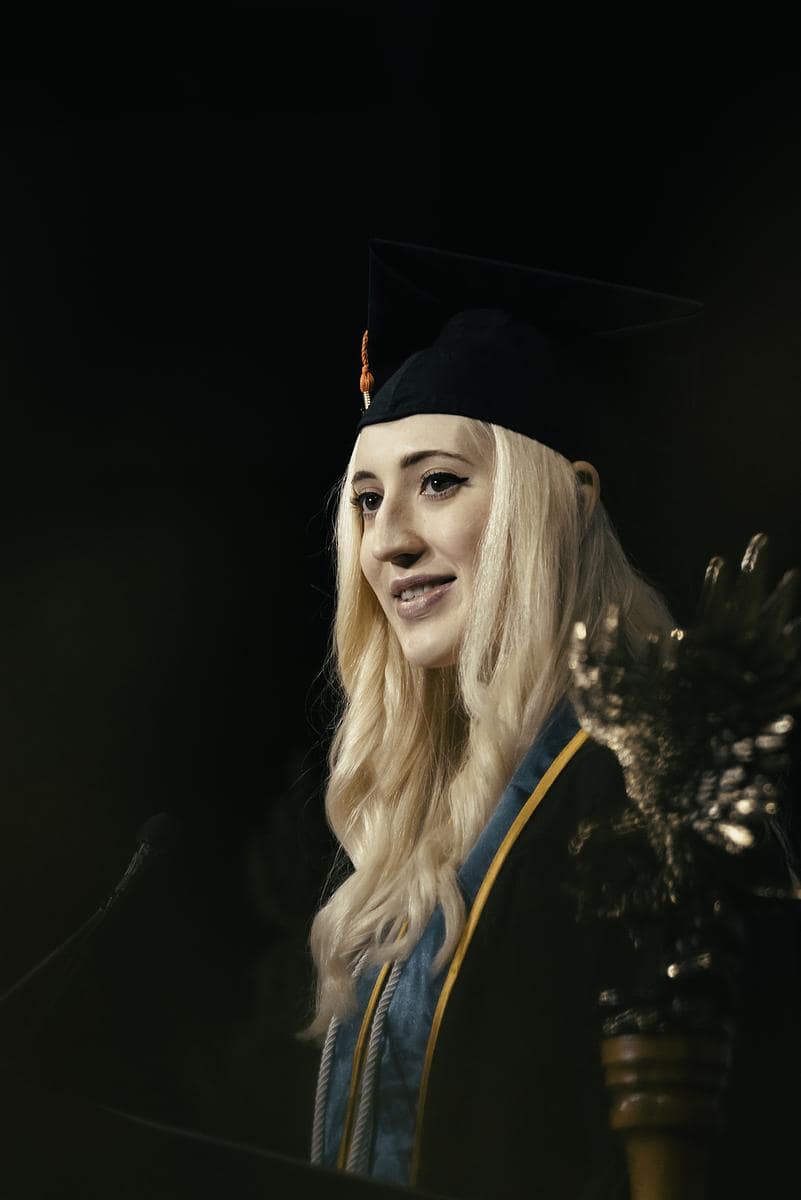 Abby Hudson served as the featured student speaker at the Prescott Campus ceremony. (Photo: Connor McShane) That total also included 13 cadets commissioning into the military: 10 Air Force ROTC cadets and three Army ROTC cadets.
The graduating class speaker was Aerospace Engineering graduate Abby Hudson, a Sandy, Utah, native who also earned the Prescott Campus Chancellor Award, which is the highest award bestowed to a graduate, recognizing exceptional academic and leadership achievements.
"Every graduate on this stage has a unique story which has led them to this moment," Hudson told her peers. "Mine started with the world's ugliest robot."
Hudson got her start in engineering through a high school robotics competition, in which she was on a team that designed a machine out of half of a plastic bucket with plywood reinforcements held together with (a lot of) duct tape. None of the team members were formally trained, and their clunky-looking robot seemed to reflect their lack of experience — aside from the fact that it just kept winning, advancing all the way to the competition's world championship. It didn't win the world title, but it did give Hudson a clear idea of what she wanted for her future. She was so sure that Embry-Riddle was the place for her that she applied to no other colleges.
"Teamwork has been a big part of my time at Embry-Riddle, and the teams that succeed are those in which each member actively contributes their individual talents and strengths, regardless of the result," she said.
Hudson took on leadership positions on the EagleSat team during her time at Embry-Riddle, earned three scholarships and six placements on the dean's list. Next, she plans to move to Europe after graduation to keep following her passions and start her career.
"It's best to have an open mind because the team member with the ugly robot might just be the key to your success," she added.
Joe Sprague ('90), president of Horizon Air and an Embry-Riddle alumnus, delivered the event's keynote address. Sprague started his career in aviation as a customer-service agent for a small commuter airline, for which he later flew as a commercial pilot. He has worked in the industry for over 30 years, 17 years of which were spent in leadership positions at Alaska Airlines.
"Commencement represents two important milestones for our graduates," said Dr. Anette M. Karlsson, Prescott Campus chancellor. "The first is a culmination of all the dedication and hard work our students have put into their education over the years. The second is the beginning of what is sure to be a promising career bringing critical skills to the areas of aviation, aerospace, cybersecurity and the other fields for which our graduates are eminently qualified."
Posted In: Institutional News