Embry-Riddle's Ph.D. Graduating Class Features Diverse and Inspiring Engineering Cohort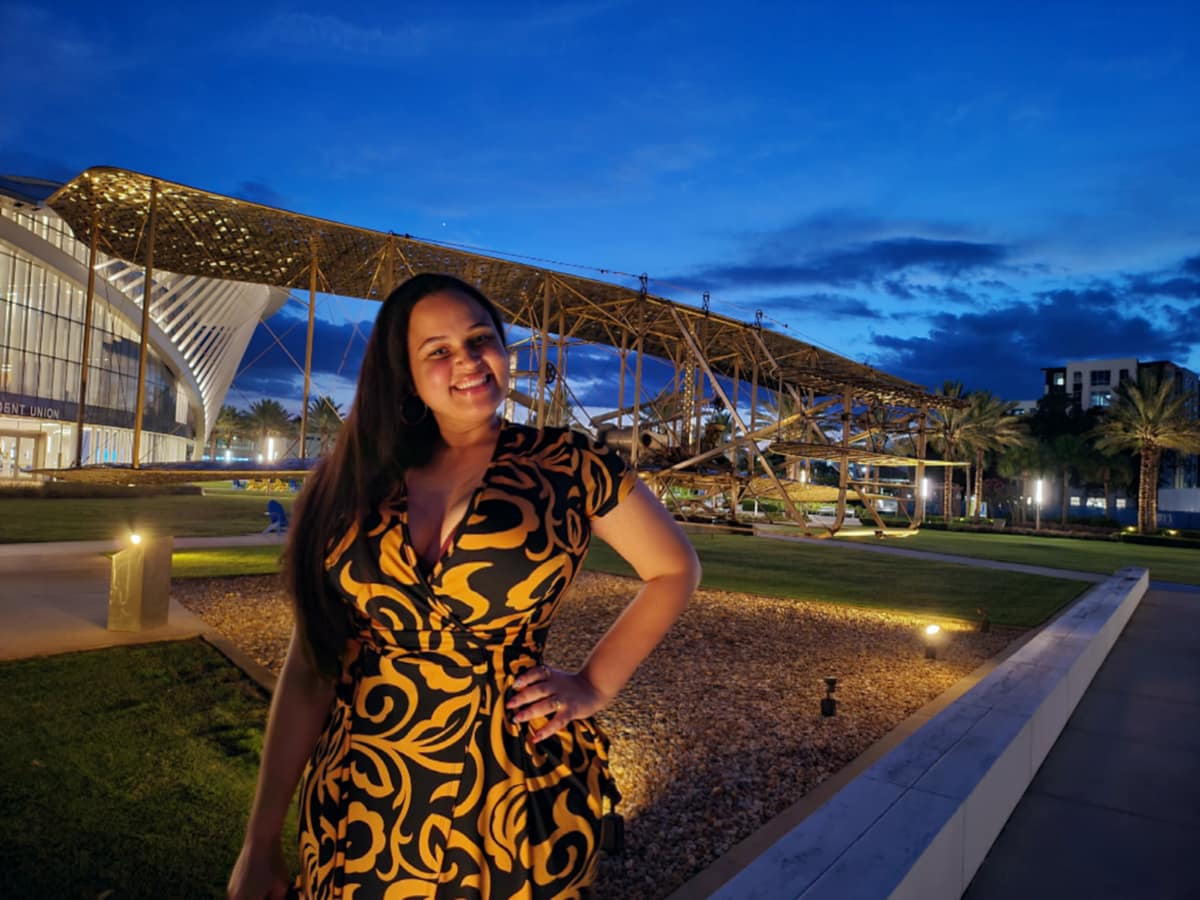 Doctoral programs continue to grow at Embry-Riddle Aeronautical University, as 16 Ph.D. students celebrated graduation at this week's fall 2022 commencement ceremony. The cohort of Electrical Engineering and Computer Science graduates from this group is especially notable, comprised of inventors, international students and models of resiliency, all of whom have already landed jobs at leading industry firms.
"I always knew I wanted to pursue my Ph.D. from my early days of undergrad," said Jessica Steinmann, a data and system manager for Embry-Riddle who also teaches introductory engineering courses.
But her road toward achieving that goal was riddled with obstacles.
While growing up in Haiti, Steinmann's younger brother died as a toddler. Two years after that, when Steinmann was 6, her father and grandmother were murdered while returning home from the airport.
"That is still a cold case likely to never be solved," she said. "My mother sent me to live with family in the States for a year for my safety while she tied up loose ends in Haiti."
The move served as a culture shock.
"My father's passing wasn't just grief of him being gone but also of a whole lifestyle change," she said. "We went from having maids, cooks, drivers, yard hands, to not being able to afford my lunch for school."
When she reunited with her mother, the two rented a room and lived there together until Steinmann started high school. She still remembers her first few years at Embry-Riddle: She didn't have a car or a home to visit during holiday breaks, so she started taking summer classes just so that she could stay on campus throughout the year.
Still, she earned scholarships and internships which, eventually, turned into full-time jobs. She changed her major several times but found her passion.
A four-time alumna who earned her fifth Embry-Riddle diploma (and first Ph.D.) at this week's graduation ceremony, Steinmann, a Silver Spring, Maryland, native, earned her bachelor's in Electrical Engineering in 2013, master's degrees in Software Engineering and Cybersecurity Engineering in 2015, and a Master of Business Administration in 2020.
"I've had a very lucky life to be afforded the opportunities to do the things I've wanted to do," she said. "I am grateful for the experiences. They made me learn to adapt quickly. I learned you can have it all, just usually not all at the same time. I take all the opportunities I can because life is about experiences."
Dr. Omar Ochoa, assistant professor of Software Engineering and awardee of the National Science Foundation Scholarship for STEM, called Steinmann "integral" in creating a modern research culture within the department.
"Graduate students, particularly those coming from under-represented populations, need mentors and role models," he said. "Jessica has been very active in this sense. New research students look up to her and wish to follow her steps."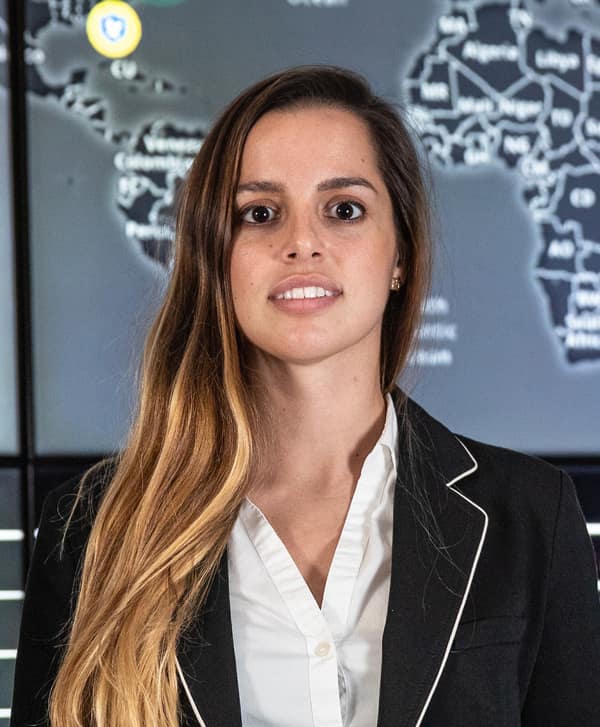 Anna Baron Garcia, from Barcelona, specializes in using machine learning and artificial intelligence to strengthen cybersecurity. (Photo: Anna Baron Garcia)
The Doctors Are In
The other four members of the Electrical Engineering and Computer Science doctoral cohort are equally impressive, all of whom traveled from other continents to attend Embry-Riddle.
"Cybersecurity is my passion, and Embry-Riddle has a fantastic Cybersecurity Engineering program," said Anna Baron Garcia, a native of Barcelona. "After I graduated with my master's, Dr. (Radu) Babiceanu offered me the opportunity to continue with my research and projects as a Ph.D. student, and I can say it has been one of the best experiences of my life."
In addition to leading efforts at various industry competitions, Garcia has helped advance aviation cybersecurity research at Embry-Riddle, and in her doctoral dissertation, she provides a roadmap on how to utilize machine learning and artificial intelligence to strengthen cybersecurity. She is working as a data scientist at Vectra AI, Inc.
"I have been given the tools to succeed in the cybersecurity discipline," she said. "I know that I can go anywhere and be prepared to take on the cybersecurity challenges of the future thanks to my years at Embry-Riddle."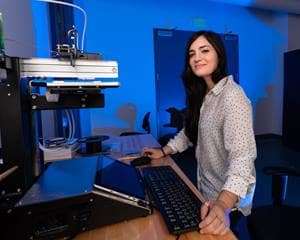 Noemí Miguélez Gómez
uses additive manufacturing systems at the Wireless Devices and Electromagnetics (WiDE) Laboratory in the John Mica Engineering and Aerospace Innovation Complex (MicaPlex). (Photo: Embry-Riddle/Daryl LaBello)
A future acoustic design engineer for Skyworks Solutions Inc., Noemí Miguélez Gómez, who also hails from a small town near Barcelona, has had a long track record of success at the Institute of Electrical and Electronics Engineers' (IEEE) MTT-Satellite international competition, winning $55,000 in funds to support her ongoing research. She also won best IEEE paper in the 2020 Wireless for Space and Extreme Environments conference and is engaged in work to advance hardware security.
"The research opportunities that this university has are innumerable," she said. "They can enhance not only your skills about the particular area of research, but management, leading, systems engineering, depending on your position in the project."
A Venezuela native, Carlos Mejias is the holder of one U.S. patent – on a novel antenna design that provides better performance at a smaller scale by fabricating antennas in an undulating
shape using 3D printing. During his time at Embry-Riddle, he worked on equipment for the International Space Station in collaboration with L3Harris, as well as won best conference paper in 2019, at an IEEE conference. Most recently, he has conducted research on how 3D printing can be used to produce antennas and wireless sensors for harsh environments, such as space and within turbine engines. He currently has a job as a senior design engineer for Akoustis Technologies Inc.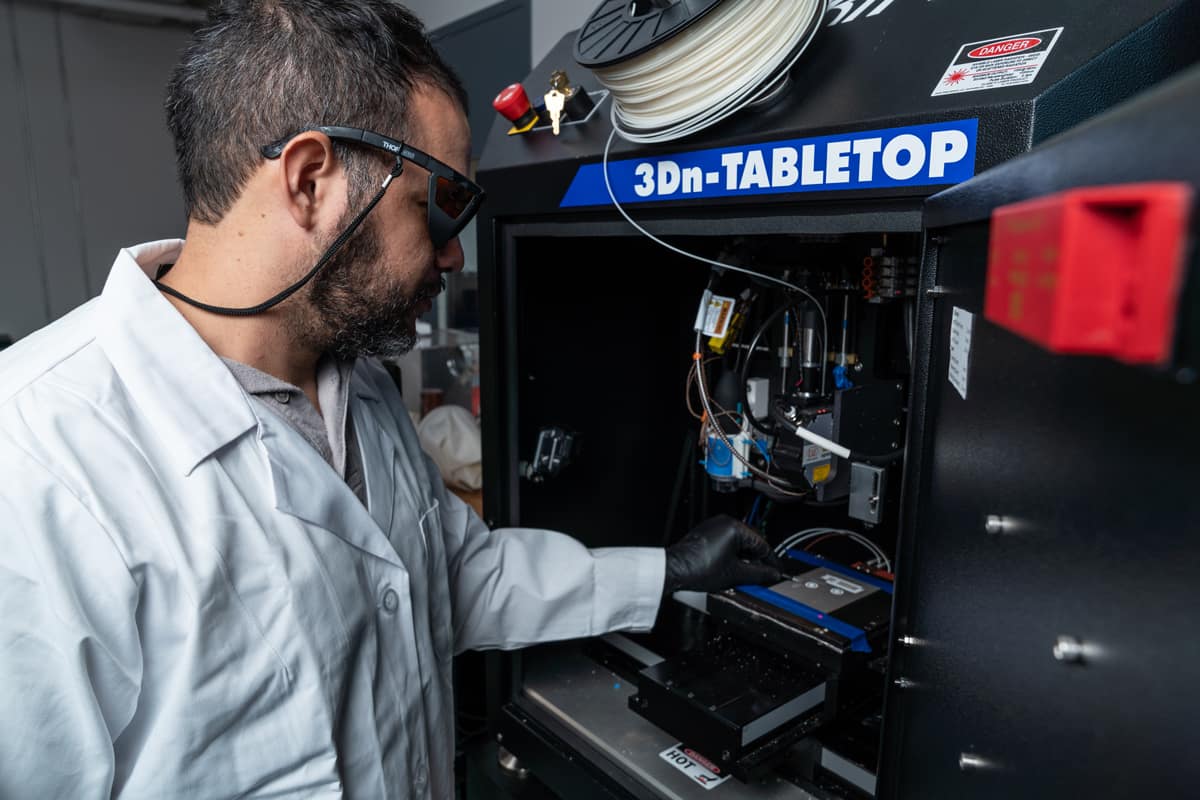 Carlos Mejias, from Venezuela, holds a U.S. patent for his novel antenna design. (Photo: Embry-Riddle/Daryl LaBello)
"Embry-Riddle has a nice vibe where you can be immersed in the aviation and aerospace sectors," Mejias said. "For example, I had the opportunity of explaining one of my research topics to the astronaut and Eagle alumna Nicole Stott in 2019."
A Malaysia native, Seng Loong (Hanson) Yu has collaborated with Embry-Riddle Research Park tenant Sensatek Propulsion Technologies on the development of high-temperature wireless sensors, as well as researched how 3D printing could be used to manufacture improved high-temperature materials for antennas and electronics.
"The most rewarding thing about my experience at Embry-Riddle is the opportunity to work with MicaPlex tenants and present our work in a conference," Yu said. "I was also fortunate to get internship experience at Qorvo Inc., where I'll be working full-time as a senior design engineer after graduation."
The diversity within the engineering cohort also stood out to Russell Griffin, Embry-Riddle's chief diversity and inclusion officer.
Hanson Yu tests an antenna in Embry-Riddle's anechoic chamber, housed inside the MicaPlex, in the Research Park. (Photo: Embry-Riddle/Daryl LaBello)
"When we understand how relatively few people in the world hold a Ph.D., we might also understand how rare it is to have this extraordinarily diverse cohort come together," Griffin said. "This class, yet again, demonstrates how Embry-Riddle is uniquely positioned and focused on empowering the best and brightest from all walks of life to excel academically and in the world of science and business."
For Dr. Eduardo Rojas, associate professor as well as winner of a National Science Foundation Early Career Award and a Most Promising Engineer award from Great Minds in STEM, each of the students have a very bright future ahead.
"Our students are highly sought after by wireless communication hardware companies because the hands-on teaching and research experience they gain in our labs prepare them with skills that align well with the needs of the industry," Rojas said. "Several of these graduates are working, or will soon be working, on designing advanced wireless communications filters that are essential for many wireless devices; from the latest cellphones to the next generation of airplanes and UAS."
Dr. Radu Babiceanu, interim chair of the Department of Electrical Engineering and Computer Science and Ph.D. program coordinator, stressed the group's focus on cybersecurity.
"All high-tech engineering artifacts built today include cyber-physical systems, for which security requirements are a key part," he said. "Cybersecurity education gives our graduates a competitive advantage when seeking employment in high-tech [Research and Development] industries."
Posted In: Engineering