Young Eagle to Earn Associate's, Pilot License Before High School Graduation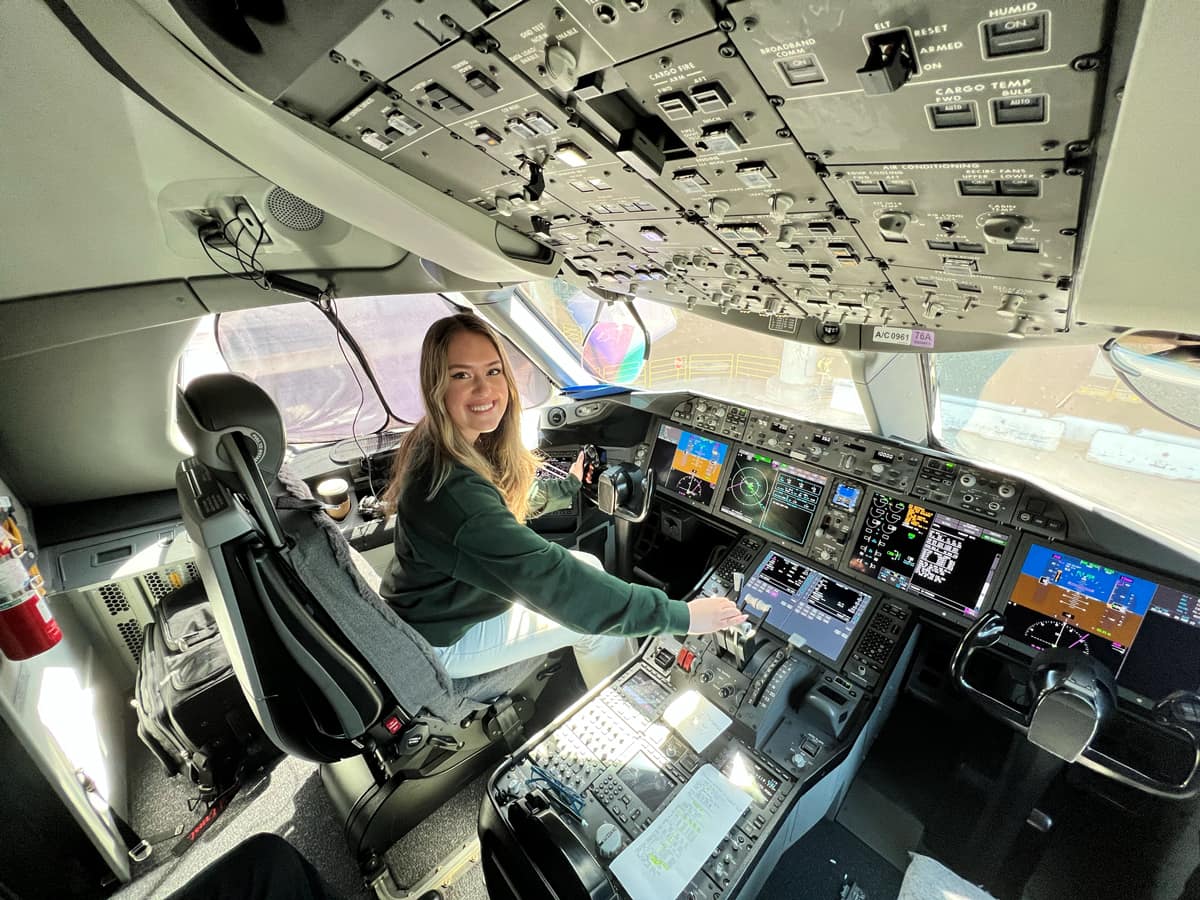 For Michelle Tabor, it feels like mere months ago that she barely knew a thing about airplanes.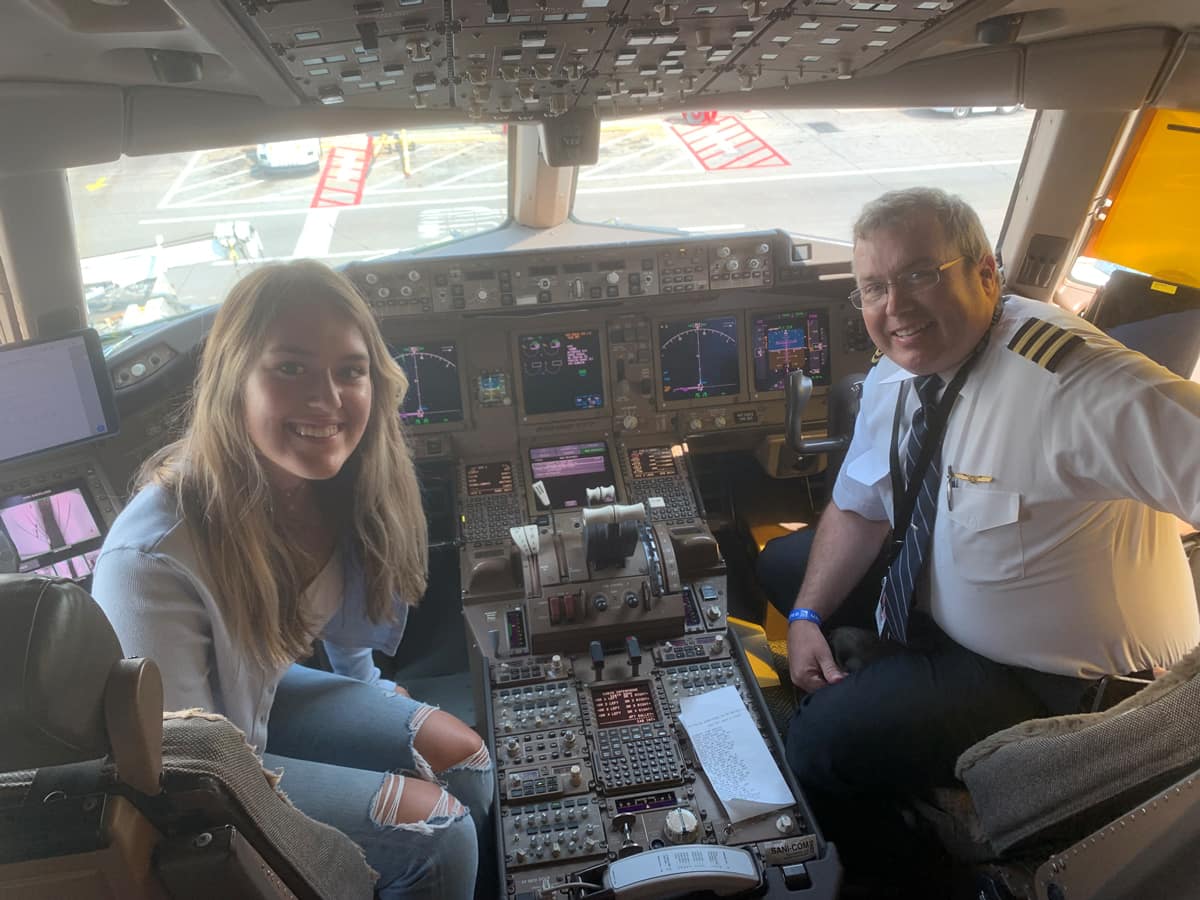 It is Michelle Tabor's dream to share a flight deck with her father, Jason Tabor, an Eagle alumnus who currently flies for United Airlines, is a coach for Aviate and has 10 type ratings.
But now, the 17-year-old Dual Enrollment student, who is on track to earn her associate's degree from Embry-Riddle Aeronautical University's Worldwide Campus before the end of the year, has 125 hours of flight time and just recently earned her private pilot's license. Her passion for flying has made the time flash by.
"Growing up and experiencing my dad's love for aviation showed me how rewarding hard work is and how unique each trip can be," said Tabor, whose father, Jason Tabor ('19), another Worldwide Campus alumnus, is a pilot and 777 instructor for United Airlines. "I have flown on a few of his flights in the past, and I have loved every second of it."
The dream is for them to share a flight deck together, piloting a commercial aircraft with one in the left seat, the other in the right. That flight will be a culmination of years of shared passion and encouragement. Jason Tabor introduced Michelle to aviation at a young age, showing off the controls in his aircraft "office" when she was just a toddler.
"My favorite memory involving my dad and aviation was when he flew to Hawaii on my 16th birthday," she said. "The crew was excited to congratulate me in my pursuit of aviation, and I felt welcome in the aviation community. My dad and I have met many new and amazing people over the past few years, and I could not be more thankful."

Michelle Tabor was introduced to aviation at a young age, thanks to her father, Jason, who is a pilot for United Airlines. (Photo: Michelle Tabor)
As she continues to grow in the field, Michelle Tabor wants to share some of the support and positivity she has received along the way with others who are also interested in pursuing careers in the field.
"I have many supporters pushing me towards my goals and reminding me that no matter how difficult the journey, it will come eventually with hard work and perseverance," she said. "I want to share my love for aviation with others and encourage them to follow their passions, no matter how difficult or impossible it may seem."
In addition to earning her associate's degree and Private Pilot's License before graduating high school, Michelle Tabor plans to continue on to her Aeronautics bachelor's degree with Embry-Riddle, taking online courses while living and flying in Colorado. She has also flown the 777 simulator at the United Flight Training Center, in Denver, Colorado, with her father, intends to finish her instrument rating by the end of 2022 and then begin earning her commercial license before her 18th birthday, to hopefully land a job with an airline after graduation.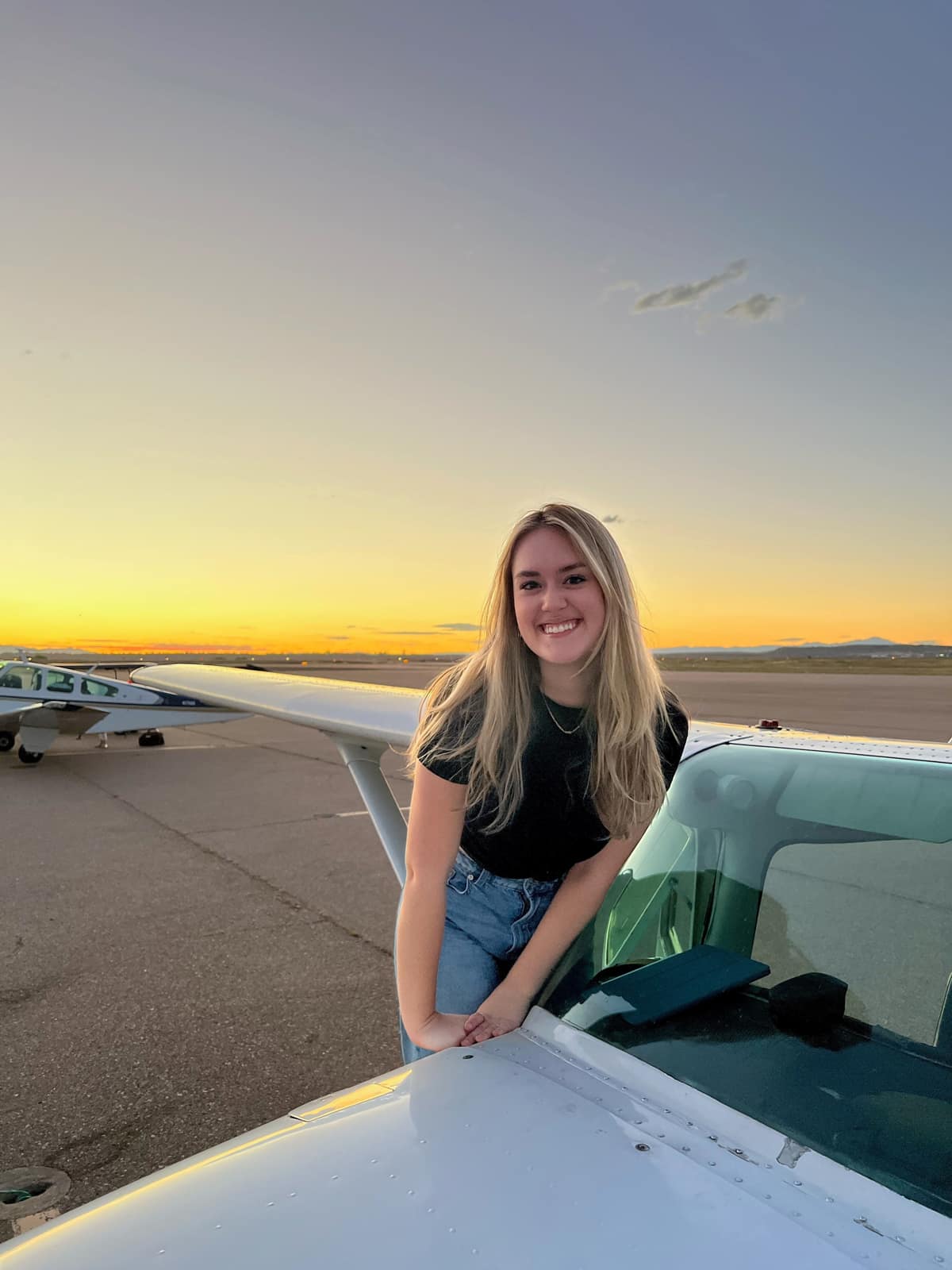 Michelle Tabor will continue her studies at Embry-Riddle with the goal of earning her bachelor's degree and pursuing additional pilot licenses. She hopes to one day pilot commercial flights, just like her father, Jason Tabor.
This type of personalized academic schedule is possible thanks to the variety of options available in the Worldwide Campus's online course catalog, according to Dr. John R. Watret, Worldwide Campus chancellor.
"The Dual Enrollment program is an excellent resource to support highly driven students wanting to jumpstart their academic careers," Watret said. "Because of the flexibility and accessibility of the program, students are provided the opportunity to receive excellent, industry-relevant instruction from highly qualified instructors, which prepares them to go directly into their intended major when they start college."
In addition to her interest in aviation, Michelle Tabor also loves to ski and has her scuba diving license, which she plans to put to good use in the future by flying to exotic locations to explore the world below sea level.
"I love traveling to new places and knowing that every trip has different challenges and highlights," she said, adding that she wants to show "people how much fun it is to fly and how perseverance can lead to positive results."
For her dad, though, aviation hasn't just given him a job or a hobby. It's even more personal.
"I love that aviation always unites us," he said. "It is something that we can always share together, as a team."
Learn more about the Dual Enrollment program through Embry-Riddle's Worldwide Campus.
Posted In: Aviation