Eagles Visit SpaceX in Development of New Camera System for Polaris Dawn Mission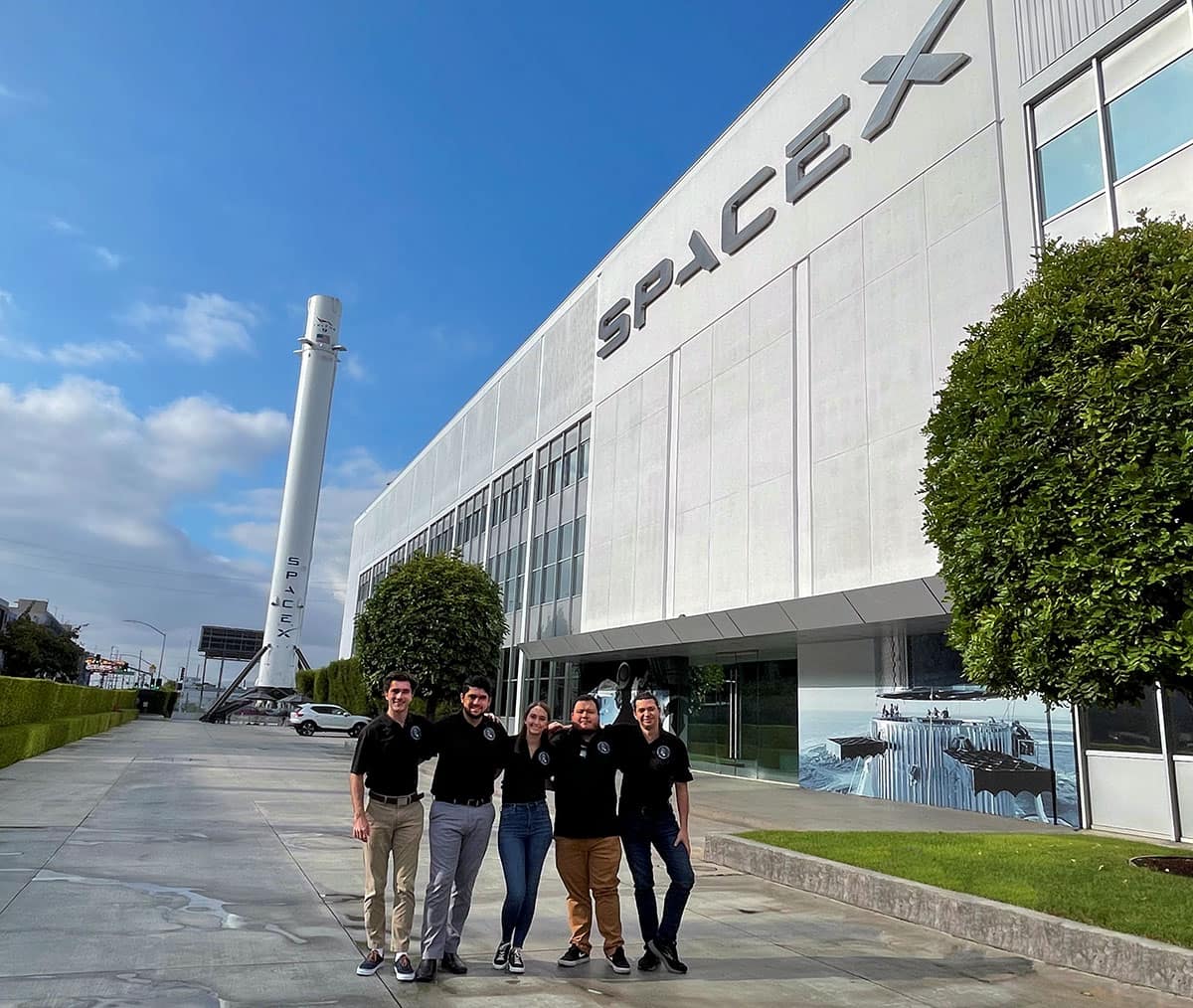 Five Embry-Riddle Aeronautical University students — who are developing a camera system to capture images and video of the first commercial spacewalk planned for the Polaris Dawn mission, led by Embry-Riddle alumnus Jared Isaacman ('11) — recently visited SpaceX headquarters to learn from the pros and hone their hardware design.
"This project will provide a new, immersive perspective by recording the astronauts as they perform the first civilian [extravehicular activity]," said Daniel Posada, an Aerospace Engineering Ph.D. student on the team. "The viewer will feel as if they are inside the capsule with the crew thanks to the stereoscopic imagery collected."
The undergraduate and graduate students from the Space Technologies Lab, who are working on the project dubbed LLAMAS (Literally Looking At More Astronauts in Space), were determining how to best mount the camera to the SpaceX Dragon capsule. They were successful and now have a clear picture of exactly what footage the LLAMAS camera will capture following the launch of the capsule/rocket. The students included Posada, Jarred Jordan, Daniel Lopez, Joseph Nicolich and Taylor Yow.
"We will also collect additional science through infrared images, illustrating thermal properties of the space suit, a dosimeter to quantify the radiation environment and, finally, through tests of commercial hardware for future missions," added Yow, who is also an Aerospace Engineering Ph.D. student.
In February, the Polaris team approached Dr. Troy Henderson, an associate professor of Aerospace Engineering at Embry-Riddle, and his student team in the Space Technologies Lab to learn how they built EagleCam and to brainstorm a similar idea that could be used in human spaceflight. That brainstorm session held one afternoon with John Kraus, who is the Polaris content director, quickly turned into LLAMAS, which will capture the first civilian extravehicular activity (EVA) on the Polaris Dawn mission, said Henderson.
The mission motto, "Nova Sententia" — which means "a new view" — perfectly describes what LLAMAS will capture: video of history in the making, said Henderson. The expected launch date is March 2023, he said.
"The LLAMAS team put in the hard work of designing and prototyping the hardware," said Henderson, who is also director of the Space Technologies Lab. "This trip allowed them to present that work, interface with the Dragon training module and get feedback from the SpaceX engineering team. The experience is invaluable to the project but also the students in terms of their professional development."