Engineering Physics Major Visits Italy in Search of Scientific Answers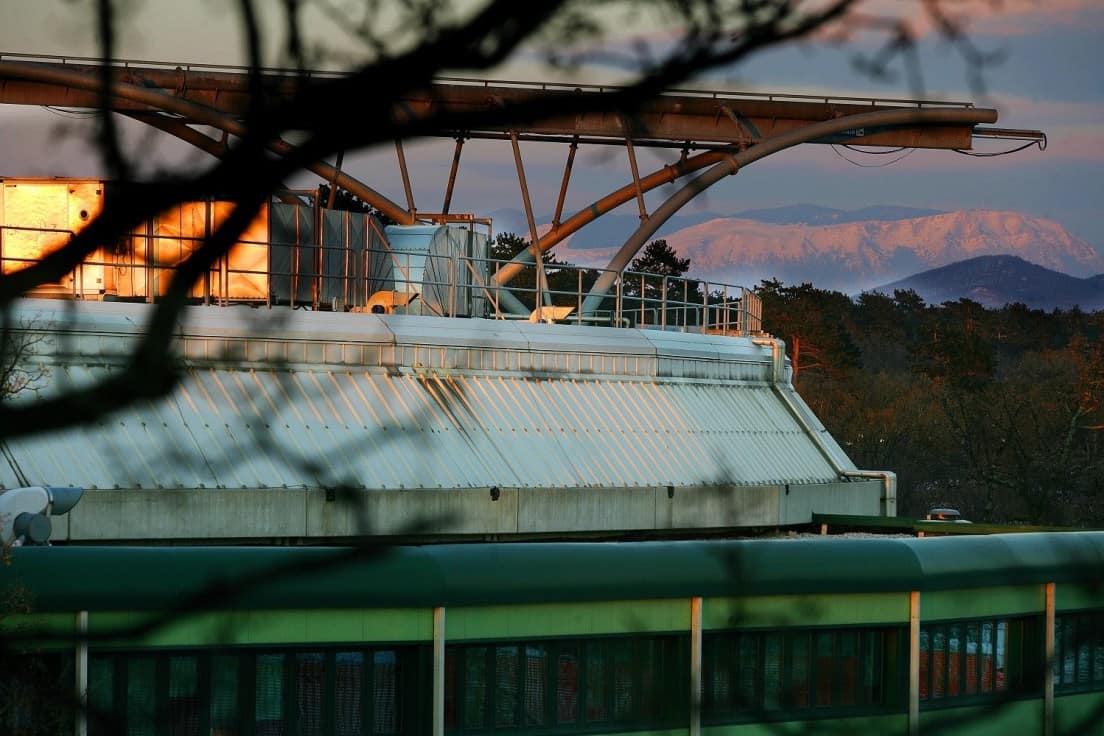 This summer, Embry-Riddle undergraduate Conner Penson traveled to a stunning region of Italy, where he knocked charged particles called electrons out of water molecules as part of a fundamental research project.
The effort to better understand the atomic structure of water took place in the Elettra Synchrotron facility near Trieste, thanks to a Summer Undergraduate Research Fellows grant, awarded by the Office of Undergraduate Research.
The trip was also made possible by Dr. Giorgio Turri, associate professor of Physical Sciences, who earned his Ph.D. from the University of Milan and has worked extensively in the Elettra Synchrotron.
The synchrotron consists of a giant ring, about 250 feet in diameter, where electrons move at speeds very close to the speed of light. Supervised by Turri, Penson helped capture fast-moving electrons. "Shaking them up" caused the electrons to fire off packets of light energy, or photons, Penson said. With the photons, the team then blasted highly precise amounts of energy at water vapor in an effort to free pairs of electrons at the same time.
The goal, Turri explained, was to test a method for determining "how many electrons are kicked out, and at what angle. The way the first electron pulls the second one out tells us a lot about what those electrons were doing inside the water before they were knocked out." The research process could also be applied to other molecules, he added.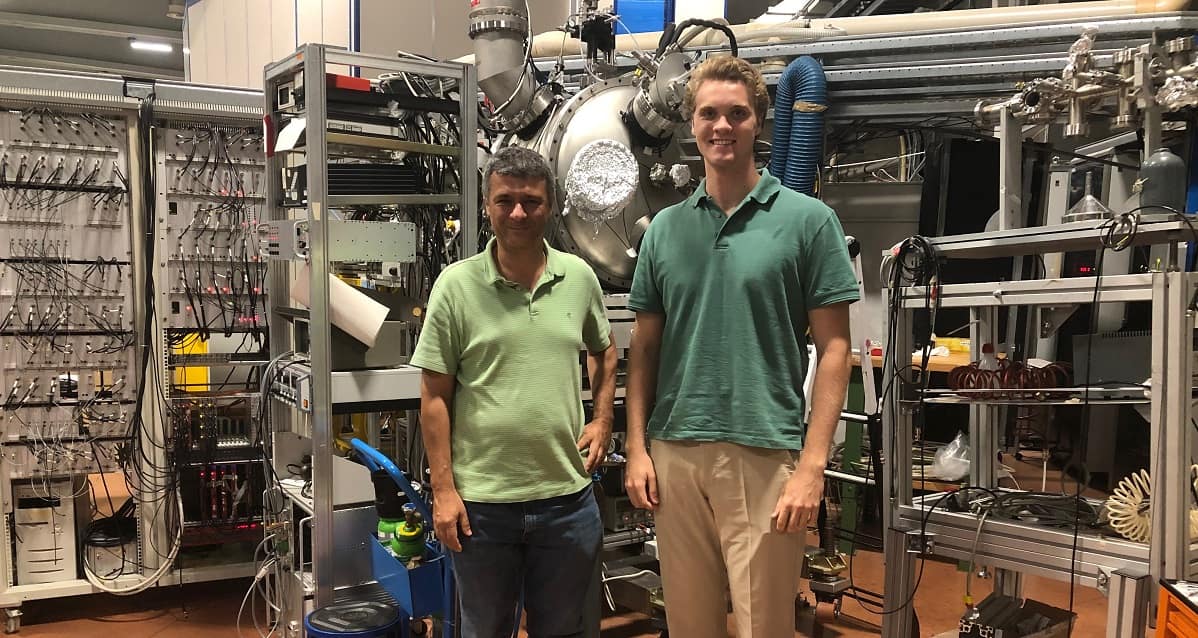 Dr. Giorgio Turri and Conner Penson, inside the synchrotron facility. (Photo: Conner Penson)
"It was my first time in Italy," said Penson, a junior Engineering Physics major. "It's a beautiful country, Trieste is just gorgeous, and the food was amazing. We stayed in a very nice bed and breakfast type hotel, within walking distance of the synchrotron."
Why Engineering Physics?
Originally an Aerospace Engineering major, Penson said he was "converted to Physics," based on his passion for propulsion design, by Dr. Muhammad Farooq, associate professor of Physical Sciences. After that, Penson added, "I made my way into the Experimental Rocket Propulsion Lab," or ERPL. Currently, he serves as ERPL Treasurer.
Penson, who grew up in Dallas, Tex., said he hopes to pursue graduate school and then a career in academia. "I have an undying love for science," said Penson, who works at Embry-Riddle as a grader, and also at the front desk of the gym.
Embry-Riddle's unique Engineering Physics degree program emphasizes engineering fundamentals as well as scientific concepts, and it provides students with a gateway into the space program. "Our Engineering Physics graduates have gone on to become entrepreneurs, industry executives and research scientists, working in fields such as autonomous vehicles, UAVs, spacecraft instrumentation and fundamental space research," said Dr. Terry Oswalt, professor of Engineering Physics and chair of the Physical Sciences department.
One alumnus with an Engineering Physics master's degree from Embry-Riddle, space physicist Cody Shaw ('15), is slated to winter over at the South Pole from January through November 2020. Working with another alumnus, Capt. Dr. Michael "Mikey" Nayak ('10) as well as Dr. Ryan Swindle of the U.S. Air Force Research Laboratory, Shaw will run a newly installed optical telescope that might yield clues to how our solar system evolved.
Penson's recent trip to Italy introduced him to the value of research collaboration, Turri noted. Synchrotron expert Dr. Lorenzo Avaldi and Dr. Paola Bolognesi of the Italian National Research Council, as well as theoretician Dr. L.U. Ancarani of the University of Lorraine in France also played a key role in the project.
Turri's latest results on "photo-double ionization of water" were published this year in the
Journal of Physics B: Atomic, Molecular and Optical Physics
(Vol. 52, No. 7).
Posted In: Applied Science | Engineering | Research