Eagle Named Most Promising Engineer, Spearheads Student Space Projects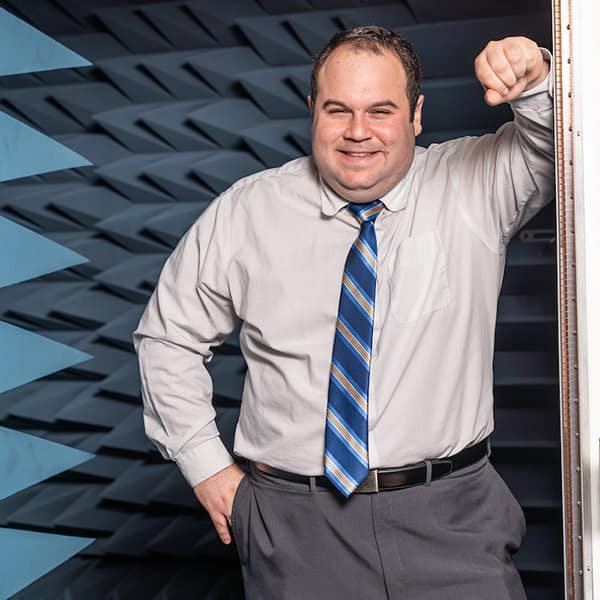 Dr. Eduardo Rojas, assistant professor of Electrical & Computer Engineering, has been honored with a Great Minds in STEM Most Promising Engineer, Ph.D. — Education award, in the organization's 32nd-annual class.
Of hundreds of nominees representing more than 60 organizations throughout the country, Rojas was selected through peer-review for teaching, research and service excellence, and was recognized in a virtual awards conference earlier this month.
"This recognition gives me immense energy to continue educating the next generation of professionals, as well as advancing the field of engineering for the benefit of society," Dr. Rojas said. "I hope that the award also serves as motivation to our students, especially those from underrepresented groups, to pursue their professional careers with excellence, integrity and adaptability, especially when faced with the many unexpected challenges brought on by the current pandemic."
"We are gratified and proud that Dr. Rojas has been recognized by this prestigious award," said Dr. Maj Mirmirani, dean of the College of Engineering, "Dr. Rojas' work in microwaves circuits and antennas is advancing the state-of-the-art of additively manufactured devices. His impressive record of leadership and service is certain to bring new energy to the field."
Rojas also earned a National Science Foundation Early Career Award earlier this year for his research to develop smaller, more versatile antennas, which includes additive manufacturing work as part of an IEEE MTT-Sat challenge.
Currently, Rojas is working on a project to send a communication device to the International Space Station (ISS).
Listening to Space
Together with L3Harris Technologies, an Embry-Riddle research team, led by Dr. Rojas, is working on a project to design and print components for a radio that will be sent to the ISS for a six-month experiment. The device, designed with a radiation sensor that will transmit readings back to Embry-Riddle's ground station at the John Mica Engineering and Aerospace Innovation Complex (MicaPlex), will be used to study how radiation, atomic oxygen and the vacuum environment of space impact radio-frequency communication systems and 3-D printed parts.
Effectively, the device will allow faculty and students to "listen" to space.
"This research collaboration offers the unique opportunity of not only looking at effects of the Low-Earth Orbit environment on additively manufactured electronics while in-flight, but the devices will be brought back to the lab for further studies," Rojas said. "It will also provide the remarkable experience to our students of receiving signals, from devices they made, directly from the ISS. The results from this research can transform the way space wireless communications devices for made."
Sponsored in part by a grant from Space Florida, the data collected from the device will allow researchers to learn how components manufactured through 3-D printing respond to conditions outside Earth's environment — a key element to improving their performance in future space missions.
Components for the project are expected to be transported to the ISS in February 2021.
Posted In: Engineering