EcoCAR Team Adapts to Pandemic, Brings Home Top Finish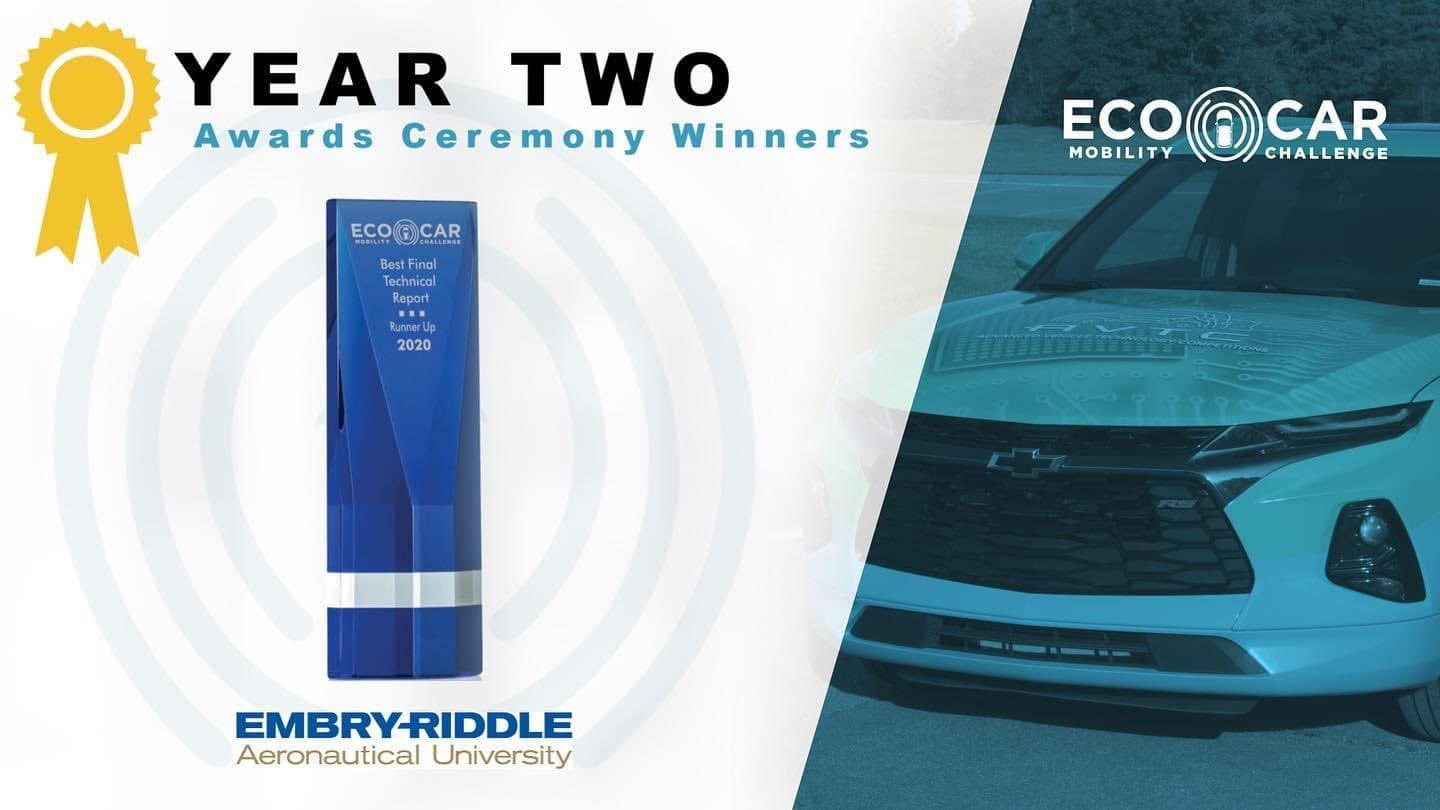 Year two of the four-year EcoCAR Mobility Challenge took an unexpected turn this year when the Covid-19 pandemic forced the suspension of in-person work around spring break. Soon enough, though, the EcoEagles team from Embry-Riddle Aeronautical University was back at it – this time, working remotely and pursuing new goals.
"Due to the pandemic, EcoCAR was a bit different this year," said Patrick Currier, associate professor and associate chair of the Mechanical Engineering Department, and the lead advisor of the EcoEagles. "The normal year-end competition was canceled and, as a result, there were no overall placements."
Still, the Embry-Riddle team made its presence known, winning second place for Best Final Technical Report — the only award in the Connected and Automated Vehicles track, in which the team won the top prize at last year's competition.
The EcoEagles have given me lifetime friendships and have made me proud to say that I am an Eagle. … I would not be who I am today without them..
"The team designed a sensor suite consisting of LIDAR, radar and camera sensors to enable partial autonomous driving," Currier explained, adding that the team was awarded for its paper detailing its design and simulations that serve as proof of concept. "We were just about ready to do some on-vehicle testing when the pandemic hit and work was suspended."
"I'm proud to see how our engineering students are pushing the boundaries of convention with sensor designs that will begin to enable partial autonomous driving," said Dr. Maj Mirmirani, College of Engineering dean. "This experience challenges them to think about how to transform transportation and provides a testbed that allows them to watch their sensor suite designs work in real time."
For Mechanical Engineering senior Alex Shiffer, who has been a part of the team the past two years, being an EcoEagle is about even more than the hands-on experience with cutting-edge technology. It's about networking.
"This competition has given me the necessary contacts that you cannot get anywhere else," Shiffer said. "EcoCAR provides unparalleled training on the tools used in the automotive industry today, preparing you for seamless transition into the workforce. This competition cares about the student participants above anything else and invests in the next generation of automotive innovation."
The EcoEagles team is comprised of Mechanical Engineering and Electrical Engineering and Computer Science students, including senior design from both departments, grad students and volunteers. Currier also serves on the EcoCAR Faculty Advisory Board and is currently working with organizers to determine how year three of the challenge will be structured.
"The goal is to keep it as aggressive as possible in terms of deliverables while working under the restrictions of the pandemic," he said. "Ideally, all of the cars will be ready to run at the end-of-year competition in May 2021, and hopefully even sooner."
The sooner in-person operations return, the better, for students like Shiffer.
"The EcoEagles have given me lifetime friendships and have made me proud to say that I am an Eagle," he said. "It has pushed me to learn new skills and refine others. Being a team lead has pushed me to become a more effective communicator and an even better leader. I am very thankful for this competition and my team. We could not have done as well as we did without all of their hard work, and I would not be who I am today without them."
"This is a real project with lofty goals that force us to be better as engineers and apply what we've learned in and out of the classroom to actual systems," added Alex Bassett, third-year EcoEagle and former team lead. "One of the most impressive things about our team is that Embry-Riddle is by far the smallest school yet we are still very competitive amongst the larger teams and have some of the highest employment rates at General Motors within the competition."
The Embry-Riddle team placed second overall in the EcoCAR competition in 2017, marking its fourth consecutive top-five finish. In 2018, it won two more awards, including top place for the lowest well-to-wheel greenhouse gas emissions. The team has been a mainstay in the EcoCAR competition each year since 2008, and to kick off this latest competition, it was gifted an SUV and $280,000 from General Motors.
"I know the team is eager to get back in the
Green Garage
and see their hard work come to life, and I applaud them for their resilience during these unprecedented times," Dean Mirmirani added.
Posted In: Computers and Technology | Engineering