EcoEagles Win Greenhouse Gas Emissions Award at EcoCAR 3 National Competition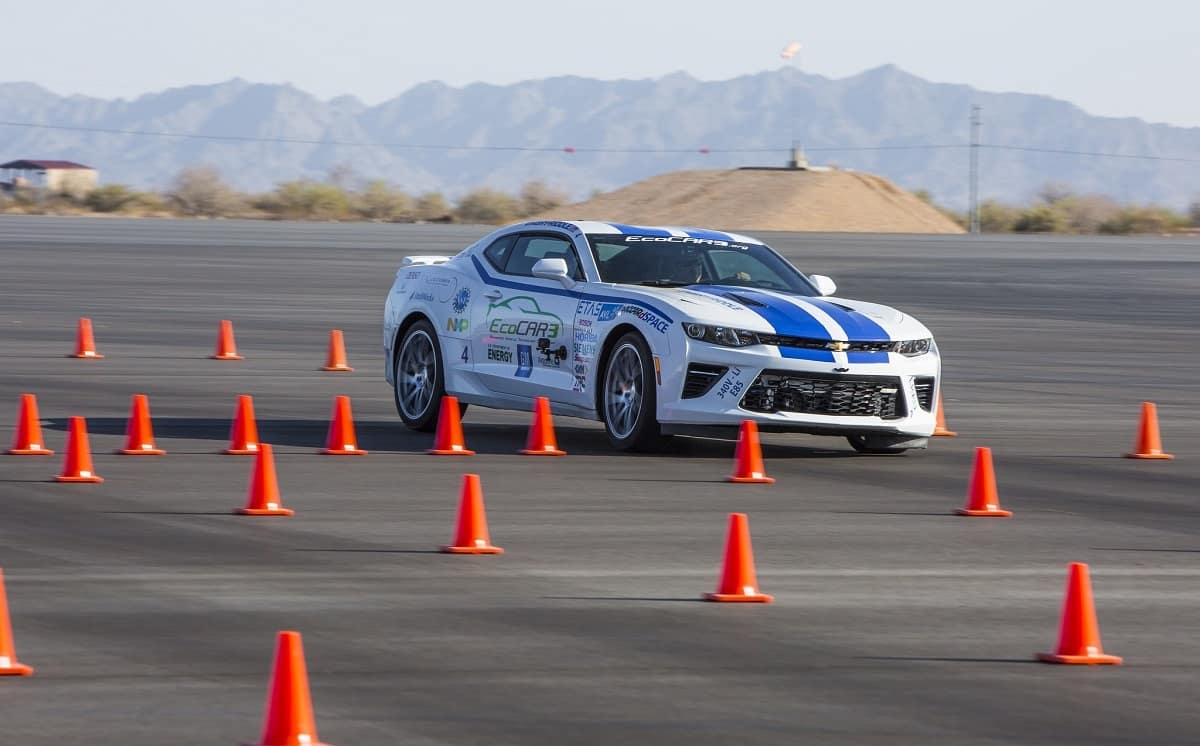 As the four-year EcoCAR 3 competition comes to a close, Embry-Riddle's EcoEagles team received two awards including top place for the lowest well-to-wheel greenhouse gas emissions.
EcoCAR 3 is an advanced vehicle technology competition, sponsored by the U.S. Department of Energy and General Motors Co.
Sixteen North American university teams competed in the EcoCAR 3 Year 4 Competition in three different cities from May 10-22. The teams redesigned 2016 Chevrolet Camaros to further reduce their environmental impact, while maintaining performance and safety. The teams, who were judged in about 40 categories, spent the last four years harnessing those ideas into the ultimate energy-efficient, high performance vehicle.
"Greenhouse gas reduction is one of the primary goals of the competition, so the team was very proud to win the award," said Patrick Currier, Ph.D., lead faculty advisor and associate professor of mechanical engineering.
Embry-Riddle's EcoCAR 3 is composed of a 2.4 liter EcoTEC LEA engine, eight-speed 8L90 automatic transmission, two Bosch IMG motors, and an 18.9 kWh energy storage system compiled of A123 batteries.
The 18 kilowatt-hour A123 battery pack gave the vehicle an all-electric range of 26 miles, and the range-extending E85 ethanol-powered engine provided efficient, low-CO2 propulsion, according to the award presentation. The combination of these factors resulted in an overall well-to-wheel greenhouse gas emissions of 186 grams per kilometer, a 30 percent improvement over the stock vehicle.
The EcoEagles also received third place for the MathWorks Modeling Award. According to EcoCAR 3, Embry-Riddle overcame a significant hurdle with their use of Model-Based Design by completely re-writing their powertrain model for Year 4. In doing so, judges said the team significantly improved the simulation speed.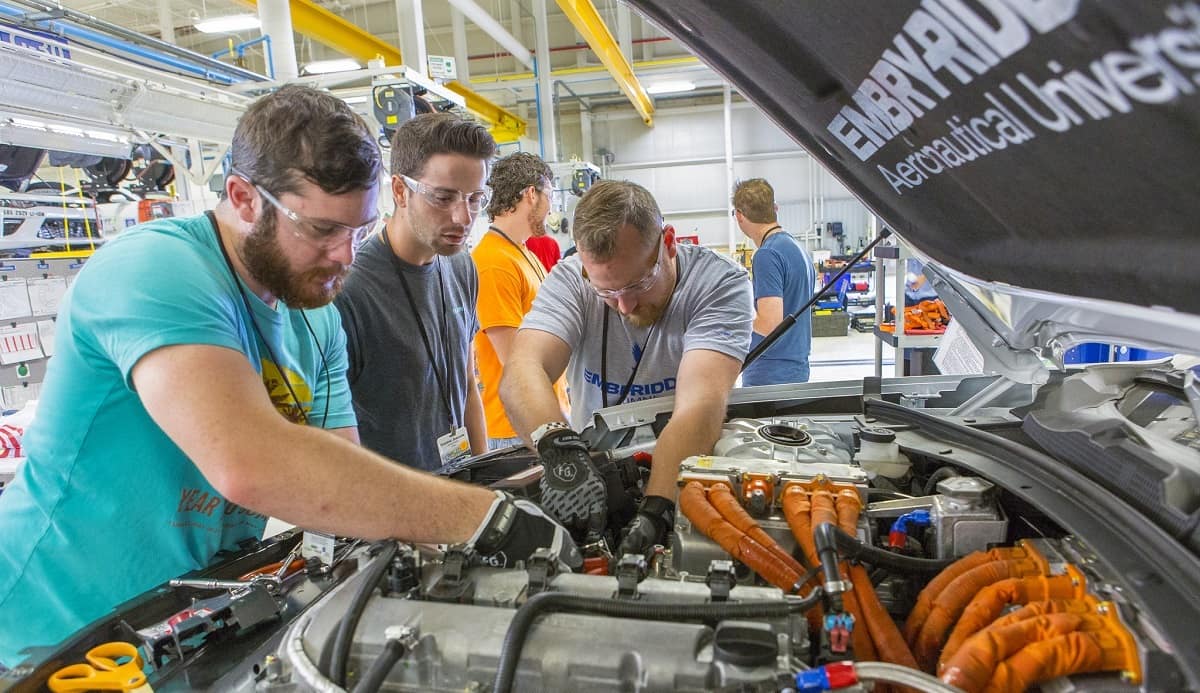 "The team was also able to achieve impressive correlation between the predicted and measured vehicle performance metrics," according to the award presentation. "The judges viewed their use of the image processing tools to smooth out discontinuities in their optimized shift schedules to be a novel approach. Additionally, the waypoint navigator was a clever use of image processing to automate the creation of custom tracks for simulation."
Currier said the team, which included more than 50 students of which 17 went to the competition, placed seventh overall out of 16 teams after the car had some unexpected electrical malfunctions. The team worked tirelessly to fix it, Currier said but was not able to run all of the events.
Embry-Riddle, which has been part of Advanced Vehicle Technology Competitions since 2008, placed second overall last year in the EcoCAR 3 competition.
The competition included a rigorous safety, technical, drive quality and emissions testing at General Motors Desert Proving Ground in Yuma, Arizona. The teams then headed to southern California for track events, including autocross, acceleration, and consumer appeal at the Auto Club Speedway in Fontana. Students also spent several days conducting presentations to industry and government officials.
Following presentations, the teams went to Los Angeles for a 150-mile over-the-road event where the Chevrolet Camaros were scored based on performance with everyday driving applications. At the end of the second week, students participated in a car show at Hollywood's famed Magic Castle.
The EcoEagles team members who went to the competition included Alex Bassett, Lang Chen, Robert Consolo, Blair Cutting, Thomas Freeman, Matthew Gileau, Rebecca Gold, Dominic Jeancola, Matthew Kemery, Jessy Law, Matthew Nelson, Christopher Ngan, Chris Paton, Brandon Perkins, Clinton Ploch, Brandon Saxon and George Ziboulis.
In addition to Currier, Dave Spitzer, staff research engineer for Embry-Riddle's Center for Motorsports Engineering, was the industry advisor and Sandra Boetcher, associate professor of mechanical engineering, was the innovation advisor.
The next four-year competition series since EcoCAR 3 is completed, will have teams exploring innovative Connected and Automated Vehicle (CAV) technologies and implementing advanced propulsion systems in order to maximize vehicle efficiency using a 2018 production, mid-size SUV as a platform.
The teams who will be competing have not yet been announced.